Time & date: 3 pm, 14 Sept 2015
Venue: NTU@one-north Executive Centre, off North Buona Vista Road.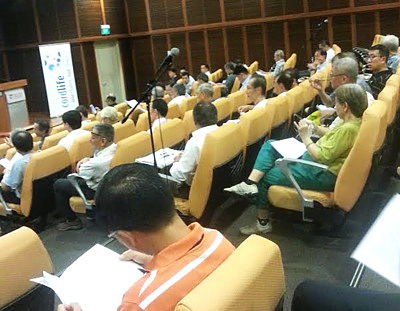 Good turnout at yesterday's EGM held at NTU@one-north Executive Centre, off North Buona Vista Road.
NextInsight photo.CORDLIFE yesterday estimated that it would have a net cash inflow of S$95.8 million arising from the sale of its China Cord Blood Bank shares and convertible notes, and the settlement of related borrowings.

At the EGM yesterday, Cordlife shareholders approved the proposed sale of its shares and convertible notes of China's largest cord blood banking operator.

The sale to Golden Meditech (which intends to privatise China Cord Blood) will trigger two related events for Cordlife -- a loan repayment and redemption of medium term notes, as follows:


| | |
| --- | --- |
| a) Proceeds From Disposal Of CCBC Shares and Convertible Note | S$151.6 million |
| b) Loan Repayment from Magnum | S$64.2 million |
| c) Redemption of S$120 million Medium Term Notes | (S$120.0 million) |
| Net Cash Inflow (a + b - c) | S$95.8 million |

There is some upside to the above figures if Golden Meditech raises its offer price, or if China Cord Blood declares a dividend before the completion of Cordlife's sale to Golden Meditech.

CEO Jeremy Yee addressed a shareholder's question on what the company would do with the cashflow.

"As I've shared at AGMs in the last few years, Cordlife is not content to be just a cord blood banking service provider.

"We have a real shot at becoming the first pan-Asian company to provide valuable services and products to mums and children. We have a huge presence in nine countries if you include our associates in Malaysia and Thailand."

Cordlife is expanding its scope of services such as Metascreen, which detects metabolic disorders in newborns. For cord lining banking, Cordlife has begun offering the service in the Philippines and Indonesia, and plans to start with new partners in China.

Aside from supporting organic business growth, the cashflow from the CCBC sale will be used to reduce Cordlife's financial leverage, and pay a dividend to shareholders, said Mr Yee.

Another question from a shareholder was especially interesting, as was the answer from Mr Yee. We reproduce the Q&A here:


Q: Firstly, I wish to congratulate the management and in particular the CEO for a very shrewd acquisition (of CCBC convertible notes). Thank you
(applause)
. In November last year when we approved the acquisition, I remember you not only said you understood the investment very well but you framed the issue as one of whether we want to be in China or not. Given subsequent events, how are we thinking of our participation in China?
(See our report @ CORDLIFE's EGM: Questions on loan repayment, China dream, etc
)


The second thing is, now that we have decided to sell CCBC, it's value maximisation. The hedge funds invested in CCBC like Jayhawk, they have said the price offered for

China Cord Blood

shares could have been better. I wonder is there room for us to manoeuvre?
Jeremy Yee: Very insightful questions. Our relationship with Golden Meditech and China Cord Blood has been around for a long time, since 2006 when, as a young company listed on the Australian Stock Exchange, we tried very hard to penetrate China.

"The rules and regulations pertaining to this industry were not very clear, even today. As far as we know from the constant due diligence, it is still 7 approved banking licences so far. Every cord blod bank out there requires a public depository. The only thing we could do is to rely on partners in China to launch our services.
"In 2013, we signed an agreement with

China Cord Blood

to launch our cord lining banking services. The results have not been that good but it's a non-exclusive deal and we are in a position to create more joint ventures in China. We want to be a mum and child company, and we might launch Metascreen in China.
"As for value maximisation, I wish to say that

China Cord Blood

has formed a special committee which has appointed an independent financial adviser for them to evaluate the "takeout value" or privatisation value of

China Cord Blood

. The base acquisition price today is US$6.40 a share plus US$5.1 m for our convertible note premium. If, for instance, the committee recommends an additional 10 cents, the base acqusition price becomes U$6.50 a share. The convertible notes, you add 10 cents to every note we own.

"As for Jayhawk and the rest, the agreement we have signed is with a single party, Golden Meditech, which is the founding shareholder of

China Cord Blood

. I have seen so many takeouts in China and the US. I have never heard of cases where some minority shareholder has not gone out and claimed that the target company is worth more. We have to take care of our own interests, and not Jayhawk's interest, so we look at the rationale for the transaction.

"KKR used to sit on the board of

China Cord Blood

and had 3 management staff in

China Cord Blood --

they have alrady exited, I think it's timely for us to go too."

The Powerpoint materials used in the EGM can be accessed here.