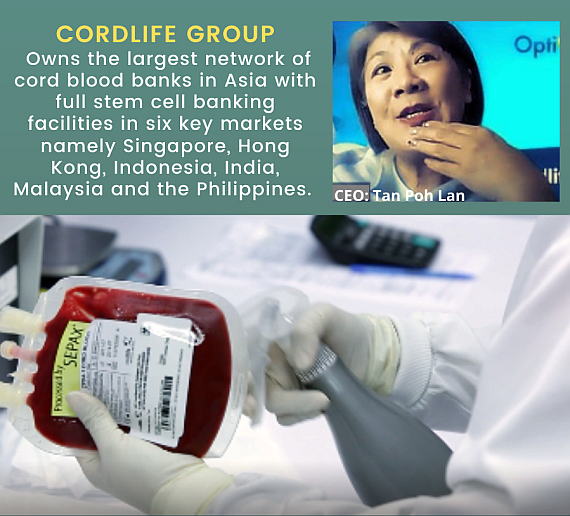 With Covid measures winding down further in 3Q2022 in markets that Cordlife Group operates, its in-person interaction with potential clients has been boosted.


Marketing expenses (through participation in baby expos, for example,) have crept up 7.3% y-o-y.

While Cordlife recognises marketing expenses when incurred, it doesn't record revenue when clients sign up but only when their babies are delivered and cord-blood banking services etc are provided.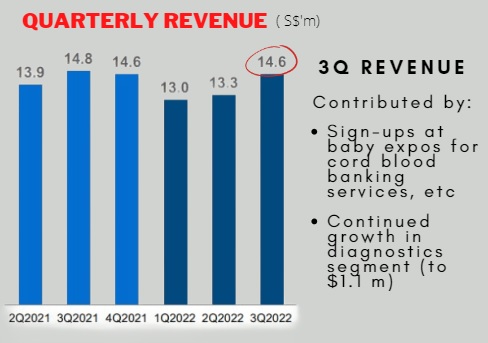 "Sign-ups tend to happen at the seventh, eighth month when everything's stable and parents are just waiting for the babies to be born.


"This time around, we find that probably almost 50% of sign-ups are due around that time and the other 50% are due much later -- in the next quarter or even later. In July, we had sign-ups who were going to deliver in January," says CEO Tan Poh Lan at a 3Q update briefing.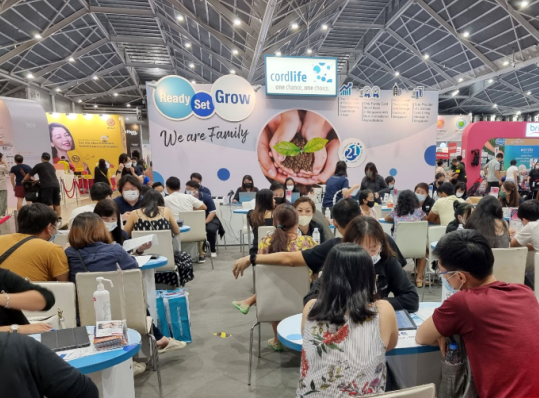 In Singapore (July 2022): Parents-to-be in talks with Cordlife staff on the company's services relating to the storing of baby's cord blood and umbilical cord, etc. Singapore is the largest market for Cordlife.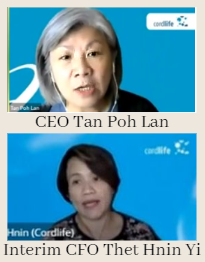 Net profit for 3Q2022 came in at $946,000, similar to that for 1Q and 2Q this year, bringing the total to $2.8 million (down 33% y-o-y).

Profitability is down 46% y-o-y.

Cordlife's sign-ups a year ago, when Covid measures were in place and virtual seminars and outreach were the key business tools, came without the additional marketing expenses associated with in-person events such as expos.

Going forward, marketing expenses are expected to translate into cashflow and profits in the months after the sign-ups.


Stock price

32 c

52-week range

31 - 42 c

PE

16

Market cap

S$82 m

Net cash

S$80.4 m

Dividend
yield

2.8%

1-year return

-20%

Source: Yahoo!
One striking thing about Cordlife's latest balance sheet is the net cash balance amounting to $80.4 million, up by $1.4 million from end-Dec 2021.

Cashflow has continued to be positive as Cordlife requires new clients to pay upfront, or a maximum of 5 years, instead of annually over a period of as long as 21 years.

The long duration raises the risk of payment defaults.

In Singapore, Cordlife continues to offer the annual option because payments are facilitated by direct deductions from clients' Child Development Accounts, says interim CFO Thet Hnin Yi.

Even then, the majority of clients (~75%) in Singapore are paying upfront.


S'm

FY18

FY19

FY20

FY21

9M
FY22

Net profit

5.5

6.5

6.6

6.1

2.8

Cordlife's cashpile equates to almost the entire market cap ($82 m) of Cordlife shares listed on the Singapore Exchange, an uncommon happening.

It's hard to argue that after accounting for its solid cashpile, Cordlife's operating business is worth only a mere $1.6 million.

Aside from generating consistent cashflow, Cordlife has delivered $6.2 million net profit a year on average since FY18 (see table above).

Perhaps investors need to see, post-Covid, a return to that level of profit or higher -- and maybe even another M&A event -- before re-rating the stock?

For more info on the 3Q2022 performance, see the presentation deck here.