This year, the path has been paved for Cordlife Group to deliver business growth that was next to impossible to achieve during the pandemic.

With Covid restrictions on customer engagement totally out of the way now, 2023 is the first full year where Cordlife will return to normalcy in marketing its cord blood banking and other services.

"The Group will continue to invest in its marketing initiatives as momentum picks up for large scale events and in-person opportunities," says Cordlife in its 1Q2023 business update.


Cordlife operates Asia's largest network of cord blood banks. With full stem cell banking facilities in six key markets, Cordlife is an industry leader in Singapore, Hong Kong, Indonesia and the Philippines, and one of the top three market leaders in India and Malaysia.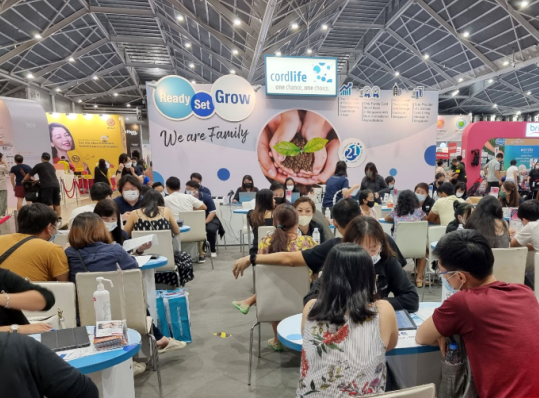 Signs of growth for Cordlife have been evident in the past few quarters post-pandemic.

1Q2023 was no exception:

Stock price

34.5 c

52-week range

24 - 39 c

PE

17.3

Market cap

S$88.4 m

Net cash

S$80.2 m

Dividend
yield

--

1-year return

-2.9%

Source: Yahoo!
• Revenue rose 8.4% year-on-year to S$14.1 million with the banking business enjoying the benefits of a return to in-person marketing events.

• Net profit increased 19.7% yoy to S$1.2 million.
• Net cash crept up $0.9 million to S$80.2 million from end-2022, a cashpile which Cordlife aims to utilise mainly for M&A.

With a swing towards in-person engagement, Cordlife's marketing expenses jumped 19.8% y-o-y.

Such higher expenses are incurred approximately a quarter (3 months) before revenue triggered by baby deliveries of clients is recognised, says CFO Thet Hnin Yi.

Another aspect of the accounting treatment to note is, client sign-ups can boost cash inflow ahead of revenue recognition because clients pay upfront a substantial amount, if not all, of the requisite fees.

That's how net cash flow from operations for Q12023 was a very healthy S$2.8 million.

The key market by far remains Singapore.

In No.2 spot is Hong Kong, which is seeing a boost from its visa relaxation for certain Mainlanders seeking jobs and from the reopening of borders with the Mainland enabling families comprising at least a Mainlander to deliver their babies in HK.


While banking continues to be the key revenue generator, the diagnostics segment continues to grow.

The key diagnostics test is non-invasive pre-natal testing (NIPT), the preferred alternative to amniocentesis which carries a small risk of puncturing the amnio sac surrounding a fetus, which could lead to a miscarriage.



Cordlife's testing

analyses the mother's blood to detect foetal chromosomal abnormalities such as Down syndrome.



Diagnostics segment grew 7.9% y-o-y after stripping out the non-recurring business from the distribution of COVID-19 rapid test kits in Hong Kong in 1Q2022.

Diagnostics revenue came in at S$1.1 million in 1Q2023.

The 1Q2023 PowerPoint deck is here.