Cordlife Group's 1H2022 saw weaker performance year-on-year but the pandemic easing of late has given Cordlife reasons to be more upbeat about its prospects.


Stock price

34 c

52-week range

35 - 54 c

PE

15.7

Market cap

S$87.0 m

Net cash

S$78.8 m

Dividend
yield

2.7%

1-year return

-8%

Source: Bloomberg
As in-person interaction is a key means for client acquisition, it has been happy to be able to return to large scale in-person expos

in various countries,

in addition to re-establishing sales presence in women's clinics and hospitals.

Together with the online outreach capabilities that Cordlife has honed during the pandemic, the mass events position it well for recovery. The sign-ups translate into revenue (when the babies are born) months and quarters later.

The following pictures are from Cordlife's participation in events in the key markets of Singapore and Hong Kong: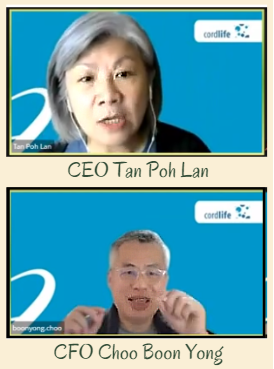 The other positive is that it is seeing results from a greater emphasis on higher-end clients.

Its services run into several thousand dollars -- prices vary depending on country -- for storing cord blood samples for 21 years. The stem cells in the samples are potentially able to be used to treat certain diseases if these manifest in the child in the future. (For more, see "Benefits of saving cord blood").


"The people who can really afford us our services are still having kids, so we were very clear about focusing on private hospitals that can really give us that leverage.

"Two things have happened -- one is that they buy more services from us, not only NIPT (non-invasive prenatal tests) but they become clients who store not just cord blood but cord tissue or cord lining," says Cordlife CEO Tan Poh Lan at a recent 2Q investor briefing.


In addition, many such clients tend to be amenable to paying upfront -- which is Cordlife's preference -- instead of opting for installment payment over up to 20 years.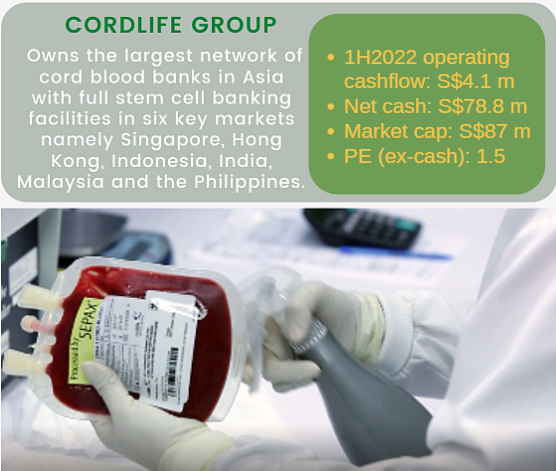 • Revenue decreased by 4.0% y-o-y to S$26.2 million in 1H2022 as a result of a 4.5% decrease in new samples processed and stored from 8,800 in 1H2021 to 8,400 in 1H2022.

The decrease in revenue and new samples happened mainly in Singapore due to a spike in COVID-19 cases, according to Cordlife.

This was offset by an increase in revenue from diagnostic service offerings, which grew 20.5% to S$2.1 million.

• Net profit weakend 24% to S$1.9 million. The 1H2022 performance:

• Operating cashflow in 1H2022 was S$4.1 million. As at 30 June 2022, the Group's balance sheet stayed strong, with zero debt and S$78.8 million in cash and cash equivalents, fixed deposits and short-term and long-term investments.

The large balance -- 94% of its market cap -- positions it for growing the business, especially through M&A deals although these have proved elusive for several years now (no thanks to Covid).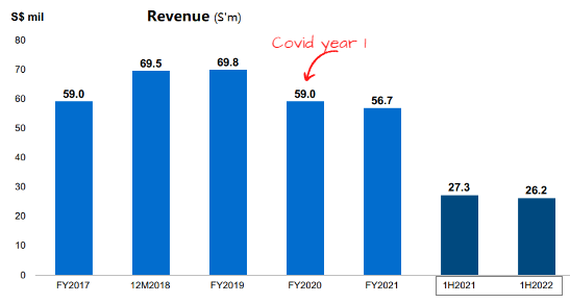 Cordlife's revenue dipped not too sharply during the pandemic, reflecting resilience in the recurring nature of its business -- unlike, say, the construction or F&B industries.

For Cordlife's 1H2022 presentation deck, click here.