During the

July 2016

IPO of Katrina Group, its CEO and his spouse did not sell any shares of their own.

21 cents apiece.

Post-IPO, CEO Alan Goh and his wife, Catherine, held 97,860,504 shares each, for a total of 195,721,008 shares. Katrina, which owns and operates restaurants under nine F&B brands it has developed, including Bali Thai, issued 35.8 million new shares at



That was a very significant 84.54% stake in Katrina which, as at end-Jan 2018, had a total of 40 restaurants in Singapore and 1 in the PRC.
| | | | | | |
| --- | --- | --- | --- | --- | --- |
| (S$'000) | FY2017 | FY2016 | FY2015 | FY2014 | FY2013 |
| Revenue | 57,966 | 56,823 | 52,443 | 45,410 | 40,700 |
| Net profit | 1,002 | 2,368 | 4,262 | 3,292 | 3,701 |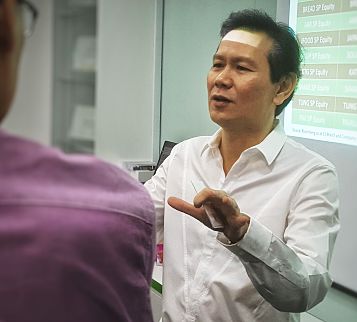 Alan Goh, executive chairman & CEO of Katrina Group. NextInsight file photo.Katrina's financial performance has slipped (see table) -- specifically net profit has come down since 2015.

Despite that, since March 2018, through 18 open market purchases, Mr Goh has raised his holding by 5,366,200 to 103,526,704 shares.

That translates into a 44.71% stake.

Combined with his wife's 42.27% stake, the couple owns 86.98%, which is a lot of skin in the game. Their stake is worth about $46 million.

Katrina is debt-free and has been profitable every year as far back as 2013, and enjoyed positive operating cashflow in those years too.

In its FY17 results announcement, Katrina said it expected to continue to grow its business and remain profitable in FY2018.


Stock price

21.5 c

52-week range

15 – 25 c

PE (ttm)

54

Market cap

S$53 m

Shares outstanding

231.5 m

Dividend
yield (ttm)

1.2%

Source: Yahoo!
Part of the recent decline in its FY17 profitability has to do with the setting up of new outlets, as alluded to by Katrina in its FY17 results announcement.

It had noted that gross profit decreased 32.1% y-o-y to S$5.7 million for FY2017, with gross profit margin at 9.9%.

"The decrease was mainly due to increased cost of sales associated with setting up new outlets such as rental lease and staff costs, which take time to break even."

Katrina has also ventured into online sales, which incurred higher commissions. Higher food costs have also contributed to the increase in cost of sales, it said.

The Group is actively exploring opportunities to grow its business through acquisitions, joint ventures, franchising and strategic alliances with parties who can help to strengthen its brands and expand its market share in the region, to support its growth with lower investment risks.