Placing orders online and having Bali Thai restaurant dinner delivered to the home by a Deliveroo rider?


Crispy fish with Thai chilli / mango salad -- Fancy enjoying it in the restaurant or at home? Orders online are getting popular. Photo: SHOPSinSGYou can also order online and then collect the food online at the outlet of your choice at a specified time.

Restaurant meals have become an eat-at-home/office affair, increasingly.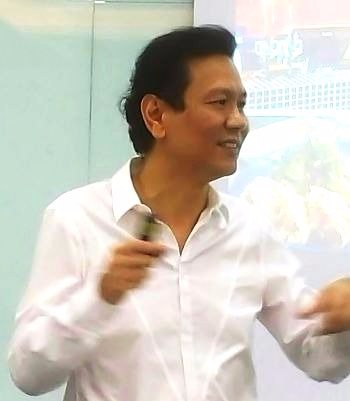 "We want to expand aggressively into online. It may or may not cannibalise retail sales. But we want to reach out to as many customers as possible."

Alan Goh (photo),
CEO, Katrina Group
Katrina Group has reported strongly rising revenue from online business. It said S$2.8 million worth of its restaurant food were ordered online in 1H2017, surpassing the $2.5 million recorded in the whole of 2016.

That year was the first year it offered its menu to online ordering and delivery.

Katrina currently owns Bali Thai (10 outlets) and Vietnamese chain So Pho (9 cafes) which are two of its 9 proprietary brands.


| | | | |
| --- | --- | --- | --- |
| | 1H2016 | 2H2016 | 1H2017 |
| Online sales | $0.4 m | $2.0 m | $2.8 m |
| % of group revenue | 1.5% | 7.0% | 10.1% |
| Online sales commission to deliverers | $0.07 m | N.A. | $0.5 m |
Katrina has expanded the number of online platform vendors it uses, and expects online sales to rise further in 2H2017.


This is one of its key strategies to do well in the face of weaker consumer spending.

The Food & Beverage Services Index in Singapore declined an average of 4.2% a month for the first five months of 2017 when compared, at constant prices, to the corresponding months in 2016, with the restaurant sector contributing a decline of an average 10.3% a month.


Katrina

20.5 cents

52-week range

18.3-33.5 cents

Market cap

S$46 million

PE (ttm)

18

Dividend yield

3.05%

Year-to-date return

-9%

Source: Bloomberg
Katrina is expanding and seeking prime locations in high footfall shopping malls, and seeking opportunities to collaborate with strategic partners to expand its operations overseas.

By the end of July 2017, it had opened three new restaurants in Singapore bringing the total number of restaurants for the Group to 37.

It said it has four more stores in the pipeline for FY2017.

It also made headway in its overseas expansion, signing an agreement with Hong Kong-listed Ajisen Group to grow the "So Pho" brand in the PRC and Hong Kong.

Katrina is optimistic that it may further its regional presence through more restaurant openings in the PRC or Hong Kong in the next 12 to 18 months.