Photo: SHOPSinSG

Bali Thai restaurants, as most of us may have noticed, are often crowded places during dining hours, especially on weekends.

From its maiden restaurant in 1998, Katrina Group now operates nine Bali Thai restaurants in Singapore and two in Beijing.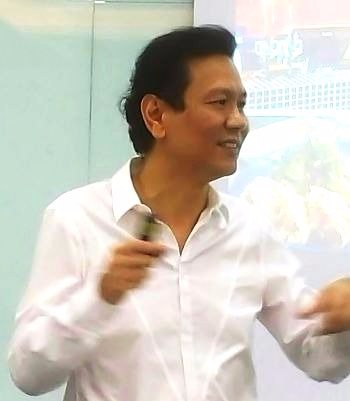 Alan Goh, CEO and co-founder of Katrina Group, who started in F&B operating a nasi padang stall in Bishan.
Photo: Leong Chan Teik Bali Thai is one of 9 proprietary brands that Katrina Group has created since its husband-wife founders had a modest start in the F&B business with just a nasi padang stall in Bishan.

There is Streats, with eight cafes in Singapore, and there's Vietnamese chain So Pho (7 cafes).

Other brands:Honguo (2 restaurants), Muchos (2 restaurants), Indobox (2 cafes), RENNthai (1 restaurant), Bayang (1 restaurant), and Hutong (1 restaurant).

Here are takeaways from Katrina's 2016 results briefing hosted by Mr Alan Goh, the CEO:
| | | | | |
| --- | --- | --- | --- | --- |
| S$'m | 2013 | 2014 | 2015 | 2016 |
| Revenue | 40.7 | 45.4 | 51.9 | 56.8 |
| Gross profit | 7.5 | 8.5 | 8.3 | 8.4 |
| Profit after tax attributable to equity owners | 3.7 | 3.3 | 4.3 | 2.4 |
1. Net profit -- Looking at the table, one notices a break in the net profit trend of Katrina Group: In 2016, profit fell a sharp 44%.

This is partly owing to IPO expenses incurred of $931,000 and about $929,000 extra in administration expenses as the company hired more headcount to cater to future business growth and increased directors' remuneration.

In addition, cost of sales went up because of higher depreciation and rental leases from four new outlets amounting to $200,000 and $1 million, respectively.

It didn't help that consumer traffic to Clarke Quay, where Katrina operates restaurants under several brands, fell because of construction work there for most of the year. But this is mostly completed now.


Katrina

22.5 cents

52-week range

20.0-40.5 cents

Market cap

S$52 million

PE (ttm)

20

Dividend yield

2.7%

Year-to-date return

0%

Source: Bloomberg
2. Halal certified -- Restaurants under four of Katrina's brands are halal certified which not only expands their wider consumer base but also enables them to venture overseas to countries such as Malaysia and Indonesia.

In Singapore, Katrina has plans to open at least another four outlets -- in Bedok Mall, Clementi Mall, VivoCity and Marina One -- bring the total number in Singapore to 37.

Katrina is also looking actively for opportunities overseas.


3. Online food delivery -- Last year, one by one, Katrina brands became available online through foodpanda, Deliveroo and uberEATS. For the year, Katrina chalked up $2.4 million through online sales.

The momentum picked up over time, with as much as $400,000 achieved in one particular month in the last quarter of 2016. At that rate, annual sales this year would reach $4.8 million.

4. Dividend -- Katrina, which has no borrowings, has proposed a dividend of 0.61 cent a share, representing a 2.7% yield on a recent stock price of 22.5 cents.

Asked if this can be sustained, Mr Goh said he would like to pay a dividend annually while expanding the business.