Some 6 years ago, were you among investors in this photo who met Sunpower Group and learnt of its environmental engineering capabilities? (See story)

In a nutshell, China-based Sunpower designs and manufactures energy saving, energy efficient and environment protection systems.

Its capabilities are top notch, going by its projects and customers. To date, the company has served 1,500 customers worldwide including BASF, BP, Shell, SABIC, DowDuPont, Bayer and Exxon Mobil.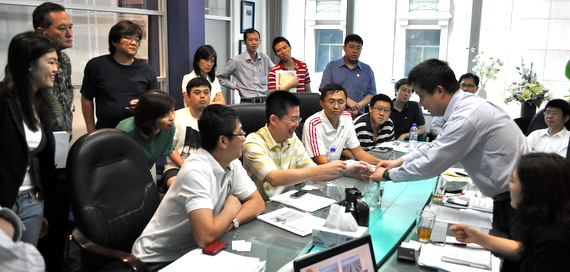 Singapore investors trying a simple experiment that illustrates how much faster Sunpower's heat pipes transfer heat from a glass of hot water compared to a normal copper rod. NextInsight file photo.
In the past few years, with the Chinese government driving hard to curb environmental pollution, Sunpower has expanded into a business segment with immense potential that it can extend its core competencies into.

It's the Build-Operate-Transfer (BOT), Build-Operate-Own (BOO) and Transfer-Operate-Transfer (TOT) business for centralised facilities which produce steam and electricity.

As we learnt from a meeting last week with Charles Chen, Sunpower's chief investment officer, the company's original core business of equipment manufacturing and EPC (engineering, procurement and construction) has proprietary technologies that place it in a superior position vis-a-vis competitors.

Sunpower produces its own pipes which have superior insulation and heat transfer properties.

Its competitors, on the other hand, have to buy equipment such as pipes from third parties which may be able to supply steam and electricity to factories only within a smaller radius of their power plants.

Not surprisingly, Sunpower's outstanding orderbook for its equipment manufacturing and EPC business has grown substantially -- from RMB1.1 billion in Feb 2017 to RMB1.45 billion in Aug 2017.

As of Sept 2017, it has risen to RMB1.7 billion.

And there is recurring revenue -- Sunpower's facilities supply steam and electricity from "clean" boilers (fuelled by coal whose emissions are processed by its proprietary technology) to factories in industrial parks which have been using "dirty" inefficient boilers.

Sunpower says in its 5 Jan 2018 Powerpoint presentation material that demand is "highly assured, driven by mandatory closure" of the small "dirty" boilers.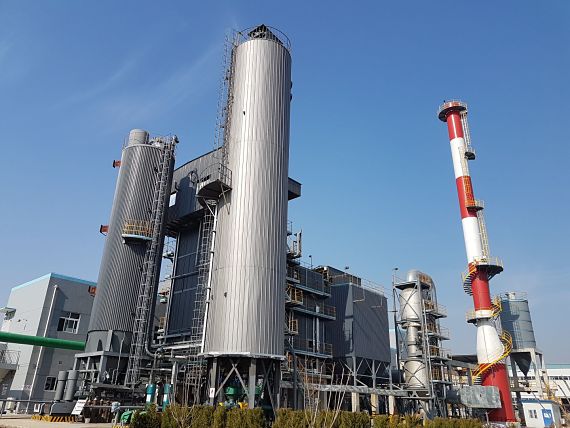 Sunpower's centralised steam plant in Quanjiao in Anhui province is so clean that there is no visible emission from the smoke stack at all.
Photo: Company
Stock price

55 c

52-week range

44-88 c

PE (ttm)

15.7X

Market cap

S$406 m

Shares outstanding

737.7 m

Dividend
yield (ttm)

0.19%

Source: Yahoo!
Sunpower Group is among a rare breed of S-chips that have been listed on the Singapore Exchange for more than 10 years. It was listed in 2005.

A major addition to its business -- green investments -- took place in 2016 (see: SUNPOWER: Using proprietary technology to help solve China's smog pollution).

It then attracted, just about a year ago, a US$106 million net cash investment from CDH Investments via the issue of convertible bonds.


CDH is a significant Chinese investor with about US$19 billion worth of assets under management.

When CDH made its investment in Sunpower, the latter had already secured 3 BOT centralized steam and electricity projects in Hebei, Jiangsu and Anhui.


More than RMB2 billion green investment projects

Project

Estimated investment

Operation starts

Hebei Changrun Project - Phase 1

RMB817m

3Q 2017

LianShui Steam Project

RMB 95m

4Q 2017

Quanjiao Steam Project - Phase 1

RMB54m

4Q 2017

Xinyuan Thermal Power Plant

RMB 212.5m

Full
operation

Shantou PPP Project -
Phase 1

RMB700m

-

Liutuan Project - Phase 1

RMB250m

-

Xintai Zhengda Project

Not avail.

-
Some of the CDH money has gone into Sunpower's projects which now have grown to seven.

Three projects started operation in 3Q and 4Q of 2017 -- in Changrun, Quanjiao and Lianshui.

While these projects will ramp up progressively, a fourth project -- the Xinyuan Thermal Power Plant -- will contribute fully in 2018 when the acquisition is consolidated into the group's results. Sunpower announced the acquisition from a third party in Nov 2017.

"Well-positioned to improve shareholder value. GI (green investments) segment is expected to start ramping up in FY18," says Sunpower in its Powerpoint presentation.

This year, Sunpower will be working towards a profit target of RMB400 million, as set out in its agreement with CDH when the latter subscribed for the bonds. See: SUNPOWER: S-chip share price at record high, heading for record profit

If Sunpower fails to achieve at least RMB360,000, the bond conversion price will be adjusted lower for CDH. See details here.

Thus far, Sunpower's original 2 core segments has a track record of stable order book despite being project-based because about 70% of their customers are repeat customers.


Sunpower says it has long-term partnerships with renowned conglomerates such as BASF, Yantai Wanhua, etc.


In 9M2017, Sunpower's revenue rose 6.5% to RMB1.13 billion. Gross profit dipped 2.5% to RMB259.4 million on higher raw material costs in equipment manufacturing.
Net profit fell 27.3% to RMB63.6 million, owing mainly to RMB22.1 million of forex losses as a result of the USD depreciation. The
unutilised portion of the convertible bonds is denominated in USD.

Given the capex-intensive nature of its green investments, Sunpower's gearing (without considering the convertible bonds) stood at 0.81 as at end-3Q2017.

Total assets/total debt was 0.23 (not considering the convertible bonds).
RISKS & CONCERNS
- Slower-than-expected expansion of the industrial parks or user base in the vicinities of Sunpower's plants. However, Sunpower says it performs careful due diligence prior to investing in the plants. Moreover, most of the plants are in developed or fast-developing industrial parks.
- China intends to increase the contribution of natural gas to the energy mix as one of the ways to combat pollution in the long term. However, coal is likely to remain the most widely-used fuel source, especially when combined with technologies that reduce harmful emissions, due to its lower cost and plentiful supply.