Chart: FT.comClosing at 39.5 cents yesterday, Sunpower Group's share price has hit a 5-year high on the Singapore Exchange. The company has recently clinched projects to help reduce China's smog pollution. Here are excerpts from Sunpower Group executive chairman Guo Hong Xin's message in the newly-released 2015 annual report that touch on this new business segment.

USING SUNPOWER'S TECHNOLOGIES AND EXPERTISE TO SOLVE CHINA'S SMOG ISSUES 雾霾治理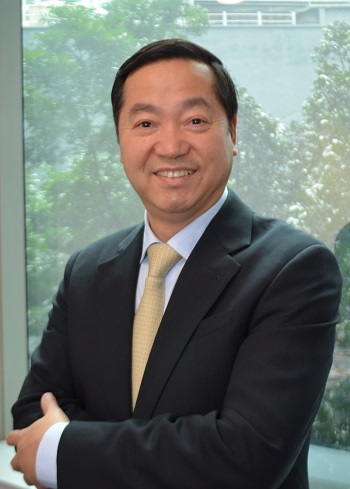 Guo Hong Xin, executive chairman of Sunpower Group. NextInsight file photo.China is facing severe air pollution and heavy smog, with air containing dangerous and cancer-linked pollutants such as PM2.5, nitrogen oxide, sulphur oxide. One of the key causes in the high carbon emission is the use of inefficient small coal-fired boilers in industrial parks, where each manufacturing plant generates its own steam requirements through the inefficient burning of coal.

The government of People's Republic of China has enacted various policies to deal with these issues including the compulsory closure of small boilers with hourly production of 10 tons or less and 35 tons or less, by the end of 2015 and 2017 respectively (Source: China's 2013 Air Pollution Prevention Action Plan).

Leveraging on our existing technologies and expertise, we are able to undertake centralised steam facilities projects in industrial parks which will replace the inefficient small boilers.

Our centralised steam facilities will achieve clean and high efficient use of coal and will use long distance heat insulated steam distribution pipelines to supply steam to production plants within industrial parks with minimum loss of pressure and temperature.

We have established a new business segment, called "Green Investments" to undertake such projects.


♦ GREEN INVESTMENTS 绿色投资
Our Green Investments segment comprises smog governance build-operate-transfer ("BOT"), buildowned-operate ("BOO") and/or transfer-operatetransfer ("TOT") projects.





♦

In December 2015, we had announced the centralised steam and electricity facility ("Changrun Project") in Hebei, China, with investment size of about RMB817 million.





♦

In first quarter of 2016, we also announced a BOT project of centralised steam facility in Lianshui Economic Development Zone with an investment size of RMB95 million and a BOT project of a centralised steam facility in Anuhui Quanjiao Economic Development Zone with an investment size of RMB54 million.



The construction of these 3 BOT/BOO projects are in progress and target to be completed in second half of 2016 and/or first quarter of 2017.



The three BOT projects are expected to contribute to our EPC revenue and income materially in financial year ending 31 December 2016 ("FY2016"), and to generate recurring income after the construction is completed and the operations commence from financial year ending 31 December 2017 onwards.





Subject to the availability of financial resources, we intend to continue our investments in smog governance projects and other BOT, BOO or TOT environmental projects so as to increase the recurring income stream to our Group.