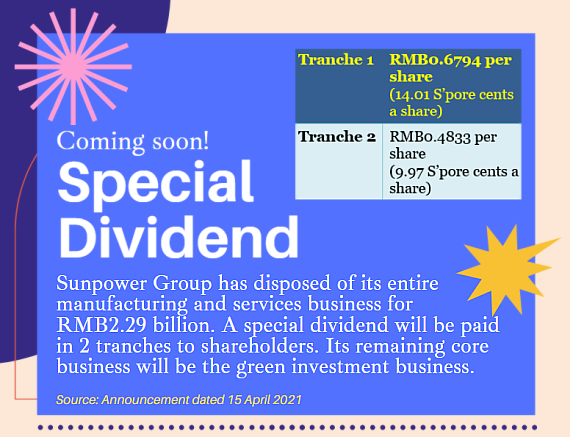 NextInsight graphic


Excerpts from UOB KH report

Analyst: Clement Ho
1Q21: Superior Profitability And Cashflow From GI; Awaiting Special Dividend
Sunpower

Share price:
83.5 c

Target:
$1.22
Sunpower's 1Q21 results are in line, with earnings of Rmb59.2m (+15.6% yoy) led by more GI projects coming on-stream.

Sunpower is in the midst of transitioning towards being a pure power producer.

In 2021, Sunpower will focus on:

a) improving capacity utilisation,
b) expansion of coverage areas, and
c) planned construction of expansion phases for existing projects.
Maintain BUY with a higher target price of S$1.22, after accounting for the reduced amount of fully diluted shares.

RESULTS
• 1Q21 results in line. Sunpower Group's (Sunpower) 1Q21 net profit rose 17.0% yoy to Rmb59.7m, in line with estimates.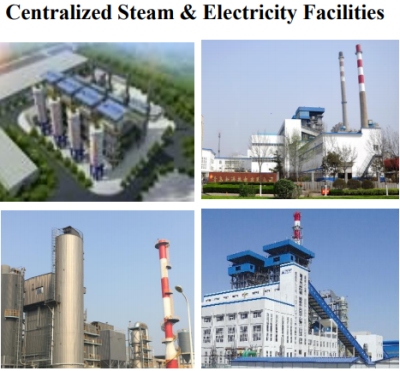 Sunpower's GI business: Invests in and operates centralized facilities that supply industrial steam to, notably, a wide range of industries.1Q21 revenue grew a faster pace to Rmb882.8m (+31.2% yoy), on a 12.5% yoy growth in manufacturing and services (M&S) and 61.2% yoy growth in Green Investments, with the latter attributed to the commercial operation of Shantou Project Phase 1 since 4Q20.

• Temporary cost hike at Xintai Zhengda Project masked underlying margin improvement. Headline gross margin contracted to 21.2% (-1.7ppt yoy, -1.4ppt qoq), mainly due to the transition from the old to new plant at the Xintai Zhengda Project.

This resulted in a one-off cost increase estimated at Rmb15m, which includes the purchase of electricity from the state grid. Excluding that, we believe that gross margin would have improved on a yoy basis, but still be lower sequentially due to seasonality effects.

Management has updated that all customers at the Xintai Zhengda Project have now switched over to the new plant. We expect gross profitability to improve in 2Q21.

• Awaiting sale proceeds from M&S disposal. Sunpower stated that conditions relating to the M&S sale have been fulfilled, and 96.51% of the proceeds have been escrowed into an onshore escrow account in China, awaiting release to the company. Upon receipt, Sunpower will make a further announcement on the record as well as the payment date for the tranche 1 special dividend.

STOCK IMPACT
• Share price to be supported by special distribution. Pending announcement of the ex-distribution date for the M&S proceeds of Rmb1.34b (approximately S$0.2398/share), we believe share price for Sunpower would be supported by the payout, which equates to 29% yield based on the current share price.

Post-distribution, Sunpower will transform into a stable asset-based business where it owns and operates industrial infrastructure projects which generate recurring income and cash flow through typically exclusive long-term concessions of 30 years.

Management sees many business opportunities in the anti-smog sector in China, due to regulatory mandated closure of high-emission polluting boilers and the structural shift to low emission centralised steam and electricity facilities.

• Sunpower to become a fast-growing clean energy producer. Sunpower has nine plants in operation and two under construction. With four of the plants acquired through M&A (almost half of its existing portfolio), acquisition opportunities have been abundant and the proposed M&S disposal would put the group in a good position to source for more targets.

EARNINGS REVISION/RISK
• No changes to our forecasts.


VALUATION/RECOMMENDATION


• Reiterate BUY with a higher target price of S$1.22 (from S$1.11), which excludes the special dividend of approximately S$0.2398, based on SOTP valuation.

The higher target price is due to the fewer amount of fully diluted shares, which decreased from 1,267.1m to 1,155m shares, as a result of expiry of warrants. Our target price implies 12.5x 2021F PE.



SHARE PRICE CATALYST


• Faster-than-expected construction ramp-up of GI projects.
• Better-than-expected utilisation at existing plants.
• EPS-accretive acquisitions.

Full report here.