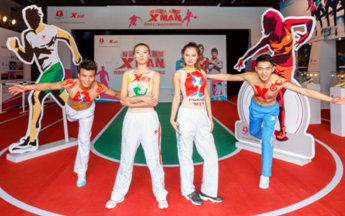 JP Morgan says Xtep is using sponsorship of major sporting events like the National Games (above) to boost is brand image in the sportswear market. Photo: XtepJP Morgan hikes XTEP target

JP Morgan said it is raising its target price on Xtep International (HK: 1368) to 2.80 hkd from 2.40 -- but this is still much higher than the recent share price of 3.85.

"The stronger-than-expected operating profit was primarily a function of reduced operating costs," JP Morgan said.

Xtep reported headline first half EBIT of 476 million yuan, down 20% y-o-y.

After adjusting for interest income and normalizing for A&P expenditure (with 1H A&P artificially low, given second half sponsorship of National Games), underlying operating profit would have been ~4% above JP Morgan's forecasts.

"We continue to remain cautious and note risks to longer-term consensus EBIT margin forecasts," JP Morgan said.

After adjusting for timing of A&P expenditure, 1H13 operating profit was around 4% above JP Morgan's forecast.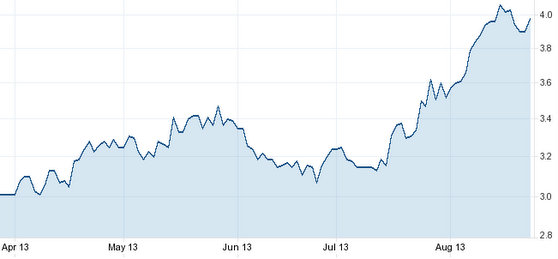 Xtep's Hong Kong shares have enjoyed a summer surge. Source: Yahoo Finance

"Xtep noted that A&P costs will increase in 2H13 as it is the sole apparel sponsor for the 12th National Games and expects full-year A&P expenses to be ~11-12% of sales," JP Morgan said.

Some trade fair improvement

Trade fair orders for 1Q14 at wholesale value declined by high single-digits.

"This represents an improvement relative to the company's 4Q13 trade fair, where orders declined 15-17%.

"Second quarter 2013 SSSG (same store sales growth) remained flat relative to the prior comparable period -- unchanged from flat SSSG reported for1Q13," the research house added.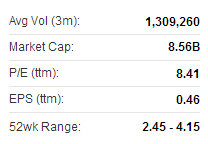 Xtep recently 3.85 hkdFollowing these results JP Morgan said it recognizes it was initially too pessimistic with respect to longer-term sustainable margin assumptions for Chinese sportswear names in general.

"We also recognize that Chinese sportswear names may benefit from some positive news flow in the short term," JP Morgan said.

The research house has an "Underweight" call on Xtep.


---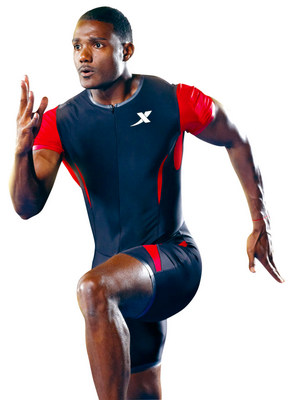 Xtep uses high-profile athletes like US sprinter Justin Gatlin to boost its brand image. Photo: XtepBocom upgrades call on XTEP to 'Neutral,' hikes target

Bocom International said it is upgrading its recommendation on Xtep International (HK: 1368) to "Neutral" from "Sell" while raising the target price to 3.8 hkd from 2.4 (recent share price 3.85).

"We upgrade Xtep in light of easing earnings pressure.

"While we remain skeptical of a recovery amid the sector's sustained destocking problem and price war, there is some sign of improvement," Bocom said.

Its improved 1Q14 orderbook, with the decline narrowing to the high single-digits (vs. a 15-17% decline in 4Q13), is one piece of evidence.

"With Xtep's continuing focused strategy of building its fashion sportswear positioning to differentiate its brand image in the mass market, we believe Xtep is on track to get out of the doldrums," the research house said.

Xtep reported a 27% decline in 1H13 net profit, largely in line with expectations, mainly due to a 20% revenue decrease and a higher effective tax rate, while the operating margin remained steady.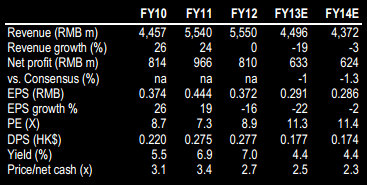 Source: BocomThe stock is currently trading at FY13/14E PE of 11.3x/11.4x, which Bocom views as fair compared with peers (average at 12.3x/11.1x).

Earnings forecast raised

Bocom is raising its FY14E net profit forecast for Xtep by 10% on higher sales and margin assumptions due to the research house's easing concern over the group's earnings pressure.

"We now expect the net profit decline to narrow to 14% in 2H13E (vs. 27% in 1H) and further to 2% in FY14E, on an improving orderbook trend (-19%/-3% in 2H13E/14E) and stabilizing margin outlook."

---