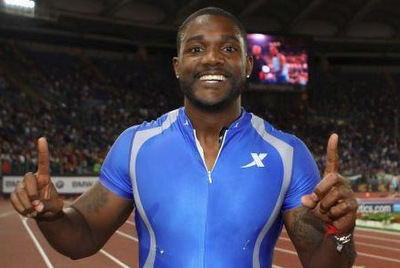 Xtep spokesman Justin Gatlin in Xtep wear at the Rome Diamond League event in June 2013. He won the men's 100m sprint event in 9.94 seconds while Usain Bolt was second in 9.95.
Photo: Xtep Facebook pageJP MORGAN has hiked its target price of Xtep International (HK: 1368) a whopping 61% on an improved operating performance by China's top fashion sportswear brand.
The target price for Xtep was upped to 4.5 hkd from 2.8 (recent share price 3.87).

JP Morgan upgraded its call from 'Underweight' to 'Neutral'.
"Over recent months, both Xtep and sportswear companies in China have been reporting improving operating performance," wrote JP Morgan analysts.

"We believe ongoing momentum will likely support Xtep's share price. Nevertheless, we remain cautious on sportswear names over the longer term, noting there is a risk that EBIT margins do contract to be more in line with international peers. Within our sportswear coverage, we believe Xtep is more attractively priced."

A reason for the attractive pricing: Xtep has underperformed both Anta and Li Ning.

The analysts had previously highlighted their concerns that the build-up in channel inventory in China sportswear took several years and that it would likely take a significant amount of time for the excess inventory to work its way through the system.

"With sportswear companies reporting improving channel inventories and Xtep reporting improving trade fair sales numbers, this does imply that the amount of excess inventory in the system was lower than our expectations. Hence, we have been required to rethink our investment thesis."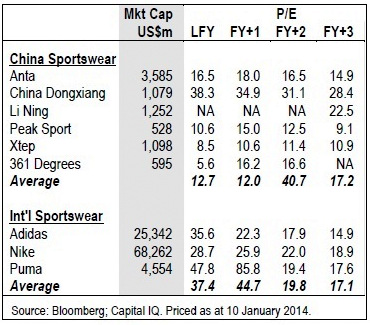 JP Morgan raised its 2014/2015 earnings forecasts for Xtep by 16%/26%, respectively, to 602 million yuan and 630 million yuan.

"We believe there is risk that EBIT margins for Xtep (~20%) will contract to be more in line with international competitors (high single digit to low teens)."

Potential drivers of EBIT margin contraction include:

(1) Increased investment in A&P in order to compete more effectively with international brands;

(2) Increased investment in changing the traditional wholesale distribution model in order to deal with the threats posed by the growth of e-commerce;

(3) Increased competition posed by the growth of casual wear.

JP Morgan added that upside risks to its price target for Xtep include:

(1) Higher-than-expected improvement in sales;

(2) Significant improvement with respect to gross margins;

(3) Significant reduction of the competitive environment for sportswear in China.

Downside risks include:

(1) Significant downturn in the retail environment;

(2) Increase in the competitive environment for sportswear in China;

(3) Significant loss of market share;

(4) Higher-than-expected sourcing costs;

(5) Higher-than-expected capex expenditure.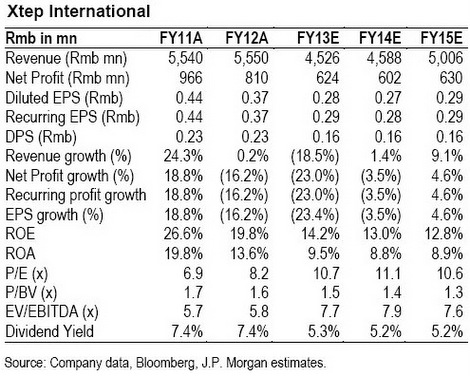 Listed in June 2008 on Hong Kong's main board, Xtep International is a leading PRC fashion sportswear enterprise. It is principally engaged in the design, development, manufacture, sales and marketing of sports footwear, apparel and accessories. Xtep boasts an extensive distribution network of over 7,000 stores covering 31 provinces, autonomous regions and municipalities across the PRC.
---

MEIKE issues profit warning

Sportswear play Meike International (HK: 953) issued a profit warning, projecting a widening of its net loss for calendar year 2013.

In 2012, Meike recorded a net loss of 150.9 million yuan.

It cited sluggish domestic demand, intense competition in China, deep discounts to clear inventories and further discounts to footwear and apparel distributors as reasons for the gloomier 2013 bottom line forecast.

Meike nearly halved the number of its sales outlets from 1,197 in 2012 to 562 in 2013.

---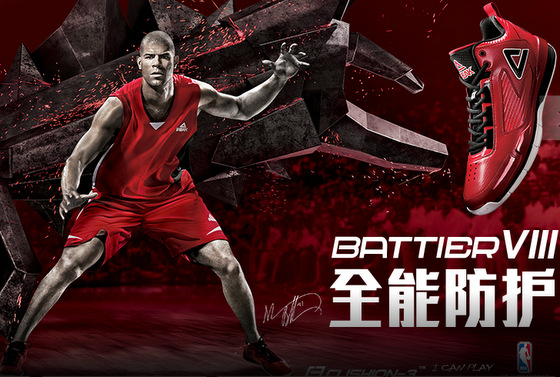 The NBA's Shane Battier is a high-profile Peak Sport spokesperson. Image: Company

Guoco has 'Buy' call on PEAK SPORT

Guoco Research gave major PRC-based sportswear manufacturer and distributor Peak Sport Products Company Ltd (HK: 1968) a "Buy" recommendation with a target price of 2.35 hkd (recent share price 2.08).

"The counter rose 3.4% on January 20 to hit a 52-week high, breaking through the critical resistance level.

"Its trend against the benchmark Hang Seng Index has also seen a positive breakout," Guoco said.

Analysts' consensus 2014 P/E for the stock is 12.4 times and the consensus target price is 1.95 hkd.

---

See also:

DETEAM'S 560 Million Yuan Coal Deal; XTEP Inventory Improvement