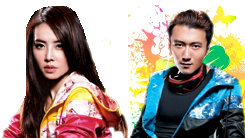 Xtep is China's top fashion sportswear play. Photo: CompanyJP Morgan: XTEP's Q2 trade fair performance tops in sector

JP Morgan said Xtep International (HK: 1368) had a rosier trade fair performance than peers in the second quarter among Hong Kong-listed sportswear plays, despite all reporting firms showing volume declines.

Xtep, China's top fashion sportswear brand, has seen its share price surge 25% since last month versus a mere 7% rise for the benchmark Hang Seng Composite Index, the research house said.

"China sportswear names have outperformed over recent weeks with the consistent message among sportswear names during reporting season so far being that 'the worst is over'."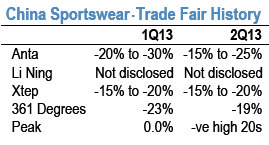 Xtep's Q2 trade fair performance was rosier than its peers. Source: JP MorganJP Morgan said that in general, sportswear companies have offered the following reasons for this view:

(1) Inventory levels have reduced to healthy levels or are close to healthy levels; (2) Sportswear companies are seeing sequential improvement from perspective of sales and margins, and (3) Sportswear companies are increasingly confident of seeing positive sales growth in 2014.

"Although we expect positive share price momentum over the short term, we remain cautious for several reasons," the research house added.

Following recent performance, share prices are at similar levels to August 2011, at levels prior to when sportswear brands began to report a slowdown in trade fair orders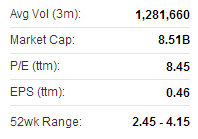 Xtep recently 3.91 hkd"We expect the weak environment for apparel & footwear to weigh negatively on sportswear names and we also anticipate smaller struggling sportswear brands to negatively impact the industry."

Over the longer term, JP Morgan said it believes the wholesale business models of Chinese sportswear companies will likely need to change in order to be more customer-centric.

"We believe this will negatively impact profitability."

JP Morgan has "Underweight" calls on three Hong Kong-listed sportswear firms: Xtep (HK: 1368, target: 2.40 hkd, current price: 3.94), Anta Sports (HK: 2020, target: 6.60, current price: 9.60) and Li Ning (HK: 2331, target: 2.60, current price: 5.37).


---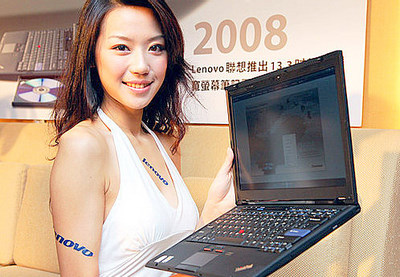 Lenovo has grown to become the world's largest PC play.
Photo: CompanyBocom: LENOVO now undisputed No.1

Bocom International says it is reaffirming its "Buy" recommendation on Lenovo Group (HK: 992.HK) after the Chinese technology firm was declared the undisputed top PC brand worldwide in terms of shipments.

"For the first time, Lenovo successfully seized the number No.1 position in the global PC market, which confirmed our prior expectation.

"Despite challenging global PC market conditions, Lenovo continued to expand its market share, with total PC shipments of 12.6 million units in 2Q13, which slightly declined 1.4% y-o-y (sector: -11.4%)," Bocom said.

Accordingly, Lenovo's global market share expanded to 16.7% in 2Q13 (1Q13: 15.3%; HP's current market share: 16.4%).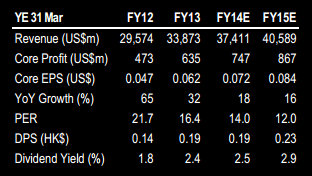 Source: BocomIn the first quarter of fiscal year 2014, Lenovo reported a set of better-than-expected results.

Revenue climbed by 9.7% year-on-year to 8.8 billion usd, mainly led by the MIDH (Multimedia, Internet and Digital Home) business (up 106% y-o-y) and PC business (up 1.9% y-o-y).

Gross margin notably improved by 1.3 ppts q-o-q or 1.6 ppts y-o-y to 13.6%, the highest level in four years.

"As a result, net profit increased by 23% y-o-y to 174 million usd, better than our estimate and market consensus.

"It confirmed our positive view on Lenovo's growth prospects as it continues to benefit from the consolidation of the global PC sector and further enhancement of the MIDH business.

Bocom has a target price of 9.2 hkd on Lenovo (current share price 7.30).


---

See also:

XTEP Gets Its Game On

Q1 Disaster For Global PC Sales: How's Lenovo Doing?