SOLARGIGA: Sharp order sends shares soaring

Solargiga Energy Holdings Ltd (HK: 757), China's leading monocrystalline silicon solar ingot and wafer manufacturer, said Japan's Sharp has signed a deal to purchase a new type of product from Solargiga -- 370 MW of solar modules – by end-2013.

The massive order sent Solargiga's Hong Kong-listed shares soaring nearly 12% during Tuesday trade.

This represents a new business deal for Solargiga and Sharp after almost a decade-long supply and sales partnership which promises to further strengthen the sustainable tie-up between the two.

The most important aspect of this expanded arrangement is that Solargiga has now become the largest solar product supplier in China for Sharp, with shipment quantities far ahead of its peers.

Mr. Hsu You Yuan, CEO and Executive Director of Solargiga, said: "Facing the imposition of US and EU tariffs and countervailing anti-dumping duties on Chinese PV (photovoltaic) products, PRC PV companies are all actively developing other sales regions outside of the US and EU to ease the pressure of high tariffs.

"Since the Fukushima nuclear crisis in Japan, PV applications are more in demand by the market there."

He added that Japan's PV market has been growing sharply and has become a major market for global PV companies given that Japanese government solar subsidies are extensive.

"Solargiga is committed to developing Japanese PV market so that we can occupy a strong presence in the country's solar sector. We developed a new business area for us and Sharp after almost a 10-year supply and sales partnership during which Solargiga has become Sharp's largest solar product supplier in China."

Solargiga completed a cash capital increase of approximately 80 million hkd in late May 2013, with the solar firm having already completed a cash capital increase of approximately 427 million hkd in total within half a year to improve its financial strength.



---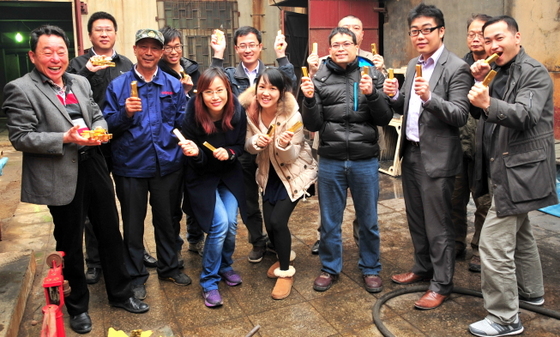 Golden Opportunity: Analysts recently toured Kingwell's North China gold processing plant.
Aries Consulting file photo

KINGWELL: Going for gold in Brazil

KINGWELL GROUP (HK: 1195) said it has entered into a Letter of Intent agreement with Brazilian Gold Corporation, pursuant to which Kingwell may make a general cash offer to the shareholders of BGC for not less than 50.95% of the outstanding common shares of BGC at a price of 0.27 Canadian dollars per share.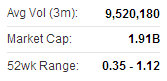 Kingwell recently 1.08 hkdKingwell has the exclusive right to negotiate with BGC for the possible acquisition for a period of three weeks from the execution of the Letter of Intent, subject to extension by BGC.

Kingwell may conduct due diligence review on BGC and its assets during the exclusivity period.

Founded in 1996 and headquartered in Hong Kong, Kingwell last year decided to transform itself out of the loss-making printed circuit board business and into the much higher-growth gold mining and processing sector.

---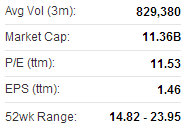 CSS recently 16.8 hkdMorgan Stanley: CHOW SANG SANG 'Overweight'

Morgan Stanley said it has an "Overweight" recommendation on gold and jewelry retailer Chow Sang Sang (HK: 116) with a target price of 24.50 hkd (recent share price: 16.8).

Its sector-leading earnings growth was one reason for the bullish call.

As for the jewelry and gold play's top line, Chow Sang Sang's 2012 revenue from its jewelry division surged 18% year-on-year to nearly 15 billion hkd.


---

See also:

SOLARGIGA: Q4 Order Surge

Gold Rush: KINGWELL 'Buy', CHOW SANG SANG's 'Golden' Week