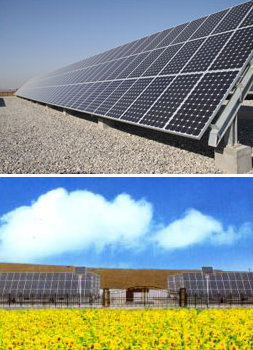 Full solar panel assemblies are part of Solargiga's strategy to become a one-stop supplier. China's green push will also help Solargiga.    Photos: SolargigaSOLARGIGA ENERGY Holdings Ltd (HK: 757), China's leading monocrystalline silicon solar ingot and wafer maker, had a difficult 2012 due to weak selling prices, industry oversupply and raw material inventory provisions.

However, a 47% surge in Q4 shipments has put a spring back in the step of the solar play.

For the full year, the Hong Kong-based manufacturer swung to a net loss of 1.3 billion yuan versus a year-earlier net profit of 54.3 million.

Basic loss per share stood at 55.99 RMB cents (2011: basic EPS 2.43 RMB cents).

Full-year revenue fell 61.3% to 996.8 million yuan.

"The global solar energy industry continues to face challenges of overcapacity, oversupply and increasing inventory levels in the upstream and downstream business. Due to the slowdown in the global solar market, selling prices of solar products dropped, which led to the decrease in turnover in 2012.

"However, we see signs that capacity and demand are coming back into harmony," said Solargiga Executive Director Hsu You Yuan.

The firm was also encouraged by its financial discipline, with a year-end net debt-to-equity ratio of under 67% -- far more healthy than the 113.5% level for key domestic rival GCL Poly.

Furthermore, China's ongoing and historic demographic shift from farms to factories, and from rural areas to cities, will provide upside for Solargiga over the long run.

"Urbanization is a positive for us with greater concentrations of energy consumers requiring more electricity. And it is often impractical to use nuclear, wind or hydropower in heavily populated areas.

"That leaves solar atop the totem pole in terms of renewable energy options," Mr. Hsu said.

He added that the global solar energy industry last year – especially in China -- was still in the process of digesting the over-investment in capacity in 2010 and 2011.

It did not help that demand growth for solar power generation slowed down in 2012, with demand increasing by just 5%, from 27.7GW in 2011 to 29GW in 2012 -- the first time in a decade growth has dipped below 10%.

Mr. Hsu added all peers in the industry suffered from the downturn last year.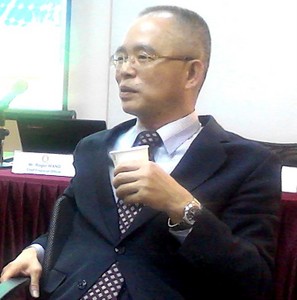 Solargiga Executive Director Hsu You Yuan said the new Chinese government will be more particular about who is subsidy worthy among China's solar plays.    Photo: Andrew Vanburen"Analysis also showed that the growth did not meet the expectation of over 30GW of demand of solar energy that was originally estimated for the industry in 2012."

Solargiga has differentiated itself from domestic rivals over the years by striving to be a "one-stop solar shop," offering a wide range of products up and down the production chain.

"Last year we established an effective and unique vertically integrated 'inverted pyramid' supply chain, and we gradually completed our transformation from a 'Golden Cap' solar energy materials manufacturer to a one-stop service provider of solar power projects.

"We aim to become a high quality, high tech firm distinguished from other participants in the industry. We have already obtained 51 patents and 11 patents are in the process of application," the Executive Director said.

Solargiga will continue to devote efforts in research and development, and individual products including ingots, wafer, cells and modules within the supply chain can also be sold to third parties.

He said Europe continued to remain the biggest consumer of solar energy products.

Though subsidy policies for solar energy in the European market decreased in 2012 amid the financial troubles on the continent, Europe is still the biggest market for solar energy products, amounting to 16.48GW last year and accounting for 60% of the global market.

Germany set a target of an accumulated installed capacity of solar energy in the country at 52GW by 2020.

"If the total installed capacity exceeds the target, no subsidy would be granted for the excess of newly installed capacity which is over the target level," Mr. Hsu said.

China to drive global demand?

Back home in Asia, the continent is the second biggest solar energy market, totaling 8.69GW in 2012.

"There were still strong driving forces from the rapid growth of the Chinese end markets in the second half of 2012. The Chinese Government indicated that photovoltaic power generation and application of solar thermal technology have been the fastest growing renewable energy technologies in the world in the last decade," he added.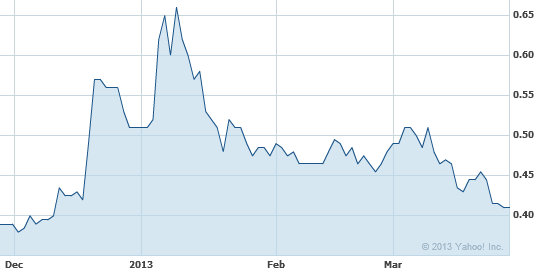 Strong Q4 sales sent Solargiga's shares soaring earlier this year, and are currently trading at around 0.41 hkd.

Furthermore, Mr. Hsu said Beijing has clearly stated that photovoltaic technologies are designated as one of the major technological development projects under the 12th Five-Year Plan, and a "Special Plan for Solar Power Generation Technology in the 12th Five-Year Plan" has been formulated.

"The Chinese Government aims to lift its self-research and development capability and grasp core technologies, which will support China's transition from a major manufacturer in the solar energy industry to a rising power within the industry and create a favorable cycle for the development of the solar energy industry."

As for the US solar sector, the proportion of demand of the entire US solar energy market in 2012 was 13% of the global total, amounting to 3.68GW.

This is mainly attributable to California benefitting from energy quotas and subsidy policies of renewable energy initiatives.

In fact, the California market accounted for over one third of the whole US market in 2012.

As at 31 December 2012, Solargiga was equipped with 589 monocrystalline ingot pullers and four multicrystalline casting furnaces, of which 397 monocrystalline ingot pullers were located in the Jinzhou production base in Liaoning Province while the remaining 192 monocrystalline ingot pullers were installed in the plant of Solargiga Energy (Qinghai) Co Ltd which is 51% owned by the Group.

Using its "inverted pyramid" vertical integration supply chain model, Solargiga was able to fully utilize its upstream products for the production of its downstream products, and the upstream products including ingots, wafers and cells were also sold externally.

As at 31 December 2012, Solargiga had 121 wiresaws at its Jinzhou production base, with an annual production capacity of wafers reaching 900MW.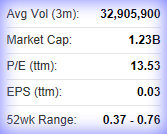 External shipment volume of silicon solar wafers in 2012 rose 34.4% to 244.7MW.

Solargiga's Jinzhou base is equipped with production lines of solar cells with production capacity of 300MW and external shipment volume of solar cells was approximately 91.15MW in 2012, representing a decline of 35.1% year-on-year.

It contributed a segment turnover of approximately 274.7 million yuan (2011: 842.1 million), accounting for 27.6% of Solargiga's turnover (2011: 32.7%).

"The manufacturing of cells provides stable and high raw materials supply for the modules business of the Group, and enhances overall operational efficiency," Mr. Hsu said.

Since Solargiga is mainly engaged in the manufacturing of solar products, it is not the group's long term strategy to hold photovoltaic power plants.

"Therefore, among the photovoltaic power plants that the Group holds -- photostatic power plants in Qinghai Golmud, Liaoning Jinzhou and Germany -- certain power plants under the German power plant project have been disposed of. The Group is seeking opportunities to dispose of major power plants projects to generate working capital for the Group or for construction of new power plants for the production of solar modules," he added.

Looking ahead, Solargiga was confident that its raw material provisions and inventory clearance campaigns would translate into better prospects down the road.

It was also confident that the new national government in China would continue its pro-growth policies for domestic solar plays.

"During the recently concluded National People's Congress and the Chinese People's Political Consultative Conference, Premier Li Keqiang said of the solar sector 'Development is the top priority and cost-reduction is the top strategy'," Mr. Hsu said.

He added that the government would only give subsidies to "viable" solar firms of which Solargiga believed it was a part.

"Curbing for blind expansion of industries such as solar energy and wind power was mentioned in the Chinese Government Work Report this year. The former minister of National Energy Administration Zhang Guobao said new energy such as wind power and solar energy constitute a relatively low proportion in the energy structure currently.

"We believe this is a good beginning for new energy, and the most important task now is to break the bottleneck in grid connection and avoid the blind expansion in equipment manufacturing industry of solar energy and wind power.

"The development plan of the state is a favorable factor for Solargiga and we are optimistic in our outlook," Mr. Hsu said.

---