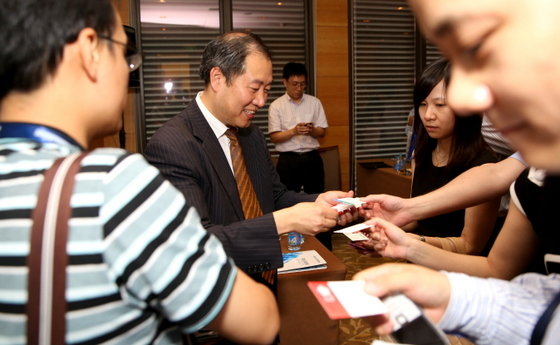 Golden Opportunity: Kingwell Executive Director Mr. Yang Xuejun (center) meets investors in Shenzhen to discuss the firm's ongoing shift to gold mining. Photo: Aries Consulting

KINGWELL GROUP (HK: 1195), formerly a dedicated printed circuit board (PCB) maker, began a 180-degree shift two years ago.

Its decision to jump headfirst into the gold mining and processing sector will pay off.

Given the low margins, weak export environment and intense competition in the Chinese PCB manufacturing sector, Kingwell decided to shift its business focus to gold mining both at home and abroad.

Beginning in June 2012, Kingwell has been very active in gold mining M&As, with the first acquisition a 51% stake in Russian gold mining company Zolotoy, which operates a 309.2 sq km gold sands mining site along the Molchan River in Eastern Russia's Amur Region.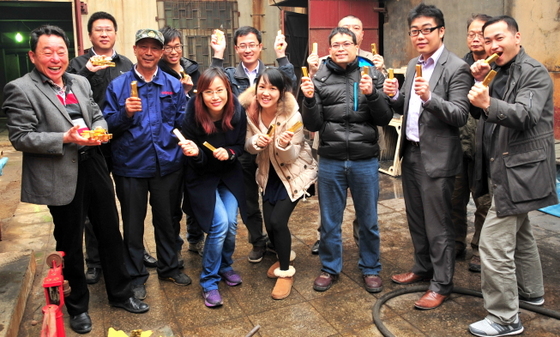 Going for Gold: Analysts recently toured Kingwell's North China gold processing plant.
Aries Consulting file photo

Total consideration amounted to 13 million usd and Kingwell can increase the holding to 65%.

The initial estimate of the total gold sand reserves is over 35 tons with low production costs and a simple production process for Kingwell.

That the site is just across the river from China's Heilongjiang Province is a logistical bonus for Kingwell.

Two additional gold mining acquisitions in the pipeline are a 70%-stake in three mines in Shandong Province (Shanchakou, Jinjiling and Yaojia) and a 51% stake in Toronto-listed Brazilian Gold Corp, which owns a mega 3,753 sq km gold mine in Brazil's mineral-rich Tapajós Province.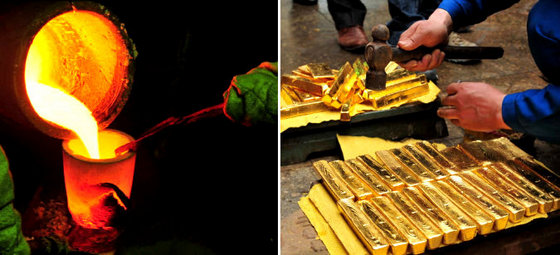 Kingwell Group, formerly a dedicated printed circuit board (PCB) maker, began a 180-degree shift two years ago to gold mining and processing. Photos: Kingwell

"Russia's Far East is the country's most blessed region in terms of gold reserves. In addition, access to our new asset there is very convenient, being just a short 10-minute walk across the bridge," said Kingwell Executive Director Mr. Yang Xuejun.

Speaking in Shenzhen on July 5 at the Aries Consulting-organized "Scaling New Heights Investor Conference 2013," Mr. Yang said that the expected recovery in global gold demand and the higher profitability from the mining and processing of the yellow metal was helping make the decision for Kingwell to completely focus on gold.

"We hope to sell off all our PBC assets as soon as possible," he said.

It wasn't just Russia's richest gold region that was giving Kingwell cause for optimism.

Mr. Yang explained that the eastern Chinese province of Shandong -- site of Kingwell's other major mining assets – was home to the PRC's most well-endowed gold veins.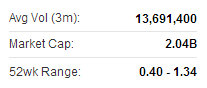 Kingwell recently 1.15 hkdHe said Kingwell saved a great deal of investment capital as it focuses on gold sand assets, much are more cheaply extracted as the precious metal is closer to the surface.

"Gold sand mining is easy. All we do is spray off the sand with water and only gold remains," he said.

But that wasn't all, as another prize – albeit less valuable – often awaited them.

"We also end up with some silver, often in the same vein as the gold."

Transforming into a gold mining play might pay off in the end, but it wasn't cheap at the outset.

Kingwell's recent flurry of mining M&A activities along with its loss-making PCB operations have taken a toll on its financial results of late.

Its 2012 second half revenue fell 25.8% year-on-year to 102 million yuan, resulting in a 67.9% drop in net profit to 13.7 million.

However, given the global market for gold, picking up mines is much less expensive now than a year earlier.

Latecomer benefits

Kingwell is ramping up its gold operations at a time when global gold prices are undergoing major corrections.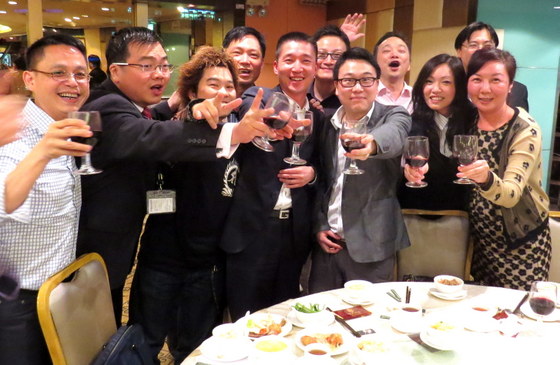 Kingwell wins a gold medal for hosting a fun-loving investor gathering in Hong Kong this spring. Aries Consulting file photo

Many international gold miners are seeking to sell noncore assets in response to the sharp decline in gold prices," Mr. Yang said.

Management said some companies have lowered their prices by about 20-30% after recent price corrections during the course of acquisition negotiations, making Kingwell's M&A campaign look smarter by the day for its timing.

"The number of M&A deals have diminished, and more sellers have been obliged to lower their expectations as willing buyers in the gold mining industry are not numerous.

"Current market conditions are favorable for Kingwell in making bargain deals and facilitating faster acquisitions and expansion in its gold mining business," he added.

The 70%-owned Shandong mines are sold along with processing and refinery plants which own four million tonnes gold refinery capacity are proposed to be acquired for only 370 mln yuan.

Meanwhile the acquired 51% stake in BGC, which owns one of the largest mineral exploration land packages of 3,753 sq km in the Tapajos and adjacent Alta Floresta gold provinces in Brazil, possesses 1.921 mln oz inferred reserves.

The bargain basement price purchases for these mines and others likely down the road could help to boost the intrinsic value of Kingwell, Mr. Yang added.


---

See also:

Gold Rush: KINGWELL 'Buy'