Excerpts from HSBC report on JU TENG INTERNATIONAL



HSBC Global Research reiterates OW rating with target price of HKD8.50



Analysts: Carrie Liu, Louis Cheng & Jenny Lai

Guidance for FY14 is for sales to grow by 5% y-o-y with gross margin to improve 1-2% on rising non-plastic mix.



1H14 margins are guided to be flat to down h-o-h given slow seasonality and smartphone project delay but management expects margin to improve substantially in 2H as multiple non-plastic projects for NBs (notebooks), tablets and smartphones will be ramping-up.



We expect stable commercial NB metal casing and new projects win from Microsoft and Amazon to support 1H margins while smartphone/NB projects based on composite material/carbon fibre will be the key driver in 2H.



Management also confirmed that it will add new smartphone customers this year and the partnership with Motorola remains intact, despite the recent acquisition by Lenovo (992 HK, HKD8.27, OW, TP HKD10.20).





We therefore expect non-plastic casing exposure to increase to 38% of sales in 2014 from 28% last year.





By product, smartphone and tablet casings would account for 17% of total sales from 10% last year, based on our forecasts.



Reiterate OW(V) with TP of HKD8.5. We increase our FY14/15e earnings forecast by 2%/4%, respectively, mainly to reflect better margins. Our TP is now set at HKD8.5 (was TWD7.5), based on 10x (was 9x) FY14e earnings.



We lift our target multiple to reflect continued improvement in product mix, margins and therefore better earnings growth.





We expect the favourable product design trend, the rising mix of non-plastic casings, and new business opportunities in the smartphone arena to continue to drive margin expansion.





At 7.2x FY14e earnings, we view the current valuation as attractive and expect consensus earnings upgrades to act as a share price catalyst.



Recent story: Overweight JU TENG, go Neutral On LENOVO -- Analysts

---

Weak Property Performance Hits KINGWELL's Interim Earnings


KINGWELL GROUP Ltd (HK: 1195), an electronics and property play, saw its interim (July-Dec 2013) revenue drop 50.2% to 50.7 million yuan, leading to a wider bottom line loss of 34.5 million, mainly due to weak real estate performance.

Gross profit amounted to 1.03 million yuan, down 94.2% year-on-year.

Kingwell recorded a loss of 105 million yuan in the financial year ended June 2013, and a loss of 204 million in the year-earlier period.

The firm is engaged in the manufacture and sale of rigid printed circuit boards and property development. Its 51% stake in a gold mining company has yet to contribute revenue.

Electronics

In the July-December 2013 period, electronics products revenue fell 2.9% year-on-year to 38.95 million yuan.

Kingwell's electronics products have a broad range of applications in consumer digital devices, and the automotive and medical industries.

"The unfavorable market conditions in the global economy continued to pose various challenges to the electronics industry.

"Both our orders and average selling prices were under pressure amid intense market competition, and customers were still cautious in placing orders which added to the downward pressure of average selling prices," said Kingwell Chairman Mr. Hui Lung Hing.

"Growing inflation in the PRC led to rising raw material and labor costs, and the labor force shortage and environmental production requirements increased production costs and undermined our profitability.

"Looking forward, intense competition and an unfavorable operating environment will continue to pose challenges to the electronic industry as well as the group," Mr. Hui said.

Property development

Kingwell's property development revenue for the six-month period plummeted 79.6% year-on-year to 12.61 million yuan.

"The decrease in revenue was due to the low stock level for sales and no new projects for the property development business," Mr. Hui said.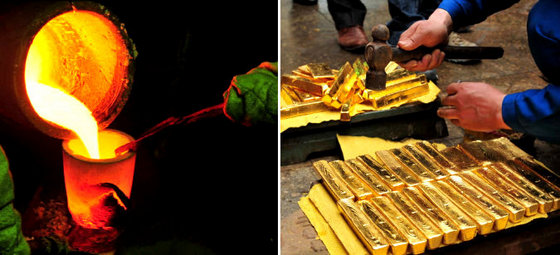 Kingwell is banking on gold mining to lift its prospects. Photos: Company
Gold mining

Kingwell is looking forward to recording maiden revenue from the Russian gold mine it acquired a stake in in August 2012. The aggregate mining area is about 309.3 square kilometers, and has estimated sand gold reserves of 35 tonnes.

The gold mining company is in the process of devising its production and exploitation plan.

"Looking ahead, we will continue to implement a diversified development strategy and proactively search for potential investment opportunities, particularly in gold mining projects," said Mr. Hui.

Despite its disappointing performance in recent years, Kingwell has attracted big investors.

In November of 2013, Kingwell raised 140 million hkd through the placement of 302 million new shares at 0.48 hkd apiece.

The placing price represented a 17.2% discount to share price levels at the time.

The net proceeds from the placement were to be used to reduce interest-bearing loans and as general working capital.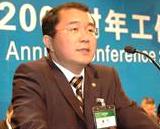 Liu Minghui, executive chairman of China Gas. Photo: gas.inenIn August of last year, China Gas (HK: 384) Executive Chairman Mr. Liu Minghui bought five million Kingwell shares at an average price of 0.71 hkd per share (share price at time: 0.73; share price recently: 0.485 hkd).

This lifted his stake from 4.86% to 5.14%, making him a substantial shareholder.


For more information on the July-Dec 2013 results, see Kingwell's announcement on the HKEx website.


See also: KINGWELL Profit Warning