Excerpts from HSBC Securities report

Analysts: Somesh Agarwal & David Phillips
♦ YZJ's order inflows have been strong recently, despite a weak macro environment, especially in containership and bulk carrier segments
♦ Shipbuilding order book is robust at USD4.03bn, which provides strong revenue visibility for 2.5 years
♦ Upgrade to Buy from Hold and raise target price to SGD1.57 from SGD1.06 after raising our earnings estimates by 18-24%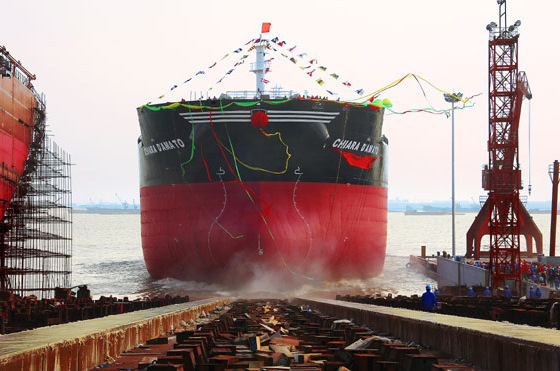 Containerships and bulk carriers segments showing strength and resilience

Yangzijiang Shipyard

Share price:
$1.34

Target:
$1.57
In addition to winning seven containerships and nine bulk carrier orders in 2016, YZJ won another two containership orders and 11 bulk carrier orders in 1Q17. Out of the total 84 vessel in the orderbook as of 1Q17, 44 are containerships and 35 are bulk carriers. In value terms, containerships account for 57% of the current order book of USD4.03bn, and bulk carriers for 37%.

Order inflows have been strong in a weak environment
While O&M companies have been suffering from a lack of orders in a weak oil environment, YZJ has seen stable to increasing orders in the last 12 months. While order inflows came in at USD823m in 2016, management has kept a target of USD1.5bn for 2017, out of which YZJ received orders of USD318m in 1Q17.


21% growth in 2017e
"We expect strong profit growth in 2017e, which should stabilise in the next two years. We expect strong 21% profit growth in 2017e, driven by the robust shipbuilding order book. However, recent cancellations, such as the four orders that were terminated in 1Q17 (three 36,500DWT bulkers and one 10,000 TEU containership), may keep revenue and profit growth muted in 2018e."

-- HSBC Securities
Shipbuilding order book is robust and provides revenue visibility for 2.5 years
The end-1Q17 order book of USD4.03bn (RMB27.4bn) provides revenue visibility from shipbuilding for 2.5 years at an annual shipbuilding revenue run-rate of RMB12bn. This, we believe, forms the backbone of YZJ's future revenues and earnings.

Buy with a new target price of SGD1.57; our earnings estimates are 5-17% above the Street for 2017-19e
We upgrade YZJ to Buy from Buy with a new target price of SGD1.57, up from SGD1.06. The increase in target price is driven by an increase in earnings estimates of 18-24% for the next three years. At a 0.9x 2018e PB with an 8-9% expected ROE in 2018-19e, we think the stock is well positioned for further upside.