Excerpts from analysts' reports
HSBC upgrades Olam Internatioal from neutral to overweight

Analyst: Thilan Wickramasinghe


• Olam has executed the first year of their balance sheet friendly strategy well, in our view

• We believe that going forward, this will improve gearing, release cash and provide better earnings visibility

• Raising DCF and peer PE-based TP to SGD3.14 (from SGD2.39). Upgrade to OW (from N)
Delivering on strategy. Olam's first year of executing their balance sheet friendly strategy has seen total net gearing lowered to 1.8x from 1.9x a year ago and SGD518m of cash released from various capital management initiatives (such as sale and leasebacks, partial asset divestments etc.).

Realising value from their existing balance sheet rather than deploying growth capital will remain management's key focus over the medium term, we believe. As a result, we expect further initiatives to release cash and for the first time, we build this into our forecasts.
We estimate Olam will likely release SGD400m of cash in FY15e (SGD313m of initiatives have already been announced) and for FY16e-17e we estimate SGD200m each, which we consider to be conservative.
Overall, we lower our net capex forecasts for FY15e-16e by 30-50%. 26% of Olam's funding is now drawn from debt capital markets vs. 15% 2-years ago. We believe improving cash flow and debt metrics will drive Olam to seek an investment grade credit rating in the near term. This is likely to add further discipline and improve visibility in terms of balance sheet management and execution going forward.
---

AmFraser Research maintains buy call on Sin Heng Heavy Machinery

Analyst: Royston Sim

Sin Heng reported 4Q14 revenue of S$58.9m which was in-line with our forecast. Reported PATMI at S$3.4m was 19.5% lower than the previous corresponding quarter. FY14 normalized PATMI (adjusted for forex gain/loss) came in at S$14.5m, slightly underperforming our expectations of S$15.1m, largely due to higher administrative and tax expenses following its aggressive expansion into developing nations such as Myanmar and Vietnam. We lower our FY15 normalized PATMI forecast by 16% and introduce FY16 financial numbers.

Rental segment recovery. Despite generating a lower turnover as compared to 4Q13, the rental business recorded S$5.0m in gross profit this quarter, up 20.7% on a YoY basis with lower repair and maintenance costs incurred for the quarter. However on a full year basis, this segment's earning was down 9.6% due to poor rental business sentiments in FY14 with the completion of major construction projects last year.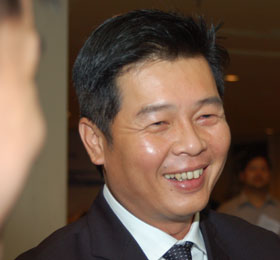 Don Tan, MD of Sin Heng Heavy Machinery. NextInsight file photo.Trading business still strong. Revenue was down 4.2% this quarter but up 24.4% on a full year basis. We notice that Sin Heng's trading business remains resilient with 4 quarters of higher revenue, aided by the weakness in the JPY which made Japanese cranes more affordable. Gross profit was also up 35% with greater volumes and better product mix. The introduction of its new Arcomet's self-erecting cranes will allow the company to reach out to a greater spectrum of customers ahead.

Strong balance sheet to support growth overseas. Sin Heng ended FY14 with S$55.9m in cash and S$23.4m in bank borrowings/finance leases. Its strong balance sheet provides the flexibility for overseas expansion into fast growing areas such as Myanmar, Malaysia and Vietnam where we are witnessing spectacular growth of 138%, 42% and 36% respectively in its top-line contribution.

Maintain BUY with FV at S$0.245. We reduce our normalized PATMI forecast for FY15 by 16% to account for higher operational expenses as the company ramps up its overseas expansion plans. Based on 9.1X FY15 P/E, (company's historical 5-YR P/E range), our fair value estimate for the company is S$0.245. With an estimated yield of 4.9%, total return stands at 24.4%. Maintain BUY.

Recent story: JP Morgan's picks and 'avoids'; AmFraser initiates coverage of SIN HENG