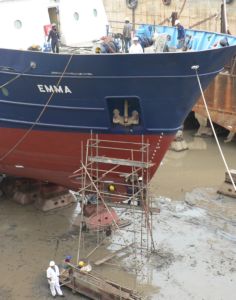 @ ASL Marine's yard in Batam. NextInsight photoASL Marine (recent stock price: 55 cents), which is trading cum dividend of 4 cents a share, has initiated its share buyback programme.

The maiden purchase was made Oct 15 involving a modest 110,000 shares.

This follows heavier buying by directors at far higher prices, as the table above shows.

Recently, NextInsight and a bunch of analysts visited the company's yard in Batam.

Our report is: ASL MARINE: Riding the wave of shiprepair boom





---



Battered by bad news regarding shipping lines,First Ship Lease Trust has plunged in recent days to the extent that its yield is potentially an eye-popping 45% over the next 1 year. The stock recently traded at 40 cents, versus a historical 18-cent distribution per unit.

Of course, the key assumption is that the historical distribution per unit (DPU) can be maintained, more or less.

Citigroup in a report recommending a 'sell' on another shipping trust, Rickmers Maritime, cautioned: "Take cover elsewhere— Shipping trusts no longer serve as a safe haven in challenging times, as the trust is not fully de-coupled from shipping industry challenges, and has a finite life equal to the vessel lifespan."

First Ship Lease Trust Management (FSLTM), the trustee-manager of First Ship Lease Trust, issued a statement last night (Oct 15) to assure investors that FSL Trust continues to receive steady lease rental payments from its eight lessees.

All of them have been making full and prompt payment of their lease rentals monthly in advance.

FSLTM has a robust set of risk management protocols and is in regular dialogue with its lessees with regard to their credit-worthiness. FSLTM reaffirmed its DPU guidance as follows:

For Q3 2008 - US3.05 cents
For Q4 2008 - US3.08 cents
For Q1 2009 - US3.17 cents

The DPU guidance for Q1 2009 assumes that FSL Trust's lenders do not invoke the market disruption clause at the next interest rate reset in late December 2008 / early January 2009. FSLTM notes that the gap between LIBOR and the cost of funds to the lenders has already narrowed since the last interest rate reset.FSLTM also reiterated that the vessel portfolio of FSL Trust is fully financed and that there is no committed capital expenditure that requires additional funding.

"Further, FSL Trust does not have any loan maturities for at least 3 years under the three loan tranches that it has entered into with the lenders.

"FSLTM has not received any notices of changes in unit holdings from any new or existing substantial unit holders or from any of the directors of FSLTM since the notification received on 8 October 2008 from American International Assurance Company, Limited that it has increased its interests in FSL Trust from 8.9953% to 9.2931%."

Oct 17 update:OCBC Investment Research says:

"The recent sell-off is an overcorrection (in our view) but market logic is trumping everything else at present and we believe we could see further value destruction. We maintain our BUY ratings on PST and RMT, and our HOLD rating on FSLT but place all our fair value estimates under review as we work in latest developments. We believe the trusts will continue to be barraged by negative news flow on the shipping industry."