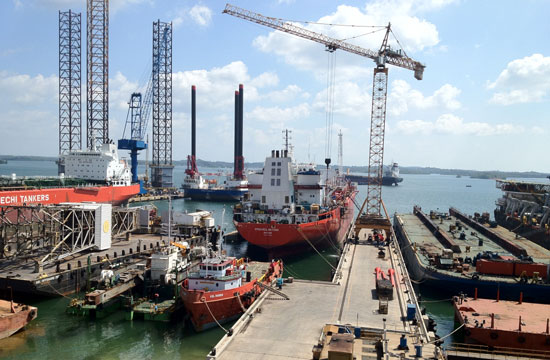 Shipbuilding and repair drive ASL Marine's earnings, and its shipyards are operating at near full capacity. Company photo

FIDELITY MANAGEMENT AND RESEARCH (FMR) has become a substantial shareholder of ASL Marine, 3 weeks after it posted a 40% year-on-year surge in net profit attributable to shareholders to reach S$45.3 million.
On 18 Sep, one of the world's largest mutual fund and financial services groups, FMR, purchased 20,000 ASL shares at 67 cents each from the open market, raising its deemed interest to 5%.

The share purchase perhaps reflects FMR's vote of confidence to the shipyard's bold foray into speculative newbuilds in a bid to raise profitability at a time when vessel values are at rock bottom.

According to Bloomberg data, other institutional investors with stakes in ASL include Deutsche Bank (4.9%), John Handcock Investment, Manulife, and Dimensional Fund Advisors.

Gearing up to boost margins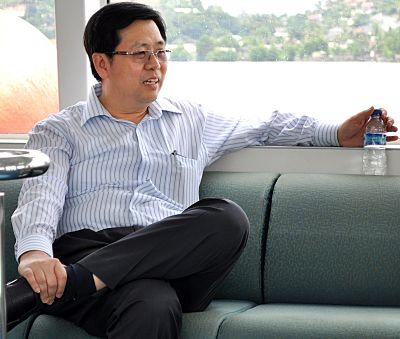 ASL Marine managing director Ang Kok Tian.
NextInsight file photoASL is building 4 generic AHTS vessels prior to customer order and financing the construction through a S$170 million bond issue.

In his report dated 29 August, CIMB analyst Yeo Zhi Bin noted that such on-demand vessels can fetch net margins of 30%, compared to an average gross margin of 12.5% on its order book.
Mr Yeo believes that the shipyard's foray into building anchor handlers before newbuilding orders are placed can provide a strong boost to its margins.

The analyst maintained his 'Outperform' rating on the stock with a target price of 86 cents. This translates into a 28.4% upside from its closing price of 67 cents on 23 September.

Offshore demand sustaining earnings growth

The integrated marine service group posted a 19.0% growth in FY2013 revenue to S$465.4 million and a 47.0% growth in gross profit to S$83.6 million.
Shipbuilding is its core earnings driver, contributing 45% of group gross profit in FY2013.
Its shipbuilding business specializes in building and repair of OSVs, dredgers, tugs & barges, and tankers.
It has 4 yards in Singapore, Batam and Guangdong operating near full capacity with an order book of S$370 million, of which S$250 million is expected to be recognized in FY2014.
Segment revenue increased by 29.2% to S$289.4 million in FY2013 mainly due to more units of offshore support vessels being constructed.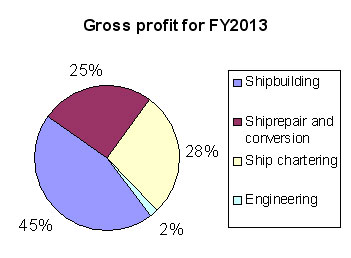 While shipbuilding was the main driver of ASL Marine's earnings with gross profit contribution of 45% in FY2013, its segment gross margin was only 13.0%, compared with 29.4% for shiprepair and conversion, and 27.4% for shipchartering.Ship repair and conversion contributed 28% to group gross profit in FY2013, but segment revenue was down 18.8% at S$72.4 million as had a higher base in FY2012 from a FPSO conversion job.
Ship chartering contributed 25% of group gross profit in FY2013.
It has a fleet of 156 vessels comprising of tugs and barges, AHT, AHTS, chemical tankers and ROV support vessels deployed in Singapore, Indonesia, Malaysia and Australia.
Vessel utilization was 70% for tugs, 66% for barges and 78% for offshore support vessels.
Segment revenue increased by 7.7% to S$84.1 million to due additional charter income from anchor handlers acquired during the year.
Its engineering segment, comprising of Engineering, Engineered Dredger Products & Dredgers; and Components & Services under the VOSTA LMG group, contributed 2% to group gross profit.
ASL managing director Ang Kok Tian cited the following positive factors on the company's outlook:
>> Sustained oil prices and an increasing focus on deepwater oil fields have supported the growth in global oil and gas exploration and production expenditures, boosting newbuild demand for offshore support vessels and healthy charter rates
>> Yards in Batam are expected to benefit from Indonesia's cabotage law and high level of vessel demand
>> Large LNG fields in Australia are spurring demand for offshore support vessels.
ASL Marine is paying a 2.0-cent dividend on 8 November (if approved at its AGM).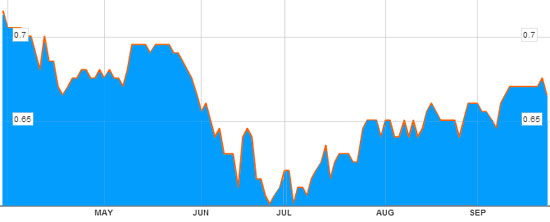 ASL Marine closed at 67 cents on 23 Sept and was trading at 61 cents in July. Bloomberg data

Recent story: ASL Marine Turns Bullish On Vessel Market, OXLEY Has $3.8 B Revenue In The Bag