Securing significant credit is doubtless a steeper challenge than ever for any business that is, directly or partially, exposed to the oil & gas industry.

Yet ASL Marine has successfully won a 5-year club term loan facility amounting to S$99.9 million. It said in an announcement on Friday night that a commitment letter has been signed.



ASL has to fulfill a condition that pertains to the company's bonds

amounting to S$100 million maturing on 28 March 2017 and S$50 million maturing on 1 October 2018.




ASL Marine

13.6 cents

52-week range

11.6-38 cents

Market cap

S$57 million

PE (ttm)

29.6

Dividend yield

-

Net asset value

$1.00/share

Source: Bloomberg, Company
ASL is required to successfully negotiate with its bondholders to extend the tenor of the bonds by 3 years or more prior to the first drawdown of the loan facility.
ASL said it has appointed a solicitation agent, and will engage the noteholders in discussions prior to the launch of the "consent solicitation exercise".

ASL Marine is a vertically-integrated marine services group principally engaged in shipbuilding, ship repair and conversion, marine vessel chartering, marine engineering and other related services, catering to customers worldwide.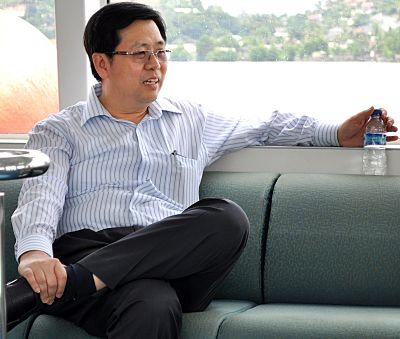 Ang Kok Tian, Chairman and MD of ASL Marine. NextInsight file photoThe interest rate for club term loan was not disclosed but Mr Ang Kok Tian, the chairman and MD, said in an interview with NextInsight that it's a "normal" rate. Neither were the identities of the lenders disclosed. Mr Ang said they have supported the company for many years.

ASL has provided a corporate guarantee and collateral in the form of some of its "moving assets" -- ie, shipchartering vessels.

Mr Ang added that the money raised is for ASL Marine's working capital, and it would place the company in a strong position vis-a-vis peers in securing contracts.

"Throughout the industry, there are liquidity, cashflow issues. There is a credit void. But there is good business to be secured, there are tenders in countries such as Indonesia, Middle East, North America and Europe.

"To tender, we need bank facilities, banker's guarantees, letters of credit. If bankers don't support, we can't produce all these and we will miss opportunities," said Mr Ang. "But if we can, we have a good chance to win many projects."

"Our focus is on building our business, so we can service and repay loans, etc."

In addition, with banking facilities, the company would be in a position to negotiate better terms from suppliers, such as lower prices.

To further expand its working capital, ASL has earlier announced a renounceable non-underwritten rights issue to raise up to $25 million. The book closure date is 24 Nov 2016. The controlling shareholders have undertaken to subscribe in full for their entitlements.

Fidelity Investments is among the top shareholders with a 8.02% stake.


♦ As at 30 June 2016, the Group had an outstanding shipbuilding order book from external customers of approximately $223 million for 22 vessels with progressive deliveries up to 4Q of FY2019. The order book comprises OSVs, harbour tugs, barges and tankers. Approximately 67% of the order book is expected to be recognised in the financial year ending 30 June 2017.



♦

The Group's ship chartering revenue consists of mainly short-term and ad-hoc contracts. Approximately 23% of ship chartering revenue in FY2016 came from long-term chartering contracts (meaning contracts with a duration of more than one year). As at 30 June 2016, the Group had an outstanding chartering order book of $150 million with respect to long-term contracts.



♦

Barring any unforeseen circumstances, the Board does not expect significant changes to the Group's revenue for the financial year ending 30 June 2017.