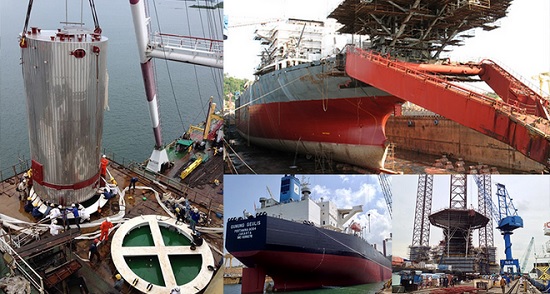 ASL Marine is a diversified marine group providing ship building, ship conversion & repair, ship chartering, and dredging services. Company photos

SHIPBUILDING IS a cyclical business and with risk proportionate to the huge capital undertaking for the construction of every vessel.

Even ASL Marine, which had been profitable every quarter since its IPO in 2003, was hit by its first quarterly loss in 4QFY2014.

Until now, the integrated marine group had successfully rode shipbuilding cycles by diversifying into ship repair and conversion, ship chartering, and dredging engineering.

4QFY2014 revenue fell 82.5% year-on-year to S$26.2 million when a delay in the Group's delivery schedule for the construction of a platform support vessel eventually led to order cancelation.

There were also cost overruns associated with the construction delay of two vessels of the same design.

FY2014 Group revenue was up 9.5% year-on-year at S$509.8 million while net profit was down 54.0% at S$20.8 million.

In spite of the reduced profit, the Group has proposed a one-cent dividend per share for FY2014 (FY2013: 2 cents a share).

It expects to recover quickly. "We expect to return to profitability in 1QFY2015," said ASL Marine Managing Director Ang Kok Tian at its results briefing last Thursday at The Fullerton Hotel.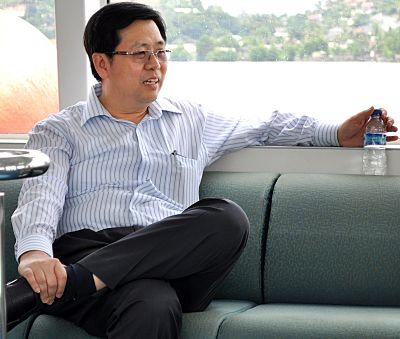 "We believe that Indonesia will be a strong market for offshore vessels," said ASL Marine managing director Ang Kok Tian, referring to market talk that the newly elected Indonesian president is forming a committee to develop its maritime sector. NextInsight file photoFY2014 shipbuilding revenue declined 3.8% to S$278.3 million.

Other than this hiccup, the Group has performed exceptionally well in almost all segments.

The reversal of construction revenue from the platform supply vessel was mitigated by the following positives:

>> 212.9% surge in revenue from the construction of dredgers to S$115.6 million.

>> 169.9% surge in revenue from the construction of tugs to S$58.4 million.

The Group delivered 37 vessels in FY2014. Its shipbuilding order book was S$321 million as at 30 June, comprising of 28 vessels.

The Group recently acquired a 12.2-hectare shipyard in Batam for US$22 million, which it intends to use for offshore fabrication, targeting the Indonesian market.

Ship repair and conversion revenue at record high

Ship repair and conversion posted a record high revenue of S$104.5 million, an increase of 44.4% year-on-year.

This was mainly due to the completion of rig repair works in 2QFY2014 and the major conversion works on a crude oil tanker in 3QFY2014.

Revenue for its engineering segment was up 191.8% at S$56.9 million.

Ship chartering revenue down 16.7%

Revenue from ship chartering declined 16.7% to S$70.1 million after the Group disposed of 24% in PT Capitol Nusantara Indonesia in FY2013.

(PT Capitol Nusantara Indonesia is a ship chartering and ship management company that was listed in Indonesia in January this year.)

There was also lower utilization rates due to the off-hire of an anchor handling tug and lower demand for high horse power tugs.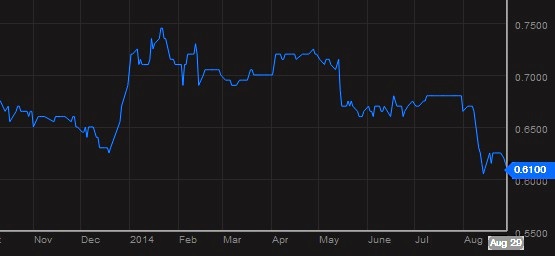 ASL Marine's stock price has taken a battering this year. Bloomberg data


Below is a summary of questions raised by the investment professionals who attended the results briefing and the answers provided by Mr Ang and CFO Iris Ang.

Q: Can you elaborate on the OSV cancellation? What reason was given by the ship owner?
The vessel was cancelled because of excessive delay in our construction progress. We had a technical problem that took us 10 trials in troubleshooting before we were able to identify the problem. This is the first time we had to conduct more than 3 troubleshooting trials for a single vessel.

The positive aspect of the cancellation is that it has given us time to find the cause of an overheating problem in the vessel propulsion system. We are currently rectifying the problem with the cooling mechanism.
Q: Did the problem arise from the vessel designer or from the equipment supplier?
We bought the design from a reputable Norwegian company. It cost us about S$22 million for the vessel design with complete drawings for the ship model and equipment (engines, generators, switchboard, propellers, etc) package. The package cost amounted to about 40% of the vessel value.

Q: Is there any avenue for insurance claim?
Design fault is covered by insurance, but it is generally not easy to make a claim. We are responsible for doing the due diligence on the suitability of the vessel design. The equipment may be certified by the classification society, but the purchaser is responsible for verifying the suitability of the size of the equipment parts, etc.
Q: What was the provision you made for the two delayed vessels?
We have made a provision of S$2.7 million for each delayed vessel in liquidated damages in 4QFY2014 under the 'cost of construction'.

Q: Will the two delayed vessels be accepted by the ship owner?
We slowed down the progress of construction for the 2nd and 3rd vessels so that we can deal with the overheating problem. The two delayed vessels are in advanced stages of construction. Delivery is independent of what happened to the canceled vessel.

Related story: ASL MARINE, MERMAID MARITIME: What Analysts Now Say