Excerpts from analysts' reports

CIMB highlights ASL Marine's new aggressive build-to-stock shipbuilding model

Analyst: Yeo Zhi Bin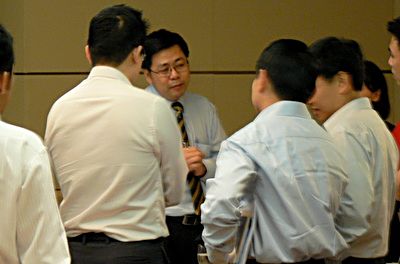 MD Ang Kok Tian at an analysts' briefing. NextInsight file photoASL is getting more aggressive by embarking on four build-to-stock AHTS in its Batam and Chinese yards, in view of the bottomed-out vessel prices. This can be a game changer for its shipbuilding business. Vessel sales and strong orders can catalyse the stock.

FY13 core profit was 10% below our forecast and consensus due to the higher tax rate of 18% (pre-tax loss from its subsidiary, Vosta). On a normalised tax rate (10%), the core profit would have met expectations. ASL declared a dividend of S$0.02. We cut our EPS by 4-8% for FY14-16 due to the higher taxes. We maintain our Outperform rating and target price (86 cents, still based on 0.9x CY13 P/BV, its five-year mean).
Positive outlook
ASL's yards are operating at close to full capacity. Its order book stood at S$370m, with S$250m expected to be recognised in FY14. The enquiries for OSVs and hybrid terminal tugs (higher-value vessels) are strong. Although the financing terms are competitive at its Chinese yards, ASL is likely to stick to its current payment terms of 20/80 with some at 10/90. The ship repair pipeline should also see some high-value projects, especially for the FSOs from Indonesia.

Lifting margins
It will start with four generic-designed AHTS vessels (6,000BHP and 8,000BHP) and one maintenance work vessel. These vessels will cost S$85m in total and will be financed through ASL's S$170m bonds. The construction will begin in 1QCY14 and is expected to be completed by 1QCY15. A successful sale of these vessels can fetch net margins of 30%. Its shipbuilding gross margins on the order book model yields an average gross margin of 12.5%. However, its net gearing shot up to 0.95x from 0.53x in FY12 due to the higher debt secured in view of this programme.


---
Voyage Research says Oxley Holdings has $3.9 billion of revenue yet to be recognised
Analyst: Ng Kian Teck
Oxley Holdings Limited (Oxley) ended FY13 with S$458m revenue and S$104m PAT, way ahead of our projection of S$263 revenue and S$45m PAT.

The key difference was mainly due to the recognition of Oxley Bizhub 2 and Arcsphere in 4Q FY13 which boosted revenue by S$200m and S$20m respectively vs our estimate of 1Q FY14 completion.

Over the next few months, we expect Oxley Bizhub to be completed and add more than S$600m to revenue and S$300m to gross profit.

Based on the launched projects and take-up rates, we estimate Oxley to have S$3.9bn of recognizable revenue and S$1.3bn of recognizable gross profit. The numbers will balloon to S$4.6bn and S$1.7bn if the launched projects are fully sold. We did not include the Oxley Rise site, 30 Stevens Road site and overseas projects in our estimates.
Oxley has acquired stakes in 10 overseas sites over the last four months, suggesting its intention of venturing for greener pastures in nearby regions. We believe Oxley is capable of delivering what the individual markets need, given their track record in Singapore.
Maintain Increase Exposure with an intrinsic value of S$0.470.