KINGWELL Halves FY Loss

KINGWELL GROUP (HK: 1195) recorded a loss of 105 million yuan in the financial year ended June 2013, compared to a loss of 204 million in the year-earlier period.

During the 12-month period, revenue fell by 42.8% to 160 million yuan while gross profit increased 73.9% to 21.6 million.

No final dividend was declared.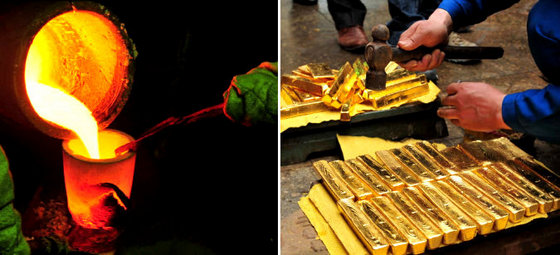 Kingwell Group is in an ongoing shift to the gold business.    Photos: Kingwell

For the year ended June 2013, Kingwell's increase in gross profit and decrease in loss before tax were mainly due to the decrease in loss from the electronics business.

"Unfavorable market conditions in the global economy continued to pose various challenges to the electronics industry with both the Group's orders and average selling prices under pressure and amid intense market competition," said Chairman Mr. Hui Lung Hing.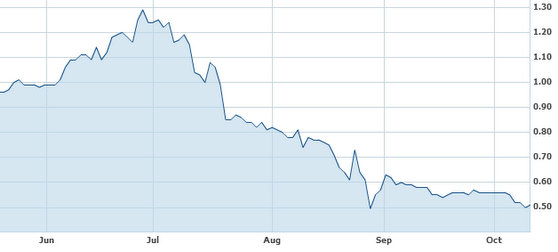 Kingwell's Hong Kong share performance.     Source: Yahoo Finance

During the year, revenue from the property development business was 83.2 million yuan (2012: 98.8 million), representing approximately 51.9% of the Group's total revenue.

The property development business recorded a profit of 17.1 million yuan versus a profit of 22.5 million a year earlier.

Gold Mining

Kingwell acquired a 51% equity interest in a gold mining firm in Russia and completed the acquisition on 15 August 2012.

With an aggregate mining area of about 309.3 square kilometers, the mine is operated by the gold mining company and located in the Amur area of Russia.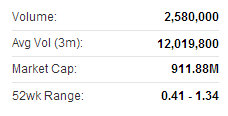 Kingwell recently 0.56 hkdThe mine is estimated to have sand gold reserves of 35 tonnes and the gold mining firm is in the process of devising its production and exploitation plan.

Looking forward, the intense competition in the electronic industry and the unfavorable operating environment will continue to pose challenges to the electronics industry as well as the Group.

"In order to sustain the continuous growth of the Group and meet the coming challenges, the Group successfully entered into the property development business through its property development project in Anlu City, Hubei Province, PRC.

"The real estate projects, comprising various types of properties including villas, houses, apartments and commercial buildings, had made significant contribution to the Group during the year," Mr. Hui said.

Looking ahead, management said the Group will continue to implement its diversified development strategy and proactively search for potential investment opportunities, particularly in gold mining projects.


---
UBS: Initiates JU TENG with 'Buy' Call

UBS is initiating coverage of Ju Teng International (HK: 3336), the
world's largest maker of plastic notebook casings, with a "Buy" call.

The target price on Ju Teng is 6.4 hkd.
UBS believes Ju Teng's market position can grasp growth opportunities in smartphones and tablets, and decouple from PCs.

Production of non-plastic casings was expected to escalate, pushing 2013 and 2014 earnings to possibly increase by 22% and 30%, respectively.

The casings producer has shifted its strategy from pursuing sales to improving its product portfolio and raising representations of metal/composite material casings.

"Ju Teng is undervalued with its comprehensive product mix and improving profitability," the Swiss research house added.

---

See also:

KINGWELL Gets Major New Sharehholder

JU TENG Boosts Bottom Line