JU TENG boosts bottom line 6.8%

Ju Teng International Holdings Ltd (HK: 3336) managed to raise its first half net profit 6.8% year-on-year to 260 million hkd despite seeing its top line edge down by 0.4% to nearly 4.3 billion.

Gross profit for the January-June period rose 34.5% year-on-year to 793 million hkd, with the gross profit margin improving to 18.4% versus 13.7% for the year-earlier period.

Had a one-off withholding tax expense of approximately 51 million hkd in relation to the repatriation of dividends not been incurred, first half net profit would have reached 311 million hkd, representing an increase of approximately 27.7%.

"In the first half, market concerns emerged over the US Fed's expected commencement of pruning its fiscal stimulus when the EU economies were yet to recover from the sovereign debt crisis.

"Also, the growth in emerging markets has been slow when the new leaders of the Chinese government have determined to adjust the national development blueprint. Hence, consumer confidence was depressed," said Ju Teng Chairman Mr. Cheng Li-Yu.

Interim basic EPS increased 4.1% year-on-year to 22.6 HK cents, with end-June net asset value per share at 4.9 hkd versus 4.7 as at end-2012.

"Global sales of PCs have not reached the expected growth, and therefore the growth of Ju Teng was hindered.

"Ju Teng has used the recession over the past few years as an opportunity to expand, carrying out comprehensive product mix reconstruction," Mr. Cheng said.

Over the past six months, the firm has expanded its production capacity of metal casings, and has committed to developing production solutions using composite materials (including carbon fiber and glass fiber).

"The enhanced profit margin will help us endure the weaker economy and mitigate the future impact of cost increases."

He added that in the first half, Ju Teng has captured the trend of high-end products and provided metal casing for brands from regions including Korea, the US and Greater China.

In the first half, the portion of revenue contributed by metal casings has further risen to approximately 25%, driving the increase in the profit margin.

Amid the growing demand for slimmer and slimmer casings, Ju Teng -- with its diversified casings technology -- expects another triumph in this niche market.

"Looking ahead to the second half of 2013, Ju Teng's performance is expected to further improve thanks to the completion of several orders and management believes there will be more brands adopting composite materials for slim casings.

"The Group will spare no efforts in promoting its metal and composite material casing technology with a view to enhancing product margins with optimized product mix," Mr, Cheng said.

Ju Teng also achieved a significant business breakthrough by tapping into the smartphone market by providing casings for smartphones for a US brand.

"As more breakthroughs in mobile technology are expected, management believes that smartphones will become the main growth driver of IT products.


---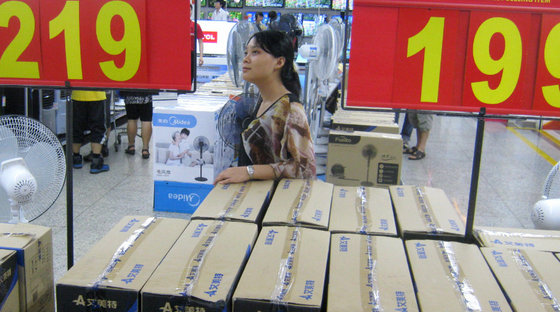 A shopper in Shenzhen decides between two Airmate fans. Photo: Andrew Vanburen

AIRMATE interim net profit up 17.8%

Airmate (Cayman) International Co Ltd (TWSE: 1626) saw its first half revenue rise nearly 10% year-on-year to 7.72 billion twd thanks healthy product diversification.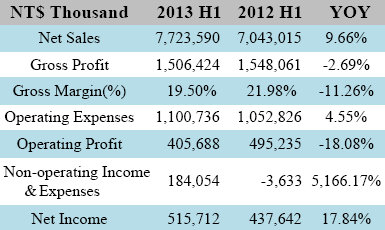 This led to a 17.8% jump in the bottom line to 516 million twd.

In Airmate's key PRC market, business benefited from a successful distribution strategy and enhanced brand recognition, with first-half sales up 26.4% year-on-year due to stronger performance of fans and heaters.

Sales of heaters outperformed with strong demand still expected this year, and the company forecasts sales of heaters will be higher in full-year 2013.

"Via strong brand recognition, Airmate will focus on promoting home appliances (air purifiers and humidifiers in Northern China and dehumidifiers in the Yangtze River region).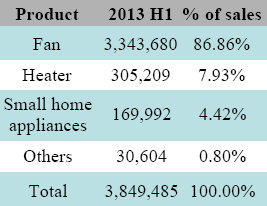 Airmate is still heavily reliant on revenue from electric fans. Source: Airmate"The goal is to achieve top three status in terms of market share," Airmate management said.

The company added it plans to establish a second manufacturing base in Central China which it says will enjoy clear logistical and geographic advantages.

Airmate (Cayman) Intl is mainly engaged in the R&D, manufacture and sale of electric fans and electric heaters. The company's products include electric fans, mainly consist of standing fans and cooling fans, as well as desk fans, wall fans and ceiling fans; electric heaters, mainly consist of convection-type and quartz tube-type heaters, as well as heating wire series, ceramic radar-type, mica plate series, electric fireplace series, electric heating table series and others; small appliances, mainly consist of high-speed health juice machines, electromagnetic ovens, humidifiers, dehumidifiers, electric cookers and air purifiers, and electrotechnical products, consist of integrated ceiling and bathroom lighting series and others. It distributes the products in China, Northeast Asia and other markets.


---

See also:

JU TENG Kept 'Buy

AIRMATE: Cooling Products Find Hot Market In PRC