Excerpts from DBS report
• FY20 revenue (+480.4%) and earnings (+11-fold) were in line with expectations
Medtecs

Share price:
95.5 c

Target:
$1.25
• PPE demand in 1H21 holding steady vs 2H20 with selling prices only inching down
• On the lookout for expansion opportunities including M&A
• Maintain BUY with a slightly lower TP of S$1.25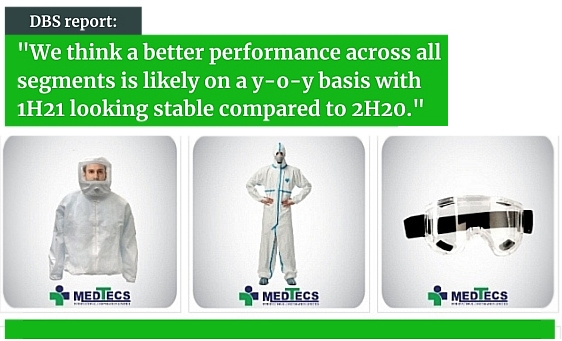 FY20 revenue and earnings in line

Revenue and net profit climbed to US$400.3m (+480.4% y-o-y) and US$131.7m (+11,348.5% y-o-y) respectively as the COVID-19 pandemic drove demand for Medtecs' personal protective equipment (PPE).

Gross profit margins were up 27.6ppts to 42.9%, supported by a higher proportion of sales of Medtecs-branded products.

Final dividend per share of US$0.0418 declared, bringing total FY20 DPS to US$0.0503 or S$0.067. The dividend represents c.7% yield based on Medtecs' closing price of S$0.955.
Manufacturing and Trading & Distribution segments shine
The Manufacturing segment saw FY20 revenue rise by 576.4% y-o-y to US$357.8m. Profit before tax margins stood at 34.2% for FY20, an increase from 2.5% in FY19.

The Trading & Distribution segment reversed its fortunes and saw FY20 profit before tax rising to US$14.0m from US$0.3m in FY19 driven by higher demand and sales of higher margin products.

Hospital Services' losses before taxes deepened to US$1.4m in FY20 from US$0.1m the previous year as a result of higher labour and linen amortization cost.
Market was expecting a special dividend
Following special dividend announcements by peers such as Riverstone and UG Healthcare, Medtecs' lack of a special dividend may have disappointed the market.

Total DPS for FY20 stood at US$0.0503, representing a payout ratio of 21.0%.

For comparison, Riverstone had a payout ratio of c.50%. A 50% payout ratio at Medtecs translates to a DPS of US$0.1199 (S$0.1597), representing a yield of 14.5% based on Medtecs' pre-announcement closing price of S$1.10 on 26 Feb 2021.

On this front, we believe Medtecs is looking to conserve cash to expand into new product lines or pursue M&As

While success for Medtecs' expansion is not guaranteed, we believe this is important for the long-term sustainability of the group.

Demand in 1H21 looks stable
We believe the market will focus on the potential impact the improving pandemic situation may have on performance in FY21F.

We think a better performance across all segments is likely on a y-o-y basis with 1H21 looking stable compared to 2H20.

Optimistically, Apron, Gown and Coverall and Face Mask deliveries in England, while having fluctuated, remain higher than in 3Q20 as of Feb-2021.

This may indicate that orders for PPE are still being delivered and this is positive for Medtecs.

While England may not be the best representative of global PPE demand, the country is one of Medtecs customers. As such, it may offer a good idea of post-vaccination PPE demand with the UK making good progress on its vaccinations (over 20m out of a population of c.67m have received at least 1 dose).

In addition, ASP of PPE, while having inched down by an estimated 2-3% from 4Q20, remain healthy leading to our overall view of a stable 1H21.


Maintain BUY with slightly lower TP of S$1.25 (Bear case: S$0.77, Bull case: S$1.60) based on pre-COVID low P/E of 9.5x on blended FY21/22F earnings.

Our TP was revised down as we adjusted our base case assumptions for the Hospital Services and Trading & Distribution segments which were slightly too optimistic.

This was also the reason behind our marginal 4% downward revision in FY21F earnings.
Full report here