Excerpts from DBS report

Analysts: Paul YONG, CFA & Jason SUM
CHINA AVIATION OIL
What's New
• 2H20 earnings poised for a strong rebound, led by key associate SPIA as traffic at Shanghai Pudong International Airport has bounced on firm domestic air travel


CHINA AVIATION OIL

Share price:
$1.15

Target:
$1.38
• Expect steady improvement from FY21F onwards as international travel starts to recover in 2H21

• Net cash of c.US$400m for accretive acquisitions

• Maintain BUY with S$1.38 target price as we roll over valuation multiple to 11x FY21F PE.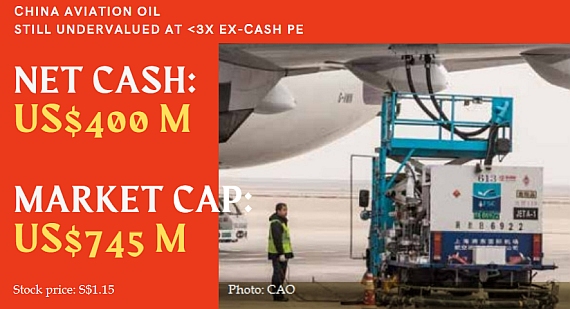 Investment Thesis:
Recommend BUY with raised TP of S$1.38 as we roll over our valuation multiple of 11x to FY21F earnings. We continue to see strong value for CAO at less than 3x FY21F ex-cash PE, and its share price could re-rate even further if the company can make a significant earnings-accretive acquisition.

Beneficiary of the strong recovery in China's domestic air traffic at Shanghai Pudong International Airport (SPIA). Departing frequencies at SPIA has picked up substantially since May 2020, reaching c.70% of pre-COVID-19 levels in Jan 2021, and should stay firm as long as the pandemic remains under control in China.

Hence, CAO's earnings should improve materially from 2H20 as key 33%-owned associate SPIA (which is the sole supplier of jet fuel for the airport) typically accounts for more than half of its earnings.

International air travel recovery in sight as vaccinations are rolled out. CAO's supply volumes should start to pick up more meaningfully from 2H21, assuming the vaccinations being rolled out now in key aviation markets will allow international flights to resume in greater numbers.

Meanwhile, its trading business should continue to do well in a contango market for oil.


Valuation:


TP of S$1.38 based on 11x FY21 PE. With the worst for the aviation sector likely behind us, we value the company based on 11x (+1 SD of its mean) FY21 PE as earnings are set to recover firmly in the next 12 months.

Our TP is lifted from S$1.20 previously as we roll over to FY21F numbers.

Where we differ:
We have higher-than-consensus forecasts for FY21F and FY22F as we are more bullish on the earnings recovery trajectory for its key associate SPIA.

Key Risks to Our View:
A sustained weaker demand for international air travel would negatively impact CAO's revenue and earnings.

A sharp drop in oil prices would lead to mark-to-market losses for its key associate SPIA, which would impact its contribution to CAO.

Full report here.