Excerpts from UOB Kay Hian report

Analyst: John Cheong

2Q19: Results In Line, Robust Growth From The GI Segment
Sunpower's 2Q19 core net profit posted robust growth (+84.8% yoy) at Rmb50.5m.

The 84.8% yoy growth in core net profit was driven by the strong performance from the GI segment.

Underlying core net profit rose 53% yoy in 1H19 to Rmb111m, forming 37% of our full-year forecast.


Sunpower

Share price:
44 c

Target:
83 c
The ramp-up of existing GI projects and a strong M&S orderbook should continue to drive revenue growth in 2H19.

Maintain BUY and SOTP target price of S$0.83

RESULTS
• 2Q19 results were in line with expectations; driven by Green Investments (GI) segment. Sunpower Group Ltd (Sunpower) posted strong revenue at Rmb659.0m (+10.2% yoy) while core net profit was at Rmb50.5m (+84.8% yoy), forming 37.1% of our full-year estimate.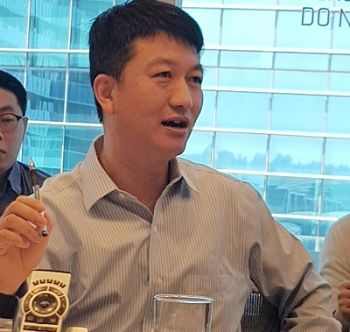 Executive director Frank Ma at 2Q2019 results briefing. NextInsight photoGross profit increased 52.7% yoy to Rmb171.8m, with gross profit margin increasing from 18.8% to 26.1% on a yoy basis. All increases were in tandem with the strong growth in the GI segment.

• M&S remained stable with better margins. The manufacturing and services (M&S) segment posted 1H19 revenue of Rmb939m.

Sunpower has started to focus on higher value-added contracts and holistic internal improvements. The corresponding cost efficiency then led to a 1.2ppt yoy increase in gross margins.

The M&S orderbook as of 1H19 stands at Rmb2.5b providing earnings visibility for 2H19.

• New acquisition for the GI segment. Sunpower recently acquired 90% of a centralised steam plant in Changshu, Suzhou. Management expects the plant to start contributing in 2H19.

The plant is situated favourably in an industrialised cluster, close to a resilient and attractive customer base. The newly-upgraded Yongxing Plant, along with Phase 1 of Shantou Project, is also expected to contribute to earnings in 2H19.

STOCK IMPACT
• Expect a strong 2H19 from the contributions of GI plants and continued ramp-up of existing projects. Management has earmarked the GI segment as a key driver for the group.

a) Sunpower could stand to benefit from mandatory closure of small boilers and relocation of factories into industrial parks;

b) full-year contribution from YongXing plant postupgrades; and

c) start of trial production by Shantou Project Phase 1 in 2H19 and Suyan plant to start contributing to earnings in 2H19.

EARNINGS REVISION/RISK
• We maintain our EPS forecasts.

• Risks include: a) higher leverage from expansion; b) project execution risk; and c) forex.


VALUATION/RECOMMENDATION


• Maintain BUY and with a new SOTP-based target price of S$0.83, slightly lower than our previous target price of S$0.88 due to a weaker renminbi.



SHARE PRICE CATALYST


• Faster-than-expected ramp-up of GI projects.

• Higher-than-expected project wins for M&S segment.

• More EPS-accretive acquisitions.

Full report here.