For a change, we share the views of a Sunpower Group strategic investor who spoke at the Singapore-listed company's recent 2Q18 results briefing. He is David Liu, executive chairman of DCP Capital Partners, which invested in US$60 million of Sunpower's convertible bonds in Jan 2018. Then in May 2018, DCP and CDH China Management Company -- two of China's largest private equity investors -- agreed to subscribe for a further total of US$70 million of Sunpower's convertible bonds. (In March 2017, CDH had subscribed for US$110 million, of which US$60 million was transferred to DCP in Jan 2018).

Excerpts of what David Liu said:


1. 1H2018 results were very strong. This is the first time, you really see the green investments business, which the company has invested a lot of resources and capital over the last three years, starting to prove up and generate sufficient cashflow, EBITDA and revenue.


1H2018 highlights

GI revenue

RMB211.6m

17% of group revenue

GI EBITDA

RMB60.6m

42% of group EBITDA

Group revenue

RMB1.2 b

+70% YoY

Group underlying
net profit

RMB72.5m*

+25% YoY

* Underlying net profit is actual operating performance after normalising for extraordinary items caused by CB accounting treatment.

The first half results were the first time there's a very strong indication or proof that these projects are generating very strong project-level IRRs – above our 15% target -- which are among the most attractive investments in environmental services businesses.

As these projects mature, you can see even faster increases in revenue and EBITDA growth.

As more and more projects come online, that's going to be very accretive and additive to cash flows for the second half year and in the years to come.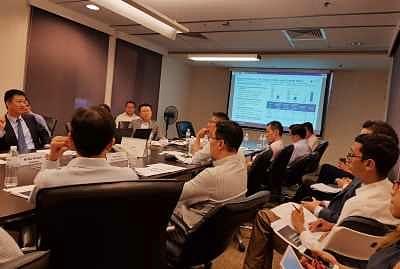 @ Sunpower results briefing. NextInsight photo.2. Proposed acquisition of Hengtong Group's 100% equity interest in Zhangjiagang Yongxing Thermal Power and its 40% equity interest in Hengtong Electricity Sales:

This is a major milestone for Sunpower.

Sunpower is purchasing the asset at a very attractive valuation, and we believe the acquisition target has significant operational upside as we grow the customer base, ramp up revenue and improve its operations.

The strategy that Sunpower is actively pursuing is, doing attractive acquisitions because they have industry leadership, industry insights and they're able to buy these things on a very accretive basis.

This one of the major ways that we will build our green investments portfolio.

3. Undervalued stock price: We think the current stock price reflects the public investors not fully appreciating the value of the underlying assets.

These new projects take time to ramp up and the first half results already show they've ramped up significantly on the right track. Therefore this stock is under-appreciated and under-estimated.

The company is very willing to give a profitability undertaking for the future years as you have seen in the prospectus for the CBs and because these projects are ramping up you're going to see very strong J-curve recovery to achieve the future years' profitability.

Long-term investors CDH and ourselves have invested in the past, both in Hong Kong and China as well as Singapore, in some of those similar environmental businesses.

4. Sunpower's strong corporate governance. We've known the management team for a number of years, invested with them, and we're putting up additional capital support because they're professional, trustworthy people with a strong corporate governance culture.


For the 2Q18 PowerPoint materials, click here.