I HAVE A four-year-old Acer desktop that sometimes didn't surf the Web fast enough, making me wonder: What component is to blame? Can I just upgrade it? Or is it the lousy router? Or is it the distance from the router downstairs to my Acer upstairs?

By chance, I found www.speedtest.com.sg and it reported dismal results for my Acer: Download speed was 2.0Mb/s and upload speed, 0.5 Mb/s.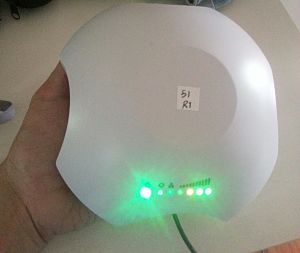 Device can be mounted on a wall. Inside is the leading wi-fi technology of Powermatic, which is into product design and manufacturing and delivering superior OEM/ODM/JDM services in wireless communications. Recently, I went to the AGM of Singapore-listed company Powermatic Data Systems and, coincidentally, it circulated a flyer to attendees about a product it had developed which could improve one's wi-fi connectivity.

I paid more than cursory attention to it.

Powermatic, I knew, is a leader in sophisticated wi-fi connectivity solutions and has ongoing projects with some global corporate clients.

I spoke with Powermatic executive director Katherine Ang and, though some technicalities she spoke about defied my full understanding, I learnt that its product came with a special "pyramid antenna".

And I gathered that it is superior to alternatives that are available off-the-shelf in shopping malls, so I decided that I would get it.


♦ From 12.0 Mb/s and 9.0 Mb/s to →
A Powermatic engineer and a contractor, Jonathan Ho, configured and installed the devices in my home.

As my desktop was undergoing some servicing at a shop, I tested my new Lenovo laptop instead.

Its previous download speed was about 12 Mb/s and upload speed, 9 Mb/s.

With the new wi-fi connectivity, the speeds recorded were astoundingly fast: 75 Mbp/s and 71 Mbp/s, respectively.

I can only say, I wish I had the good stuff a lot earlier. It is well worth the few hundred bucks I paid.


♦ Solution for you too ...
(By the way, the product is not available in any retail outlet. It is available online for US$150 (about S$202) per unit, not including freight, configuration and installation fees, at the website of Powermatic's subsidiary, Compex, http://shop.compex.com.sg/)