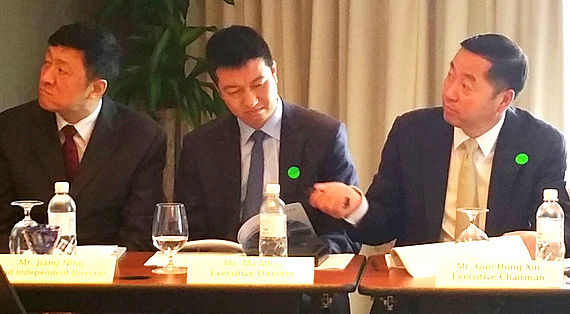 At Sunpower's AGM, Executive Chairman Guo Hongxin (extreme right) explained how its proprietary centralized heating system powered by coal is cleaner than using natural gas. Photo: Ngo Yit Sung


Time & date: 9.30am, 27 April 2016
Venue: Marina Mandarin Hotel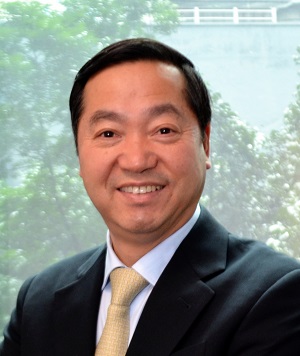 "Coal is not the source of pollution. The key is whether we are using clean technology when converting coal into energy.
- Executive Chairman Guo Hongxin
(NextInsight file photo)

China's fight against smog pollution has birthed a replacement market for obsolete coal-fired boilers that has a potential value of some S$108 billion, according to internal estimates made by Sunpower Group.

In December 2015 and January this year, the Group announced a series of BOO/BOT projects to build centralised steam and electricity facilities in the PRC provinces of Hebei, Jiangsu and Anhui. The total investment cost: Rmb 966 million.

"We have realigned our strategy by focusing our R&D effort on centralized heating systems that address this market," said Executive Chairman Guo Hongxin at the Group's AGM.

"Our demonstration projects in Hebei Changrun, Jiangsu Lianshui and Anhui Quanjiao will help us to secure more projects for long-term growth," he said.


♦ Coal energy that is cleaner than natural gas
The Group uses coal powder, which is pulverized at its centralized heating facility from crushed coal. Pulverised coal has a combustion efficiency of 98%, comparable with the full combustion of natural gas. In contrast, the combustion efficiency of crushed coal is only 60% to 70%.

Air pollution from coal dust is reduced by fully enclosing the pulverized coal the way natural gas or oil is stored.

It adds chemical agents to the combustion process so as to remove harmful residuals such as sulphur dioxide and nitrogen oxides that would otherwise cause air pollution.

The low level of emissions surpasses the PRC national emission standard for natural gas.

"The cost of our steam power is half of natural gas, thereby helping industrial companies reduce their utility cost of natural gas and steam," said Professor Guo.
♦ Insulation technology translates into greater reach
The Sunpower Group has 20 years of track record in heat transfer technology. By employing various technologies that include high-efficiency heat transfer and preheating of ultra-low temperature water, it harnesses heat that would have been dissipated by traditional coal-fired boilers.

The national standard for temperature decline in steam transportation is 15 degrees Celsius per km. In contrast, the Group's steam distribution pipelines with heat insulation properties has reduced this temperature loss to just 5 degrees Celsius per km.

By addressing the problem of heat loss, the Group's central heating facility is able to supply steam power to a network of factories further away. Specifically, it is able to supply steam to factories located within 30 km, a distance equivalent to that from the north of Singapore to the south.

"This service effectively eliminates the need for small-scale boilers housed by individual factories in industrial parks," said Professor Guo.