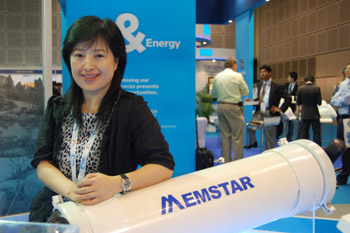 Pan Shuhong, now chief operating officer of United Envirotech. NextInsight file photo.PAN SHUHONG was executive chairman of Memstar Technology, until 100% of its operating subsidiary was bought by United Envirotech for S$293.4 million.

Ms Pan held 39.19% of Memstar then.

United Envirotech was one of the major customers of Memstar and one of the largest users of Memstar's membrane products in China.

Subsequent to the acquisition of Memstar by United Envirotech, Ms Pan was appointed chief operating officer of United Envirotech.


Stock price
(14 Jul 2015)
15.6 cents
52-week range

11.9 – 16 cents

PE

4.55

Revenue

S$265 m

Net profit

S12.2 m

Market cap

S$56.5 m

Price/Book

0.373

Dividend yield

0.72%

SGX data
She recently bought a big stake in Sunpower Group, a specialist in the design and manufacture of energy saving and environmental protection products with heat transfer technologies. Its customers are in the petrochemical, steel and transportation industries.

On 8 July, she agreed to acquire an aggregate of 69,097,318 shares of Sunpower via
(a) an acquisition of 66,154,120 shares by Joyfield Group (her 100%-owned vehicle) through an off-market transaction, and
(b) an acquisition of 2,943,198 Sunpower shares through an on-market transaction.

The transacted price was 21 cents a share, significantly higher than the market price of around 15 cents.

Adding the 16,450,000 shares she owned prior to the July 8 agreement, she now holds 85,547,318 shares, or a 21.67% interest in Sunpower. (See announcement)

That makes her the No.1 shareholder, overtaking the chairman, Guo Hongxin, who holds 19.3%.


"New opportunities for Sunpower"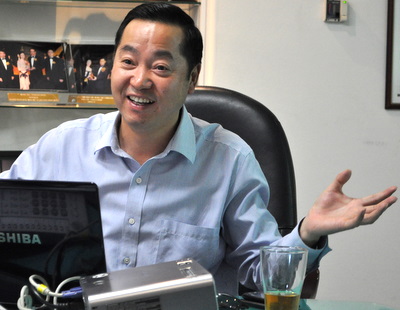 Guo Hongxin, chairman of Sunpower Group: His stake is set to fall by half (from 19.3% to below 10%) if a conditional placement of new shares more than doubles the share capital of the company.
NextInsight file photo Sunpower reported a 9% fall in net profit to RMB10.4 m for 1Q2015 but, interestingly, highlighted that it would benefit from the Chinese central government's Water Pollution Prevention and Control Action Plan.

Announced in April this year, the plan is regarded as one of the most stringent regulations in the water-related sector.

Said Sunpower chairman Guo Hongxin: "The Plan specifies actions the government will take to achieve concrete targets. It is forecasted that the total investment will top RMB4.0 trillion to achieve such goals and will further translate into new demand for products and services in the environmental protection segment, with an estimated value of RMB1.4 trillion. This should present new opportunities for the Group."

In a more recent announcement, on 9 July, Sunpower said it is looking to raise up to S$56 million through a placement of up to 400 million new shares at 14 cents apiece to fund new environmental projects (that are yet to be secured).

And the company said the funding may include its internal resources and additional bank loans. This does sound like a very big future ahead.

If fully-taken up, the placement shares will double the share capital of Sunpower, heavily diluting the stake of Mr Guo from 19.3% to below 10% -- unless he himself subscribed to the new shares. (Ms Pan Shuhong would also be diluted, by the way).