Latest happenings...

Serial System to acquire GSH distribution business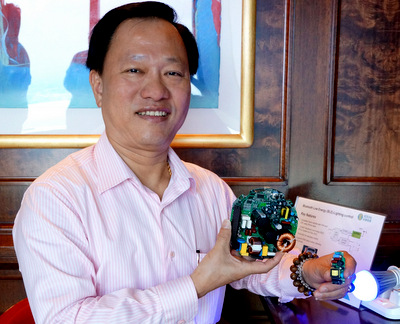 Serial System executive chairman Derek Goh. Company photoGLOBAL ELECTRONICS components distributor, Serial System Ltd, is expanding its product range to include more IT products, fast-moving consumer goods, photographic and timepiece products.

On 9 July 2014, Serial System signed a conditional sale and purchase agreement to acquire Global Strategic Holdings Franchising Pte Ltd and GSH Corporation (Far East) Pte Ltd from GSH Corporation.

It is proposing to acquire the distribution businesses of GSH Corporation after the SGX-listed peer slipped into a loss after tax of US$1.2 million in FY2013.

GSH Corporation's distribution business in IT and photo imaging is characterized by rapid technological advances and frequent product launches.

As a result, its margins had been eroded by severe competition in its distribution business for tablets and digital camera products.

GSH Corporation has decided to hive off its distribution business and diversify into property development, management and construction.

Serial System's core business in electronics components distribution is characterized by similar industry challenges. Yet, it has consistently increased top line each year over the past 8 years by entering new markets and expanding its product offering.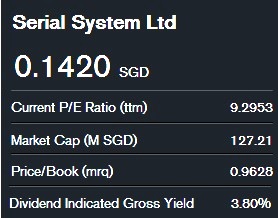 Bloomberg dataThis latest M&A deal by Serial System follows a series of deals that took place within the last 3 months.

>> On 25 April, it said it has established a third and a fourth joint venture with China-based total solution design houses to increase its capabilities to supply component modules for the automotives and surveillance and security segments.

>> On 20 March, it said it has acquired a 20% stake in industrial laundries servicing hotels, resorts, hospitals, care centres, and restaurants in Melbourne, Sydney and country areas of Victoria.

>> On 13 March, it established a 60%-owned Singapore joint venture with Japanese electronic and electrical component distributor, Nippon Denka Kogyosho Co., Ltd, to expand its presence in existing Asian markets.

In 1QFY2014, Serial System grew top line by 24% year-on-year to reach US$212.4 million and net profit attributable by 31% to reach US$2.1 million.

Recent story: Kevin Scully: Adding SERIAL SYSTEM To My Yield Portfolio


Technics wins more contracts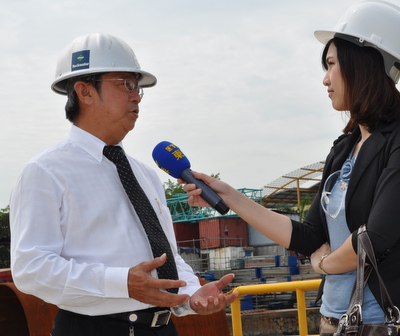 Technics executive chairman Robin Ting.
NextInsight file photoTechnics Oil and Gas Limited, a leading full service integrator of compression systems and process modules for the global offshore oil and gas sector, announced on 9 July that it has been awarded contracts worth a total of S$6.2 million.

They involve the supply of a Gas Booster Compressor for the production facilities and gas compressor skid of a FSO vapor recovery project in Vietnam.

The Group's order momentum has been strong.
>> On 27 May, it was awarded contracts worth a combined S$7.4 million for the supply of a Booster Compressor package for a wellhead platform deployed in Vietnam and an EPCI for steel structure.

>> On 12 Nov 2013, it was awarded the 2nd leasing contract and outright sales contract worth a total of S$10.1 million for 9 Reciprocating Gas Compressor Engine-Driven packages deployed in Indonesia and Malaysia.

>> On 4 Nov 2013, its 40.2%-owned subsidiary, Norr Offshore Group, was awarded its first Micro LNG plant project worth S$21.0 million for the supply of process equipment & accessories deployed in Indonesia.
>> On 27 May 2013, it was awarded contracts for the supply of Air Spread Systems for deployment in Singapore worth S$10.6 million.

"Our recent successes in EPCC and CE project delivery in several countries in the region has won for us more interest and support from large multi-national corporations," said executive chairman Robin Ting.

The latest contracts are not expected to have a positive material impact on Technics' earnings for the financial year ending September 2014.

Recent story: TECHNICS OIL & GAS: 'Cash-Cow' Business Ready For Takeoff