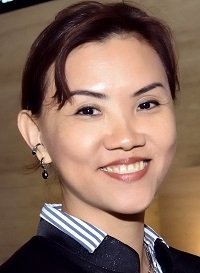 This article by Jennifer Tan (left, Director, Research & Products, Equities & Fixed Income, at the Singapore Exchange) was published in SGX's kopi-C: the Company brew series on 17 November 2017. The article is republished with permission.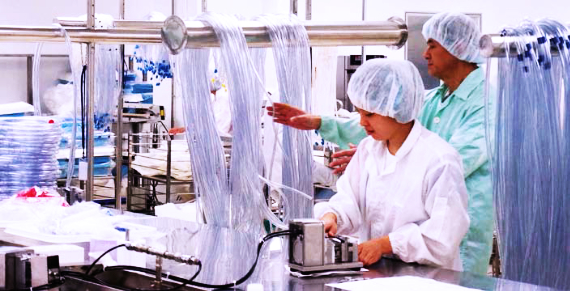 Serial System's cleanroom operation for its medical device manufacturing and distribution business. (Photo: Company)
When opportunity knocks, how will you answer?

This is one question that frequently swirls in the back of Derek Goh's mind, keeping the Chief Executive Officer of Serial System Ltd focused on what he enjoys most - growing profits and maximising returns for shareholders.

By spending his entire career exploring and capitalising on opportunities that emerged along the way, Goh has transformed a one-man operation into the largest electronics components distributor listed on Singapore Exchange, with annual revenue of more than US$1 billion.

"Life isn't fair, and money is hard to earn. I wasn't born with a silver spoon in my mouth, in fact, all I had was a rusty spoon - one which I had to polish very hard," Goh recalled wryly.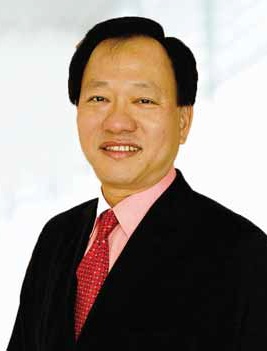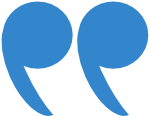 When opportunities come your way, better grab them with both hands, because when they're gone, you might regret it.


- Derek Goh
Executive Chairman & Group CEO Serial System
(Photo: Company)
"So when opportunities come your way, better grab them with both hands, because when they're gone, you might regret it."

Goh, who loves tinkering with electronic components, founded Serial System in 1988 in the back room of his wife's florist shop.

At the time, the florist business was profitable, but Goh dreamed of building something more substantial.

"How many flower arrangements can you sell a day? And how much can you make from that?"

With dogged determination, he established Serial's electronics distribution network from scratch, and in 1997, listed the company on SGX's then-Sesdaq second board.

Three years later, the company was upgraded to the Mainboard.

But that moment of triumph proved brief. Shortly after, the company entered a period of turmoil, triggered by Goh's handover of the business to his long-time buddy Eddie Chng, who took the reins in September 1999.

The next few years were marked by boardroom battles, operating losses and broken relationships with customers and suppliers. In 2001, Goh wrestled back control, and began the arduous process of returning the business to profitability.

"Our banks, suppliers and customers were all worried. I had to reassure each one of them, and restore their trust. It was a difficult time for my family as well - everyone could feel the tension," Goh recalled.


Dramatic Comeback

Since then, Serial's comeback has been nothing short of remarkable. Over the past 16 years, the Group has chalked up a compounded annual growth rate (CAGR) of 26%, with revenues breaching the US$1 billion mark in 2013.

Three years ago, Serial entered a new growth chapter by diversifying into the distribution of consumer products. Its current portfolio comprises household appliances and lifestyle goods, ranging from camera accessories and timepieces to hard disk drives.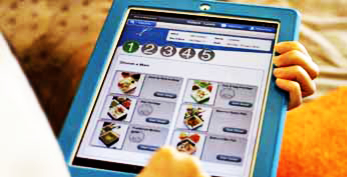 Serial Multivision's Electronic Meal Ordering System (EMOS) used by Khoo Teck Puat Hospital. (Photo: Company)The Group now employs more than 1,000 people in 53 offices and 13 warehouses across Asia. It has over 7,000 customers from a diverse range of industries, including consumer electronics, telecommunications, industrial, electronics manufacturing services, automotive and medical.

With a market capitalisation of over S$150 million, Serial shares have generated a price gain of 18.9% in the 2017 year-to-date, compared with gains of 16.9% and 16.6% respectively for the benchmark Straits Times Index and broader FTSE ST All-Share Index.

"To get to where we are today, we adopted a three-pronged strategy," said Goh, who bagged the "Ernst & Young Entrepreneur Of The Year 2011 Singapore" award for the Electronic Components Distribution Category, as well as the "Top Outstanding Leaders in Asia" title at the 2015 Asia Corporate Excellence & Sustainability (ACES) Awards.

"We expanded geographically, and upgraded our operations through automation. We also widened our range of suppliers, taking on second- and third-tier ones. With more suppliers, we broadened our product range and added new clients."

The road ahead, however, remained bumpy. In March 2016, Serial was placed on the SGX Watch-List for failing to meet the minimum trading price of S$0.20 required for companies on the Mainboard.

Undeterred, Goh doubled down on efforts to boost performance, and before the close of 2016, Serial exited the SGX Watch List. In the strongest sign yet that the Group remains a key partner of leading semiconductor suppliers and electronics manufacturers, its full-year revenue hit an all-time high of US$1.4 billion, representing a 15% year-on-year increase.
♦ Focus and Discipline
Looking back on the Group's milestones and speed bumps, Goh underscored the importance of maintaining focus and discipline.

"In Singapore, if you can work, you won't starve. But if you want to eat abalone or bird's nest and drink Dom Perignon, working hard isn't enough. You need a real strategy."

And a lack of discipline can be your downfall, driven by one of the most pervasive qualities of human nature - greed.

"A common cause of business failure is poor discipline. It takes many years to build an empire, but only a year or two for it to burn to the ground," he said with a grimace.

Despite challenges in the operating environment, the Group's outlook remains bright. Serial is targeting revenues of US$5 billion to US$10 billion over the next decade. "I believe US$5 billion is 100% achievable in the next five years," Goh added.


Stock price

17.2c

52-week Range

13.5c - 18.8c

Market Cap

S$154.1m

Price/Book

0.97x

Price Earnings

8.58x

Dividend Yield
2.62%

Source: SGX StockFacts
Most of this growth will come from the steady expansion of Chinese demand. "Hong Kong and China currently account for 55% to 60% of our group revenues, with Singapore contributing only 3% to 5%."

In October, market research firm Gartner forecast a 19.7% year-on-year jump in 2017 global semiconductor revenues to US$411.1 billion, up from an earlier projection of US$401.4 billion, and representing the strongest growth since the 2010 recovery from the Global Financial Crisis. Next year, Gartner expects global semiconductor revenues to rise further to US$427.4 billion.

To grow the electronics distribution business, Goh plans to use both organic and inorganic means. "As venturing into the US or EU via organic growth is very tough, M&As are the way to go, but obviously, there are integration risks with this approach," he added.

The EU, in particular, offers more acquisition opportunities. "In the US, there is an oligopoly of three large players, but in EU, with so many countries and markets, choices abound. We're looking for more franchises there."

Serial will also continue to streamline its consumer products distribution business, and explore promising investment options to improve overall performance.
Long-Term Survival

More importantly, the Group's focus on diversification will ensure its long-term survival, Goh noted.

Serial has ventured into hospitality and healthcare solutions, which includes its flagship electronic Meal Ordering System for local hospitals, as well as the assembly and distribution of medical devices. It holds a 27.3% stake in SPL Holdings Australia Pty Ltd, which provides laundry services to hotels, hospitals and restaurants in key Australian cities.

The Group also owns 21% of Tong Chiang Group Pte Ltd, a Singapore-based food manufacturer that provides delivery of home-cooked meals known as tingkat, bento boxes for corporate customers, as well as halal and non-halal catering for events.

Going forward, Serial aims to raise its stake in its laundry services associate to become a major shareholder, and make further inroads into food distribution to boost income streams, Goh said.


When it comes to expanding the business, it's all about cash. If you have cash, you're prepared. When opportunities arise, but you have no money, that's when you're a sitting duck.



- Derek Goh
Executive Chairman and Group CEO

Serial System
In September, the Group announced its subsidiary was taking a 27.5% stake in a company that manufactures, processes, trades and exports durian puree and durian-related products.

"While my semiconductor business has very low profit margins, the durian business is profitable, and China is a large potential market. As an entrepreneur, I'm always looking for good ROI," added Goh, whose familiarity with the food industry dates back to his teenage years, when he helped out in his father's hawker stall.

At the end of the day, growth is a cash-hungry endeavor, Goh admitted.

"When it comes to expanding the business, it's all about cash. If you have cash, you're prepared. When opportunities arise, but you have no money, that's when you're a sitting duck."

That's why being financially robust is key. "When a recession hits, banks tend to cut credit lines, so you need to have sufficient funds on standby."

Valuable opportunities also emerge during a downturn. "You can inject fresh blood into your management team by hiring - at a much lower cost - the senior talent retrenched by your peers. You can use the downtime to review your operations and perform essential housekeeping tasks, such as weeding out potentially delinquent customers or retraining your staff."

As at 30 September 2017, Serial System's cash and cash equivalents stood at US$74.5 million, up from US$58.0 million a year ago.

To bolster its financial strength, the Group is developing its ability to raise funds in different markets.

"That's why we have listed entities in different locations. We'll have a Hong Kong listing next year, and perhaps two years later, we can list our factoring business in Thailand, and in another three years, our laundry business in Australia. That helps spread the risk," he added.

Serial acquired a 29.3% stake in Bull Will Co Ltd in 2007. Listed on Taiwan Stock Exchange's over-the-counter Gre Tai Securities Market, the company designs and manufactures magnetic components for electronic products.

In June, the Group announced plans to spin off its Hong Kong electronics components unit - Serial Microelectronics (HK) - through an initial public offering on Hong Kong Exchange's Main Board. The move enables it to independently raise funds for growth in the burgeoning China market.


♦ Succession Planning
While these irons are in the fire, Goh, who owns 39.6% of Serial, is putting in place a succession plan for the Group.

"I'm 55 now, and hope to be semi-retired in the next 10 years. I want to find someone to run the core business so that I have the bandwidth to pursue other higher margin ventures - time is an issue here," he said.

"I have lots of ideas, but I need time to explore and execute them."

Finding the right talent for the company, however, is a constant bugbear. "It's so hard to get reliable staff," he sighed.

Other issues that keep Goh up at night include production quality woes, delinquent suppliers, and difficult customers. Challenges thrown up by the rise of Internet of Things (IoT) also weigh on his mind.

"Going into the Internet requires high investment and R&D costs, and you have to be prepared to burn at least US$3 million to US$4 million every year. Whether you're successful or not - well, that's another story," he said.


Going into the Internet requires high investment and R&D costs, and you have to be prepared to burn at least US$3 million to US$4 million every year. Whether you're successful or not - well, that's another story.



- Derek Goh
Executive Chairman and Group CEO

Serial System
"It's basically a gamble."

Work aside, the father of two boys and two girls aged 19 to 26 is focused on giving back to society, as well as practising core values of humility and honesty.

Philanthropy has always been a priority for the Group. Between 2014 and 2016, Serial and a charity organisation founded by Goh donated a total of S$4.5 million to the needy, supported by dollar-for-dollar matching from the Singapore government.

"I've always taught my kids to be grateful for what they have, and to lend a helping hand to others," Goh said.

"I remind them to be humble, because you never know when God will punish you if you get too arrogant."

Financial results
| | | | | |
| --- | --- | --- | --- | --- |
| Year ended 31 December (US$ '000) | 2016 | 2015 | 2014 | 2013 |
| Revenue | 1,402,583 | 1,221,562 | 1,036,062 | 817,051 |
| Gross profit | 97,393 | 91,486 | 90,357 | 73,524 |
| Net profit / loss attributable to owners | 4,558 | 11,035 | 16,085 | 11,206 |
| | | | |
| --- | --- | --- | --- |
| Quarter ended 30 Sep (US$ '000) | 3QFY2017 | 3QFY2016 | yoy chg |
| Revenue | 395,240 | 346,266 | 14.1% |
| Gross profit | 26,636 | 24,524 | 8.6% |
| Net profit / loss attributable to owners | 3,114 | 3,789 | -17.8% |
Source: Company data

---

Outlook & Risks

---

Global demand for semiconductors and electronics remains buoyant, driven by the proliferation of state-of-the-art smartphones, smart-city initiatives, autonomous vehicles and other technology-reliant projects and applications. With one of the largest distribution networks in Asia for electronic components, the Group is well-positioned to benefit from this overall positive trend. In particular, demand for high-quality chips and electronic components in Asia, especially Greater China, is expected to remain resilient in the foreseeable future.
The Group's outlook is underpinned by Gartner's latest assessment of the global semiconductor market. The market research firm has forecast worldwide semiconductor revenue of US$411.1 billion in 2017, up 19.7% from 2016. This represents the strongest growth since the 2010 recovery from the global financial crisis. Strong demand for memory products, particularly dynamic random access memory, is expected to fuel this increase, according to Gartner, which sees global semiconductor revenue rising further to US$427.4 billion in 2018 from 2017.
While the broad outlook for the semiconductor industry is favourable, the Group remains mindful of the competitive pressures in many of the markets it operates in. The Group will monitor the competition and endeavour to differentiate itself in each of these markets with the view of shoring up its profit margins.
The Group's plan to list its 91%-owned Hong Kong electronic components distribution subsidiary, Serial Microelectronics (HK) Ltd group, on the main board of the Stock Exchange of Hong Kong remains on track. The listing will enable SMHK group to raise funds on its own in order to better meet strong business demand in Greater China.
The Group's efforts to prop up its consumer products distribution business remain a work-in-progress. The priority is to reduce exposure to non-performing markets and low-margin products and pursue more promising projects.
Barring unforeseen circumstances, the Group expects to be profitable in FY2017.
Serial System Limited
Established in 1988 and listed on the SGX Mainboard since July 2000, Serial System has developed a synergistic global network that is built on strong partnerships with its suppliers and customers. Today, Serial System has one of the largest distribution networks in Asia, with 53 offices and 13 warehouses throughout Asia Pacific. It also has a wide customer base of more than 7,000, spanning a diverse range of industries such as consumer electronics, household appliances, industrial, telecommunications, electronic manufacturing services, automotive and medical.

Its major suppliers for electronic components distribution include Texas Instruments, Broadcom, ON Semiconductor, Fairchild Semiconductor, SK Hynix, OSRAM Opto Semiconductors, TE Connectivity and Fingerprints. Its major suppliers for consumer products distribution include Hewlett‐Packard, Intel, Asus, Canon, Samsung, Advanced Micro Devices and Fossil.
For its 3rd quarter results for the period ended 30 September 2017, click here.

The company website is: www.serialsystem.com.sg.

The ccompany's Stock Facts page is here.