The following article was recently published on www.nracapital.com and is republished with permission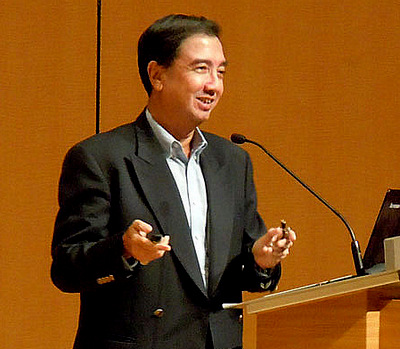 Kevin Scully, executive chairman of NRA Capital. Photo: CompanyGLOBAL STOCK MARKETS have been weak since the beginning of December 2013 for emerging markets and since the beginning of January 2014 for developed markets like the US and Japan.

Declines have so far been in the region of about 10-12% on low volumes. The million dollar question is whether this is a healthy correction or the start of a Bear market?

On 28 September 2013, I spoke at our Healthcare and Industrial Seminar. My Topic was "The Beginning or the End of the Bull Market".

My main comment was that stock markets have been in a bullish uptrend since March 2009, ie our Bull market is almost five years old and the Bull was looking tired.

In a Lim & Tan seminar on 18 October 2013 titled "Will Tapering Kill the Bull Market?", I spoke about the Fed starting Tapering before the end of 2013 and ending QE3 by Dec 2014.

My view was that this was bad for emerging markets as funds would flock back to a strengthening US$ and give the Dow Bull another two years to run while at the same time starting a two year emerging market Bear market.

My views seem to be materialising.

The events that have triggered this correction are as follows:
a) Fed unexpectedly starts Tapering on 18 December 2013 with a US$10bn reduction in QE3 monthly bond buying
b) US$ starts to strengthen against almost all global currencies except those pegged against the US$

c) China's GDP growth slows

d) Commodity prices weaken on US$ strength and the weaker Chinese economy

e) Some emerging markets start to face a currency crisis (Argentina, South Africa, Turkey, Greece)

f) Fed has another round of Tapering by another US$10bn reduction in QE3 on 29 January 2014

g) VIX or volatility index is up 100% from the low of 10-12 and just crossed the 20 market last night 21.32 (my chart below was done yesterday when Vix was only 18.4).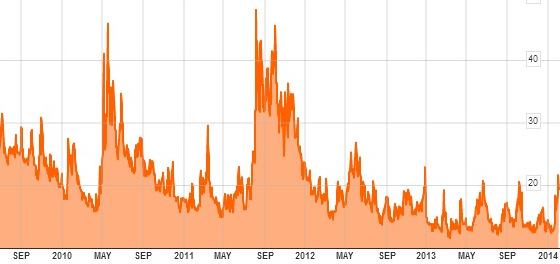 Volatility Index (VIX) values greater than 30 are generally associated with a large amount of volatility as a result of investor fear or uncertainty, while values below 20 generally correspond to less stressful, even complacent, times in the markets -- Investopedia. Chart: Bloomberg

So where are we now?

Even the IMF doesn't know what is causing this volatility and negative bias in global financial markets. I think we are at the start of a Bear market – the same view I had in September/October 2013. The trigger was Tapering and the weaker than expected Chinese economy.

The Fed can slow this by deferring or delaying its planned Tapering exercise which seems to be US$10bn reduction a month – if they stay their course QE3 will end in August/September 2014. They could however defer monthly reductions if the financial turmoil continues but in the end Tapering must end.

What should you do?

I think investors should not panic and wait for markets to stabilise. Watch the VIX index if it breaches 30, it's not a good sign and may trigger further weakness.

For Singapore, I see the first line of major support not at 3000 but at 2900 but 2600 is a good level to start to seriously accumulate.

I will be sharing my thoughts on the major financial and economic factors facing Singapore in 2014 and what that means for the Singapore stock market in another posting later this week.