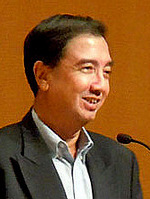 Kevin Scully, executive chairman of NRA Capital.Don't try and pick the bottom for Chinese markets because its the unwinding of a margin financing retail driven rally......

I was asked on 93.8 fm yesterday morning what I thought about the fall in the China market and where was the bottom. I wasn't able to share this on my Blog as I had an appointment with the National Heart Centre yesterday.

I was told that I had irregular heart beats when my heart rate passed 150 beats, ie under physical or mental stress. So lucky for me that I wasn't around yesterday to see the market fall sharply.

Back to the China rally - the A share market rose more than 100% in just over 12 months. Seasoned market players including myself have been warning that this was a poor quality rally driven by margin financing and retail investors.

Since the China market started unwinding, Chinese authorities have implemented the following:

a) cut interest rates 4 times

b) lower the bank reserve requirements 3 times

c) placed restrictions on major shareholders selling their shares

d) we can expect more measures

These measures didn't work because they were addressing the issue of funding costs - ie a) and b) above. But in a margin financing rally which cracks its one of collateral and credit risks. So buyers who used margin are asked to top up cash or failing that their margin positions will be forced sold to restore the margin.


But this is a self fulfilling downward spiral as the forced selling usually damages the margin even further. The issue remains one of the credit risks of the margin trading investors and the institutions providing the margin usually the stock brokers and financial institutions. A April/May report showed that most of the investors in the China A rally were first time investors who had less than high school education.

The decision by more than 1000 companies to halt trading in their shares or about 40% of the index is not a long term solution and in fact will damage China as a capital market because exit risks have now increased significantly.

I don't know when the fall will stop and so would ask you not to try and bottom fish. However a buying opportunity will emerge eventually so do some work now on the domestic consumption sector because this is the major investment theme in China as wealth level rises and the economy switches from export oriented to domestic consumption plays.

This article was recently published on www.nracapital.com and is reproduced with permission.