This article was recently published on www.nracapital.com,and is republished with permission.
In Straco Corporation's 2014 financial results, it reported FY2014 revenue of S$92.3mn, up 26.7% with net profit higher by 10.9% to S$37.7mn.
The Q4 numbers showed a less rosy picture with revenue higher by 32.8% to S$19.4mn and a net profit decline by 21.4% to S$4.4mn.
That poorer performance reflected its recent acquisition of the Singapore Flyer.
So did it buy a lemon, is Straco Corporation still a BUY ????

Key highlights of the FY2014 results: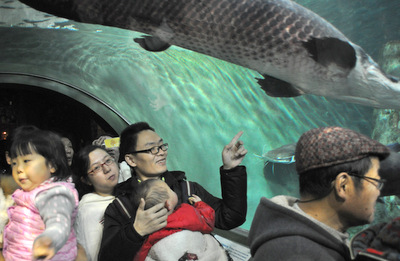 @ Straco's Shanghai Ocean Aquarium.
NextInsight file photo.a) revenue for FY2014 was S$92.3mn up 26.7%, Q4 revenue rose 32.8% to S$19.4mn.

b) net profit for FY2014 was S$37.7mn up by 10.5% while Q4 net profit was S$4.4mn down 21.4%

c) EPS for the year was 4.4 cents while NAV was 22 cents

d) DPS was 2 cents same as 2013

e) gross cash was S$112.5mn from S$108.1mn (but would be $129.8mn if we include the flyer deposit) but net cash was $19.1mn down from $129.8mn if we include the Flyer deposit. This probably explains why there was no increase in dividend.

f) in the segmented results, Straco reported that GOW (Giant Observation Wheel - Flyer) had revenue of S$3.7mn and a loss of S$0.598mn for the month of December 2014. The acquisition was completed on 28 November 2014.

g) the aquariums business continued to do well with revenue of S$84.8mn up 23.5% and reportable segment pretax profits of $62.6mn up 26.5%.

h) the FY2014 earnings were also affected by a forex loss of S$1.49mn from a forex gain of S$2.2mn in FY2013, an the absence of a gain on disposal of property of S$0.7mn which Straco recorded in 2013.

Straco did not give a forecast for 2015 but indicated that China tourism growth should mirror the slower GDP growth of the economy.

Commentary

I have liked Straco as a captive China domestic tourism play. This business would be deemed to be defensive notwithstanding what happens to the global economy.
The acquisition of the Singapore Flyer for S$140mn with a remaining lease of 21 years and an option of 15 years was a question mark given the historic performance of the asset.
Only time will tell whether Straco has bought a lemon or another strategic regional tourism asset. But given Singapore's small domestic base - the Singapore Flyer is a proxy of Singapore tourism numbers which is international tourism.
Notwithstanding the Q4 segmented loss from the GOW (Singapore Flyer) reported by Straco - I believe this includes one off items as mentioned in the results of S$2mn, I believe the GOW is operational profitable but probably doesnt enjoy the same margin as Straco's China operations.
I have always valued Straco based on discounted cashflow. Given the rise in S$ interest rates, I have raised my discount rate and also adjusted for the net cash balances given the acquisition of GOW, nothwithstanding this, the stock is still UNDERVALUED.
I am therefore maintaining my BUY recommendation - it remains as one of My Stock Picks. I am however moving it from my Yield Portfolio to my Growth portfolio because its share price has more than tripled since my recommendation in 2012 at S$0.25 which has pushed down the dividend yield to 2.6%.