GOLDPOLY: Top shareholder hikes stake
Goldpoly New Energy Holdings Ltd
(HK:686) received notice on Dec. 23 from substantial shareholder China Merchants New Energy Group (CMNEG) that the latter purchased three million Goldpoly shares through a 16.7%-held subsidiary on the secondary market.


CMNEG intends to further increase its shareholding in Goldpoly when opportunities arise.


Goldpoly also announced on Dec. 27 that together with Huabei Expressway Co Ltd, it has successfully completed the acquisition of 23.8MW on-grid solar power plant projects in Fengxian, Xuzhou City, Jiangsu Province.



Each party owns a 50% equity interest in the project.

"This is the first joint acquisition of solar power plants we have completed together with Huabei Expressway and proves the feasibility as well as advantages of our cooperation model within China Merchants Group for carrying out joint acquisitions.

"We believe the success can usher in more cooperation opportunities in the future," said Goldpoly Executive Director/CEO Mr. Alan Li.


---

BOCOM: BYD e-bus troubles in Hong Kong

Bocom International said Kowloon Motor Bus Co (KMB) has returned a K9 electric bus manufactured by BYD Co Ltd (HK: 1211) to the hybrid and fully-electric vehicle maker's plant in Shenzhen, citing market sources.

"KMB has high standards for electric buses, and the group may not select products of BYD in the future," Bocom said.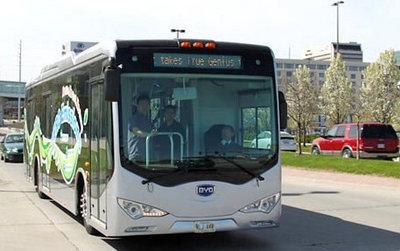 BYD's K9 e-bus has hit speedbumps in Hong Kong. Photo: feelcarsIn July 2011, the BYD Hong Kong Research and Development Center was put into operation with a group of six engineers, in cooperation with its existing development team.

KMB soonafter ordered 10 buses from BYD and the first unit arrived in Hong Kong in September 2012.

The public transit service announced at the time of purchase that it plans to test run BYD electric buses on three transit lines before they are confirmed to be approved for formal operations.

In Singapore, SMRT Corp Ltd signed an MOU with BYD Co Ltd in 2011 to enter into discussions regarding the possibility of establishing a JV to distribute BYD's K9 e-buses and e6 taxis in the city state.

However, there have been no further updates on this possible deal.


---

See also:

GOLDPOLY Adds 4 Solar Plants

BYD, COMTEC SOLAR Win Official Approval