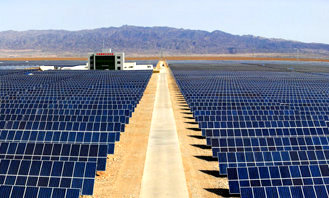 Goldpoly has been on a solar M&A campaign this year. Photo: GoldpolyGOLDPOLY: Eyes 23.8 MW solar plant In Jiangsu

Goldpoly New Energy Holdings Ltd (HK: 686) -- whose largest shareholder is China Merchants New Energy Group (CMNE) -- has fulfilled preconditions for the joint acquisition with Huabei Expressway Co Ltd for a 23.8 MW on-grid solar power plant project in Fengxian, Xuzhou City, Jiangsu Province.

Goldpoly, together with Huabei Expressway, signed a framework agreement with Suzhou Industrial Park Zhong Fu Investment Management for the joint acquisition which has been approved by shareholders at SGMs of both sides and by the Hong Kong and PRC exchanges, with all preconditions met.

"The completion of the joint acquisition of solar power plants by Goldpoly and Huabei Expressway marks the first success we've achieved by working collectively to develop the new energy business.

"This kickstarts an innovative cooperation model for carrying out more acquisitions, and we will further adopt this mode of joint acquisitions in cooperation with other SOEs and prominent enterprises to help boost efforts to realize the dream of building green homes," said Goldpoly Executive Director/CEO Mr. Alan Li.

The 23.8 MW solar power plant covers an area of 600,000 square meters and accommodates 5,822 agricultural greenhouses.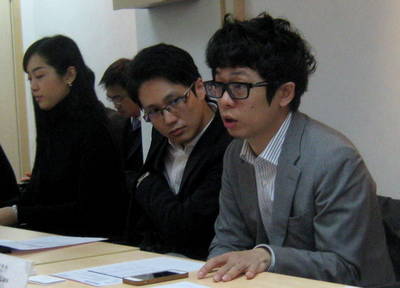 Goldpoly Chief Operating Officer Mr. Sean Liaw (right) told investors in Hong Kong this week that the firm plans to become China's top IPP solar play. China Merchants New Energy Group Deputy General Manager Mr. Jason Zhao listens on Mr. Liaw's right.
NextInsight file photoIt is currently the world's largest project for on-grid ecological agriculture roof-top photovoltaic power generation.

The solar power plant was connected to the grid in 2011 and generated approximately 28 million kWh per year.

If 335 grams of coal are required to produce one kWh of electricity, it means the project helps save 9,380 tons of standard coal every year and reduces carbon dioxide emissions by 24,600 tons as a result.

Pursuant to the agreement, the electricity tariff of the project stands at RMB 2.4 per kWh, which constitutes the standard on-grid power tariff offered by the State and the subsidies offered by the Jiangsu provincial government.

The selling party will provide a pledge guarantee for the revenue of electricity generation.

Goldpoly New Energy Holdings Ltd, one of the leading PV solar farm operators in China, is mainly engaged in the investment, development and operation of solar power stations. On 10 June 2013, the Company completed the acquisition of China Merchants New Energy Holdings Ltd. Following the acquisition, the Company commenced a series of mergers and acquisitions by leveraging strong connections with large conglomerates to reach a period of rapid growth. The Company aims to become the most efficient and professional platform for photovoltaic power plants platform in the PRC, as well as to establish a healthy photovoltaic green ecosystem.


---

GOLDPOLY: 50 MW goes on-grid in Inner Mongolia

Goldpoly New Energy Holdings Ltd (HK: 686) saw the 50 MW Guodian Chahaeryouyiqianqi solar power plant owned by members of the Photovoltaic Green Ecosystem Organization (PGO) in Wulanchabu City, Inner Mongolia successfully achieve on-grid connection and commence electricity generation.

The 50MW Guodian Chahaeryouyiqianqi solar power plant is one of the projects under the conditional acquisition agreement which was signed by Goldpoly and members of PGO on 22 August 2013.

"The 50MW Guodian Chahaeryouyiqianqi solar power plant is the first successful project achieving on-grid connection since the establishment of the PGO.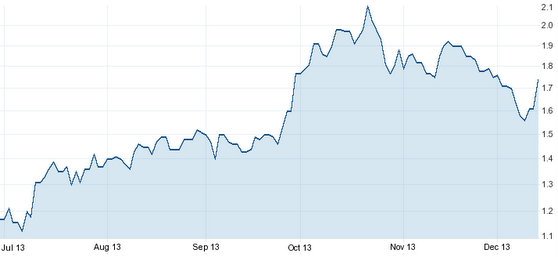 Goldpoly's recent Hong Kong share performance. Source: Yahoo Finance

It is the first time for PGO members to cooperate in an all-round way across the value chain and kick-starts a joint consortium approach to effectuate photovoltaic industry consolidation," said Goldpoly Executive Director/CEO Mr. Alan Li.

He added that all parties in this project bring their advantages into full play and will work collectively on site evaluation, certificate application, due diligence on power consumption, site construction, on-grid connection and maintenance management.

"The project fully demonstrates the collaborating initiative of PGO to strive for ecologically sustainable development."

The project was funded by Guodian Inner Mongolia Power and its EPC service was provided by GD Solar, and covers an area of around 1.46 square kilometers.

Upon on-grid connection, it is expected to generate approximately 1,878,993 MWh of electricity, namely 75,160 MWh per year, during the 25-year operation period.

Given this, the project will help save 25,000 tons of standard coal every year, and reduces CO2 emissions by 60,000 tons, SO2 emissions by 604 tons as well as dust emissions by 252 tons.

---