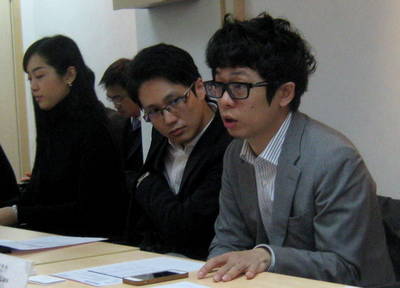 Goldpoly Chief Operating Officer Mr. Sean Liaw (right) answers an investor query while China Merchants New Energy Group Deputy General Manager Mr. Jason Zhao (to his right) listens.
Photo: Andrew VanburenGOLDPOLY NEW ENERGY Holdings Ltd (HK: 686) expects to eventually become China's largest solar independent power producer (IPP).

And with the recent rate of the firm's aquisitions, it may come to pass sooner rather than later.

"We believe it's only a matter of time," said Goldpoly Chief Operating Officer Mr. Sean Liaw.

Speaking to investors in Hong Kong on Monday at an Aries Consulting-organized "Company of the Month" event, he said the new energy firm was expanding its photovoltaic (PV) capacity rapidly of late, which meant lots of financial media coverage.

"We originally expected around one press release per week, but recently we have been seeing two and sometimes three.

"But all share a common theme of adherence to quality production methodology, continued PV capacity expansion via M&As, and a steadfast commitment to helping make 'Green Energy' solutions an ever-increasing reality in Mainland China and elsewhere," Mr. Liaw said.

Goldpoly -- whose largest shareholder is China Merchants New Energy Group – has been on an aggressive campaign this year to boost its PV capacity via M&A activities.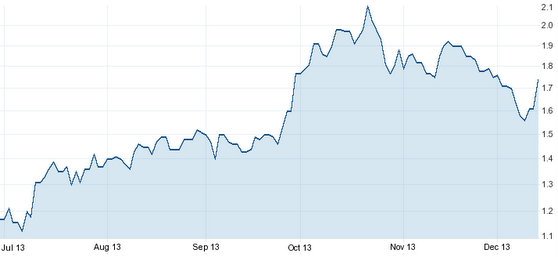 Goldpoly's Hong Kong shares have had a solid second half on an M&A campaign.
Source: Yahoo Finance

On December 13, Goldpoly added 180 MW via a joint acquisition with shareholder company Renewable Energy Trade Board Corp (EBOD) for a 100% equity stake in Changzhou Dinhui New Energy – a wholly-owned subsidiary of Zhongli Talesun.

Goldpoly owns 45% of the Qinghai-based solar plant with an investment of 4.5 million yuan, while EBOD holds the remainder.

At the end of last month, Goldpoly announced a framework deal with GD Solar, GUODIAN Inner Mongolia New Energy and the Forty-eighth Research Institute of China Electronics Technology to acquire no less than 80% equity interest in a first batch of 195 MW of solar farm projects in the Northern Chinese region.

And in mid-November, Goldpoly inked a framework agreement with China National Petroleum Corporation subsidiary Kunlun Trust Co Ltd for joint acquisition of 500 MW of solar power plants in Xinjiang, Gansu and Inner Mongolia.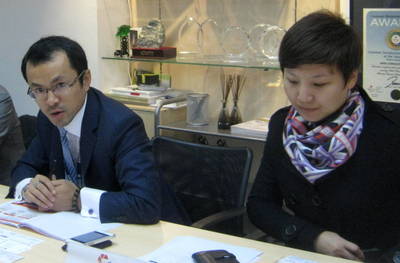 China Merchants New Energy Group (CMNEG) Chief Communications Officer Mr. Stephan Yao (left) and Goldpoly Public and Investor Relations Director Ms. Qiu Shaomeng in Hong Kong.
CMNEG is Goldpoly's top shareholder.   Photo: Andrew VanburenThe substantial and concrete additions to Goldpoly's PV plant treasure chest, and many more such deals planned down the road, are helping make the new energy firm confident it can eventually become the top investor in, and operator of, solar power plants in Mainland China.

"In the foreseeable future, Goldpoly will continue to uphold its responsibility in helping realize the development of 'Green Energy for a Better World', with a focus on the fast-growing solar energy applications industry in China, and push forward the continuous innovation and progress of photovoltaic technologies.

"Goldpoly will develop into the top Chinese and even the top global solar photovoltaic enterprise," Mr. Liaw said.

To help emphasize Goldpoly's focus on green energy and solar capacity expansion, the firm earlier this month proposed a change of company name from ''Goldpoly New Energy Holdings Ltd'' to ''United Photovoltaics Group Ltd'' and "聯合光伏集團有限公司''as its official Chinese name.

The company stated at the time that it considers the proposed new name will refresh the corporate image, reflect and emphasize the company's development direction of focusing on downstream solar farm business in the PV industry and is in line with the company's strategy of leveraging quality resources from various stakeholders to establish a healthy photovoltaic green ecosystem.

Goldpoly was making its expansion push at exactly the right time, especially given the nearly year-old PRC government administration's repeated strong support of the country's solar power industry.

"We are also seeing a lot of PV power demand driven by China's ongoing and historic urbanization drive," Mr. Liaw added.

Just a few short years ago, Mainland China became a majority urban population for the first time in its 5,000-year history after spending the past five millennia as a nation primarily made up of rural inhabitants.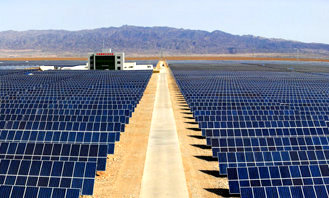 Goldpoly has been on an M&A flurry to add to its solar power capacity.     Photo: GoldpolyWith literally hundreds of millions of villagers heading to the cities over the past few decades to improve their respective lots in life, the more concentrated residential regions allow for solar power economies of scale to be reached, and more efficient energy transmission allowable with higher returns for investors.

"We don't buy the overcapacity frets being floated about recently because we are focusing on acquiring existing PV facilities and not adding to overall capacity.

"Furthermore, we anticipate continued strong demand for solar power in China and elsewhere in the years to come."

Mr. Liaw also told the roomful of investors that despite having a state-owned enterprise as its parent firm, Goldpoly operated relatively independently in terms of its finances, and adhered to strict and exacting Hong Kong Stock Market regulatory and auditing guidelines.

"We are therefore not subject to some of the gearing and NPL issues that some SOES face."

Looking ahead, he said investors should be on the lookout for Goldpoly's expansion in 2014 and beyond, with a project in Beijing on the drawing table.

"We are also bullish on opportunities in the highway-side solar installation market."

For the time being, Goldpoly was mainly focused on the PRC market.

However, it recently inked a 10 billion yuan long-term financing deal with China Development Bank to help develop solar projects in China and abroad.

However, Goldpoly realized that not all markets fit the same mould and it didn't use a cookie cutter approach to overseas sales campaigns.

"We have a custom-made marketing strategy for each market within which we operate," Mr. Liaw added.


---

See also:

GOLDPOLY Adds 180 MW