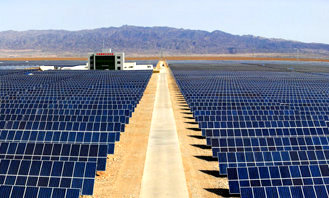 Goldpoly continues to increase its on-grid solar capacity in Mainland China. Photo: GoldpolyGOLDPOLY adds 180MW

Goldpoly New Energy Holdings Ltd (HK: 686) along with shareholder firm EBOD inked a deal with Zhongli Talesun for the joint acquisition of 100% of Changzhou Dinhui New Energy Ltd, Zhongli Talesun's wholly-owned subsidiary.

The total capacity of Qinghai Province-based solar power plants is 180 MW with total cash consideration for the acquisition 10 million yuan.

Goldpoly -- whose largest shareholder is China Merchants New Energy Group – acquires 45% equity interest in Dinhui for a total cash consideration of 4.5 million yuan while EBOD acquires the remaining 55% equity interest for five million.

The energy, procurement and construction (EPC) contract for the 180 MW solar power plant projects will be drawn up by Zhongli Talesun, and will be determined with reference to the actual on-grid electricity price obtained by the projects.

Where the on-grid electricity price obtained is 0.95 yuan or 1.00 yuan per KWh, the total EPC consideration will be 1.854 billion yuan or 1.962 billion yuan, respectively.

Zhongli Talesun guarantees and warrants that the electricity generation capacity of the projects will meet the target set by the parties for a term of ten years from the date on which the projects are connected to the grid and delivered.

"Goldpoly is keen to promote the development of solar energy applications, and this time we extended persistent efforts to realize a strategic cooperation with industry leader Zhongli Talesun.

"The acquisition of 180 MW of solar power plant projects enables us to expand our business scale in China's western regions steadily, as well as to ensure the sustained and healthy development of the Group," said Goldpoly CEO and Executive Director Mr. Alan Li.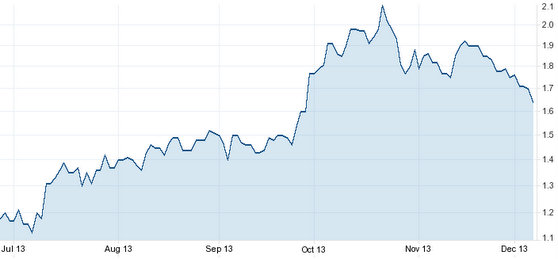 Goldpoly's Hong Kong shares have a 52-week range of 1.00 - 2.17 hkd. Source: Yahoo Finance


Goldpoly is engaged in the investment, development and operation of solar power stations, while Zhongli Talesun possesses world-class technology in the manufacture of solar equipment.

"Our cooperation has led to an organic integration of the solar industry chain with both upstream and downstream advantages, in order to achieve a win-win situation.

"Leveraging our own solid and steady style and vibrant cooperation with high-quality companies, we are confident that not only will this cooperation bring substantial returns for shareholders of the company, but also will achieve the reality of new green energy in millions of households," Mr. Li added.

Goldpoly New Energy is engaged in the investment, development and operation of solar power stations in the PRC, and has a polysilicon solar cell factory in Quanzhou, Fujian Province, PRC. The company is listed on the main board in Hong Kong. On 10 June 2013, Goldpoly completed the acquisition of China Merchants New Energy Holdings Ltd, a company focused on the investment, development and operation of solar power stations. Following the acquisition, China Merchants New Energy Holdings Ltd became a wholly-owned subsidiary of Goldpoly. Goldpoly entered a new phase of development since then, and commenced to fully integrate the solar power stations business to create a leading global operations platform for photovoltaic power stations.

---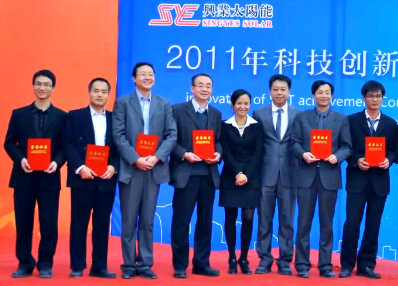 Solar play Singyes is no stranger to innovation awards.
Photo: SingyesBocom: SINGYES 'one of best beneficiaries' in distributed PV

Bocom International said China Singyes Solar (HK: 750) is thriving in the solar power sector thanks to its business organization.

"We view as one of the best beneficiaries of the high-growth distributed PV market in China.

"Singyes' major businesses include EPC (Engineering, Procurement and Construction) of BIPV (Building Integrated Photovoltaic) and conventional curtain walls," said Bocom.

In the first half of this year, Singyes' construction contracts contributed a gross profit of 344.6 million yuan, or 81% of the total, among which 258.3 million yuan was from BIPV projects, representing 60% of total gross profit of the company.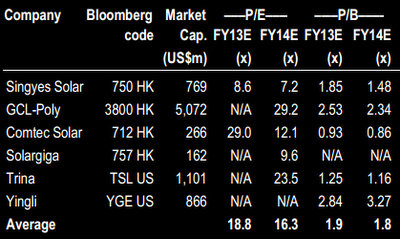 Singyes has the lowest 2014 P/E among peers. Source: BocomIn China, new installations of solar power in 2014E are expected to be 12 GW, 8 GW of which could be from distributed PV and 4 GW from solar farms.

"BIPV is one of the most common and efficient modes of developing distributed PV," Bocom said.

As at the end-June 2013, Singyes had around 2.1 billion yuan of orders on hand, including approximately 150 MW of BIPV or solar power system, green building projects and other solar power products.

In September 2013, Singyes announced that it secured another 130.44 MW of solar projects.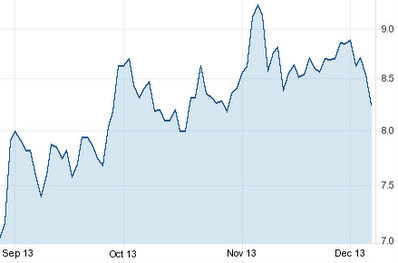 Singyes Solar's recent Hong Kong share performance.
Source: Yahoo FinanceThe new orders included 100 MW of projects under the Feed-in-Tariff program, 437 KW of micro smart-grid projects and the remaining 30 MW projects were from the previous year's Golden Sun Program which promotes solar power use in China.

"According to recent news, distributed PV projects eligible for the subsidy program will receive the monthly subsidy through the grid companies and the surplus electricity sales will also be settled every month," Bocom added.

For regions such as economic development zones where electricity supply is centralized and independent, PV power generation operators could sell the surplus electricity directly to other users in the zone.

"We believe monthly payments of subsidies and sales of surplus electricity could help the users' cash flow and increase the IRR of distributed PV installation that could motivate the installation of BIPV.

"We expect volume growth whilst margins may drop gradually," the research house said.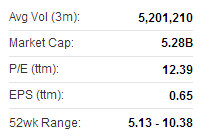 Singyes recently 8.13 hkdAfter the end of the Golden Sun Program, the subsidies will be on a generation basis (0.42 yuan/kWh).

Bosom added that it expects Singyes could achieve a market share of around 6% to 7% of the total distributed PV market.

"We still believe Singyes will focus on the EPC business model, not the BT (Build-Transfer) model due to the risk of high capital expenditure of the latter.

"Without the Golden Sun subsidies in the future, we believe Singyes is unlikely to make aggressive direct investment in solar projects."

Singyes is currently trading at a consensus FY14E P/E of 7.2x and FY14E P/B of 1.48x.

Singyes' FY14E P/E is lower than the average FY14E P/E of some solar component manufacturers.


---

See also:

GOLDPOLY Adds 195MW Solar Farm

Solar Sector Scenario: GOLDPOLY, SINGYES, COMTEC