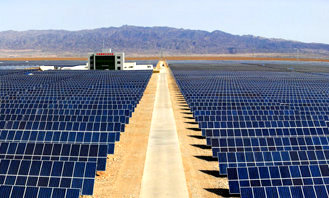 Goldpoly continues to increase its on-grid solar capacity in Mainland China. Photo: GoldpolyGOLDPOLY to add 195MW solar capacity

Goldpoly New Energy Holdings Ltd (HK: 686) entered into an agreement with members of the Photovoltaic Green Ecosystem Organization (PGO), including GD Solar, GUODIAN Inner Mongolia New Energy and China's Forty-eighth Research Institute, to acquire 400MW in solar farms.

Goldpoly New Energy, whose largest shareholder is China Merchants New Energy Group (CMNE), will pay GD Solar a 100 million hkd deposit to acquire no less than 80% equity interest in the first batch solar farm projects with annual electricity generation capacity of 195MW.

The breakdown is as follows: 40MW Guodian Wulatehouqi project and 50MW Chahaeryouyiqianqi project owned by GUODIAN; 65MW Guodian Nailuntumotezuoqi project and 40MW Guodian Tuoketuo County project owned by the Forty-eighth Research Institute.

According to the agreement, the acquisition projects will fulfill the conditions for on-grid connection and commence to generate electricity by December 31, 2013.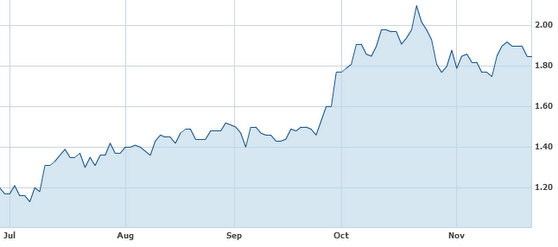 Goldpoly's recent Hong Kong share performance. Source: Yahoo Finance

"The establishment of the PGO this August enabled Goldpoly to develop photovoltaic power plants in close collaboration with China's leading photovoltaic enterprises.

"The long-term strategic partnership between upstream and downstream enterprises allows all parties not only to bring their advantages into full play so as to ensure grid-connection and improve operating efficiency and stability, but also to effectuate the healthy development of the PV industry for a win-win result," said Goldpoly Executive Director and CEO Mr. Alan Li.

Goldpoly New Energy Holdings Ltd, one of the leading PV solar farm operators in China, is mainly engaged in the investment, development and operation of solar power stations. On 10 June 2013, the Company completed the acquisition of China Merchants New Energy Holdings Ltd. Following the acquisition, the Company commenced a series of M&As by leveraging strong connections with large conglomerates to reach a plateau of rapid growth.

---

Comtec recently 1.62 hkdCOMTEC SOLAR, BYD win approval from Beijing

China's influential Ministry of Industry and Information Technology (MIIT) unveiled the first list of companies which have met the regulatory requirements to play a greater role in the country's photovoltaic (PV) manufacturing industry.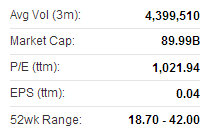 BYD recently 38.70 hkdAmong the firms named are a Shanghai-based unit of Comtec Solar (HK: 712) and Shenzhen-based BYD Co (HK: 1211).

Making the list affords firms greater potential access to China's fast-growing solar manufacturing sector and makes subsidies and government contract signings a more likely possibility.

BYD, best known for its popular hybrid vehicles and 10% held by Warren Buffett's investment firm Berkshire Hathaway, also engages in downstream solar product manufacturing including wafers and PV module assemblies.


---

See also:

GOLDPOLY, BYD Both 'Buys'

COMTEC SOLAR Q3 Revenue Slips