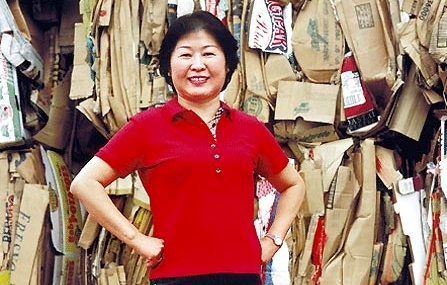 Nine Dragons Paper founder Zhang Yin. Photo: 88w

NOT LONG AGO, Zhang Yin -- Nine Dragons Paper founder and chairperson – was the first woman in China to be the country's richest person.

She has slipped down the rankings a bit following the global recession, but the self-made South China native who started her paper empire with less than 4,000 usd in her pocket is still worth a whopping 3.1 billion usd.

Born in Shaoguan, Guangdong in 1957, Ms. Zhang went on to establish and manage a family-owned firm – Nine Dragons Paper Holdings (HK: 2689) – which made its riches importing scrap from the US before converting it into cardboard to ship exports, often right back to the country that provided it with the scrap paper in the first place.

In 2006, she officially became the first female to also be named China's richest person.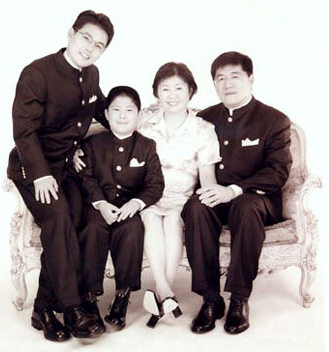 Nine Dragons' Zhang Yin with husband and two sons. Photo: biaoqianyTwo years later, she was increasingly becoming a household name not only at home in the PRC, but also worldwide.

That's because her personal fortune reached nearly five billion usd, making Ms. Zhang the richest self-made woman in the world, ahead of US entertainment mogul Oprah Winfrey, Harry Potter series writer J.K. Rowling and Giuliana Benetton of the self-named fashion brand.

Nine Dragons founder a 'dragon mom'

Ms. Zhang is very proud of the fact that she made it big on her own, without benefitting from inheritance or heavy influence from family matters.

As a matter of fact, she told the Chinese media during an interview three years ago that she expected her own two sons to stand up on their own two feet as their careers moved forward.

"I'm not a fan of this 'princeling' phenomenon in China where boys in particular are treated like royalty, especially if their parents are of a certain means.

"Both my boys know that if they don't develop the skills and ability to lead a company, they won't be inheriting Nine Dragons," she bluntly stated.

She also described herself as a bit of a "dragon mother" herself.

Ms. Zhang denied pulling any strings to get one of her sons into a prestigious MBA program abroad.

"He totally relied on his entrance exams to get in, and I had no part in his acceptance," she said.

And did her sons get an allowance, as offspring of one of China's citizens?

"Absolutely not," Ms. Zhang said.

"If I spoil them now, what will become of them in the future?"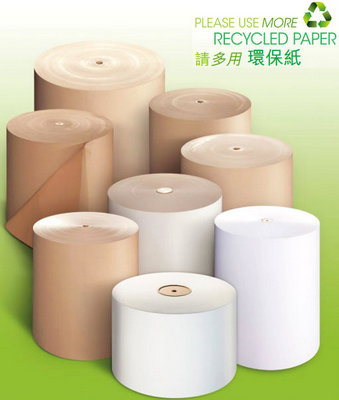 Nine Dragons is the world's No.1 containerboard play. Photo: CompanyThanks to the global economic slowdown and China's sluggish exports, Ms. Zhang has recently ceded the PRC's wealthiest woman spot to two property tycoons – Ms. Yang Huiyan, Country Garden (HK: 2007) director (net worth 5.7 billion usd) and Ms. Wu Yajun, Longfor Properties (HK: 960) founder (net worth 4.4 billion usd).

Country Garden's Ms. Yang was gifted with a 70% stake in her father's firm and therefore owes a great debt of gratitude to dear old dad for her stunning fortune.

On the other hand, Ms. Zhang along with Longfor's Ms. Wu are self-made women.

Ms. Zhang enjoyed some early advantages in life, being the daughter of a lieutenant in the Red Army.

However, like Longfor's Ms. Wu, Ms. Zhang also cut her teeth early on in her career toiling away in a factory -- a textile plant in her native Guangdong Province.

Ever on the lookout for business opportunities, she soon turned her entrepreneurial gaze to the Southern China boomtown of Shenzhen, taking a position at a paper trading firm.

She sensed early on that China's juggernaut of an exporting machine struggled mightily to find adequate supplies of paper packaging for its armada of containers full of manufactured goods being shipped around the world.

This prompted Ms. Zhang to take her first big gamble.

In the mid-eighties, she established her own paper trading firm in neighboring Hong Kong with just 3,800 usd to her name.

Three decades ago, Hong Kong was a much more prosperous place than anywhere in Mainland China.



Source: Nine Dragons PaperWhen visiting the city at the time, Ms. Zhang was shocked by the level of waste she saw in terms of raw materials and a lack of recycling.

She took full advantage of Hong Kong's affluent "throw-away" economy, buying up scrap paper on the cheap in the then British colony to convert it into packaging materials for her homeland's fast-growing exporting enterprises.

Cornering the market

Ms. Zhang hasn't just made her mark on Greater China's business scene alone.

In 1990, with her company's orders already booming, she moved to Los Angeles and married for the second time – this time to Taiwan-born, Brazilian-trained dentist Liu Ming-chung.

The newlyweds jointly founded paper exporting firm America Chung Nam despite her new spouse hardly having a background in the field.

The US-based firm has been the top American paper exporter since 2001 as well as the biggest overall paper seller to China by volume shipped.

Ms. Zhang -- who not only holds a green card but also juggles a busy career with the duties attached to raising two sons -- thus controlled both ends of the production process, with one hand on the lever of the top exporter of scrap paper to the PRC and the other hand guiding the largest cardboard and packaging manufacturing enterprise in Mainland China.

"Although I call the US home right now, my main business focus is in China," she said in a US media interview at the time.

She also knows that being tops in one's industry can make a lot of people jealous, and get the negative rumor mill churning.

During an interview three years ago, she was asked if rumors that Nine Dragons had applied for bankruptcy protection were true.

"Absolutely not. They are baseless and spread by the same folks that recently speculated my (second) marriage was over."



Nine Dragons Paper's Hong Kong shares have seen their ups and downs this past half decade. Source: Yahoo Finance

She can also be outspoken when it comes to career advice.

At the time of the interview in 2009, she told recent college graduates they'd be far better off "selling pork," as demand for the meat at the time was far more robust than prospects in the paper trade.

Not only does Ms. Zhang's playful suggestion dissuade newcomers from entering her turf, but her "sell pork" advice was somewhat reminiscent of Singapore-based investor Jim Rogers recently telling a reporter she'd be much better of studying farming than finance.

Growing empire

In 1995, Ms. Zhang combined her China-based paper assets under one roof by founding Nine Dragons Paper which a decade later raised half a billion usd in a Hong Kong IPO.

By the end of 2006, the year Nine Dragons went public, its stock price had nearly trebled in value.

By 2009, the year following the Wall Street crash and the ensuing global economic meltdown, Nine Dragons had doubled production capacity and officially became the world's largest packaging paper and container board manufacturer.

Like Longfor's Ms. Wu, Nine Dragons' Ms. Zhang is also active in politics, serving on the Chinese People's Political Consultative Conference.

Therefore, her civic duties and business focus remained centered on the country of her birth.

"Every penny our firm makes in China we keep in China in order to reinvest it in capacity expansion," Ms. Zhang said.

Nine Dragons Paper is the world's largest recovered paper based paper manufacturing firm in terms of production capacity. The Group has 33 packaging paperboard and printing & writing paper machines operating at its four major production bases in China. These technically advanced paper machines were mainly imported from Europe, North America and Japan, with an aggregate annual design capacity of over 12.0 million tonnes. These paper machines are located in Dongguan, Guangdong Province; Taicang, Jiangsu Province; Chongqing and Tianjin. ND is also building a medium-sized paper production base in Quanzhou, Fujian Province and a new production base near Shenyang with a total annual design capacity of 0.65 million tonnes and 0.7 million tonnes, respectively.


---

See also:

BAIDU CFO: One Of World's Most Popular Women


For more on Ms. Zhang, see:

http://baike.baidu.com/view/88419.htm#3

http://news.sohu.com/20100302/n270504041.shtml

http://www.chinanews.com/cj/kong/news/2009/03-10/1595929.shtml