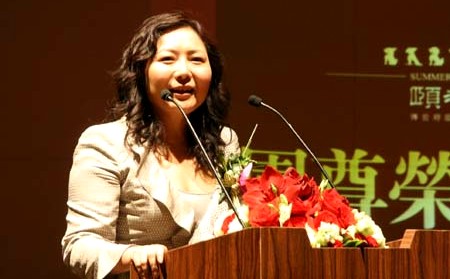 Ms. Wu Yajun, China's second richest woman.   Photo: faxingw

WU YAJUN, founder and Chairwoman of Longfor Properties (HK: 960), wasn't born with a silver spoon in her mouth.

But late last year, she was China's richest woman and the fifth most affluent person in the country, with a massive net worth of 4.4 billion usd.

Ms. Wu began life in decidedly humble surroundings.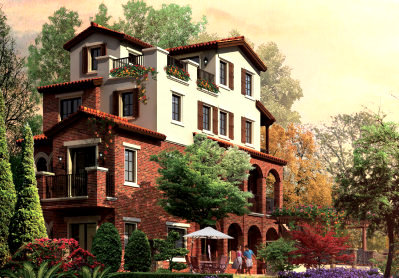 Longfor recognized revenue of 27.9 billion yuan in 2012, up nearly 16% year-on-year, while the bottom line rose 20% to 5.4 billion. Photo: CompanyShe was born in 1964 in the Southwestern Chinese city of Chongqing.

"Her background as the daughter of a dressmaker is clear as sometimes when meeting dignitaries, she can be seen greeting them with one of her traditional homemade qipao dresses," said a former colleague.

Born to an ordinary family in a region of the country known for its tongue-numbing cuisine -- and these days for its equally hot property sector -- China's second wealthiest woman actually worked in a factory for a few years in the eighties.

Her decision to switch to journalism in 1988 was a key turning point in her career.

For the next half decade, she worked as a reporter and editor in her hometown at China Shirong News -- a newspaper directly controlled by the Chongqing Construction Bureau.

Her tenure in the media profession was instrumental in exposing her to the movers and shakers among the region's real estate players and policy makers.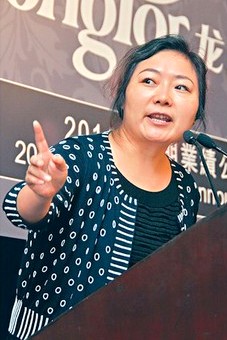 Longfor's founder and Chairperson Wu Yajun adheres to a 'Three Nos' policy regarding personal publicity: no TV appearances, no media interviews and no autographs.   Photo: womenofchinaAll of this allowed Ms. Wu to accumulate a formidable network of industry contacts that helped launch a stellar career in property development.

By 1995, the then 31-year old Ms. Wu felt confident and well-connected enough to establish Chongqing Zhongjianke Real Estate Co Ltd with a start-up capital of 10 million yuan.

That same year she and her now ex-husband – Cai Kui – renamed the firm Longfor Properties, which rode the real estate boom to expand from its home base of Chongqing (China's largest municipality by area) to Beijing, Shanghai, Chengdu and Dalian.

Longfor went public in Hong Kong in November 2009 with cornerstone investors including the Temasek Holdings, which is an investment company owned by the Singapore government, and China's Ping An Insurance (HK: 2318).

As of March of this year, Ms. Wu was the world's 299th richest person and made it onto Forbes' "Top 50 Power Women" list.

Her power and influence not only manifests itself in the business world but extends into political spheres as well as Ms. Wu is a member of China's National People's Congress.

Ms. Wu is "famous" for playing down her fame, and purposely avoids the media spotlight wherever possible.

Three years ago, Chinese state media described her as sticking to a "Three Nos" policy regarding personal publicity: no television appearances, no media interviews and no autographs.

This self-imposed media blackout only serves to heighten curiosity about China's second richest female, and makes the question of whether she can reclaim the top spot all the more intriguing.

However, she does know how to make an impression on those in her industry.

In its most recently-released results, Longfor recognized revenue of 27.9 billion yuan in 2012, up nearly 16% year-on-year, while the bottom line rose 20% to 5.4 billion.

Ms. Wu's career got off to a roaring start, thanks in large part to the many connections she'd built up over the years.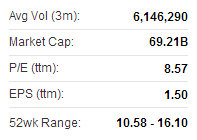 Longfor recently 12.72 hkdThis strategy could be seen very early on in the property tycoon's life.

"All of her teachers really took Wu Yajun her under their wing at an early age and gave her special attention, treating her like a cherished doll as she was the top student in her class.

"One of her favorite teacher's daughters also became her best friend in her childhood, and this same classmate – Zhang Wei – to this day remains one of Ms. Wu's key business partners," a neighbor in Chongqing said.

The neighbor went on to say that other than scholastic achievement, there was nothing particularly telling in Ms. Wu's family background to suggest that she would one day be China's richest woman.

"Yajun's family was very ordinary, and of average means. Therefore I was very surprised when I learned she was Chairman of Longfor.

"I used to take some of my clothes to her mother, a seamstress, for mending," the neighbor added.

And as she is only just flirting with fifty, her life story certainly has more chapters in store, especially given the ongoing urbanization drive in the world's most populous country.

Following a costly recent divorce, the real estate mogul slipped to the No.2 spot among PRC women in terms of net worth.

After the breakup of her marriage last year, Ms. Wu transferred to her ex-husband around two-fifths of Longfor's shares the couple formerly held.
Her holdings in Longfor fell to 43% from a combined 72%, while her ex retains 29%.

Ms. Wu thus ceded the No.1 position on China's richest female list to fellow property tycoon and Country Garden's (HK: 2007) top shareholder -- Ms. Yang Huiyan.

While Ms. Wu earned had worked for her money, the current No.1 mainly has her father to thank for her proverbial pot of gold. (See: Yang Huiyan Became China's Richest Woman At 26)


---
For more on Wu Yajun, see:

http://news.qq.com/a/20100422/001549.htm

http://blog.sina.com.cn/s/blog_969c5c2a01012t8s.html

http://www.cnstock.com/index/gdbb/201008/798916.htm