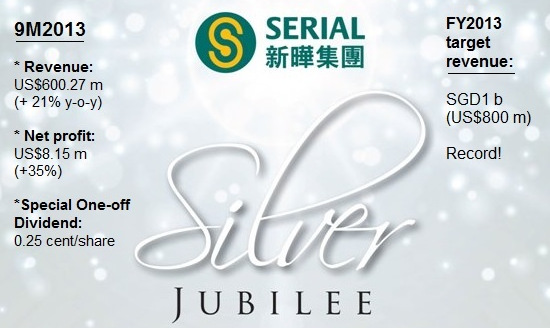 SERIAL SYSTEM has announced a 29% jump in 3Q earnings to US$2.9 million -- and a special interim dividend of 0.25 cent a share (after having paid a 0.24 cent interim dividend in 1H2013).

The good news came ahead of its 25th anniversary celebration dinner tonight with the guest-of-honour being Deputy Prime Minister Teo Chee Hean.
Turnover of the electronic components it distributes amounted to US$222.7 million in 3Q, or 24% higher year-on-year.
It was boosted by a 28% rise in turnover in the key market of North Asia (comprising Greater China, South Korea, Taiwan and Japan).
North Asia, being a manufacturing hub, accounted for 82% of the Group's turnover, which comprised components manufactured by its principals including Texas Instruments, ON Semiconductor, TE Connectivity, Avago Technologies, and AMD.


Texas Instruments has the distinction of being one of Serial's longest partners (since 1993, which means 20 years today) and being the No.1 principal for many years now.



In turn, the finished products of Serial's customers span a dozen key industries, such as consumer/household appliances, automotive, telecommunications and industrial machinery.



Serial's sales in Greater China, South Korea and Taiwan grew by 27%, 12% and 12%, respectively, due to the growth of major product lines and addition of new customers.



A new Japan subsidiary contributed revenue of about US$7.3 million in 3Q, accounting for a 5% increase in revenue for North Asia.
The Group's gross profit margin declined from 9.1% in 3Q2012 to 8.8% in 3Q2013 mainly due to lower margins earned from the South Korean and Singapore subsidiaries.
There was stiff market competition in South Korea and higher sales of lower-margin products in South East Asia, said Serial.
"The Group will continue to look out for opportunities to expand further in Asia via mergers and acquisitions," said Serial in its financial results
announcement.
25th anniversary celebrations
Tonight, Serial will host a dinner to mark its 25th anniversary.
Taking centrestage will be Derek Goh, the founder, who started the company in 1
988 as a sole proprietorship.

Today is one of the best days of his 51 years -- there are two full-page congratulatory advertisements each in The Straits Times and The Business Times. On top of that, The Straits Times today ran a full-page article on him.

He was 26 years old when he left his job in the Singapore Navy after serving for eight years. He started Serial System in a rented 500 sq ft shop in Golden Mile Tower in Beach Road.


He recalls: "I had many friends who were in electronics sales. They told me it was a profitable business and how much money their bosses were making – and I thought "Bingo!" In electronics, there are always new products and you can have repeat sales. And the volume is huge."
Among the hundreds and thousands of traders of electronic components that have ever started business in Singapore, Serial would be among the few to make it as a listed company.

Serial is within striking distance of reaching its target of S$1 billion in revenue this year. Stay tuned.



"The expansion strategies undertaken by the Group in recent years have started to yield economies of scale, as operations in new businesses have stabilized.
---