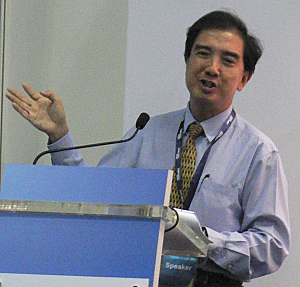 Kevin Scully, executive chairman, NRA Capital. NextInsight file photoJAYA HOLDINGS' 2013 full year results showed revenue higher by 145% to UD$201.7mn while net profit rose 5% to US$46.1mn. Investors should also read the presentation slides from the results briefing.
Key highlights of the Jaya Holdings 2013 results:
a) revenue for FY2013 was US$201.75mn up by 145%
b) net attributable profit rose 5% to US$46.1mn
c) EPS US cents 5.97 compared to US cents 5.68
d) NAV per share was US$0.70 compared to US$0.646
e) Final dividend of 3.5 S cents which together with the interim dividend of 0.5 S cents brings the total dividend for 2013 to 4.0 S cents. At S$0.60, Jaya is now a yield stock with a running yield of 6.6%.
f) Gross cash is now US$173.2mn and net cash of US$58.9mn
The forward looking statement of Jaya Holdings under Item 10 of its results announcement appears to be positive but management have not given any profit guidance.
10. A commentary at the date of the announcement of the significant trends and competitive conditions of the industry in which the Group operates and any known factors or events that may affect the Group in the next reporting period and the next 12 months.
Industry fundamentals remain solid, with demand for energy, and thus for oil and gas continuing to rise, especially in emerging markets. Buoyant demand and stable oil prices are conducive to rising levels of exploration and production activity, which drive demand for offshore vessels. In June 2013, the Group announced that it had secured charter contracts of more than US$60 million for three of its new Platform Supply Vessels. The charters of two of these vessels mark Jaya's entrance into the booming Latin American market and are in line with the Group's market growth and geographical diversification strategies.

In the same month, the Group also announced it has signed an agreement to sell a new state-of-the-art Anchor Handling Tug Supply Vessel, Jaya Sovereign, to Canadian buyers, Atlantic Towing Limited. The vessel's delivery is expected by the end of 2013. The Group has also secured a charter contract for a period of up to three years for its Multi-Purpose Maintenance & Accommodation Vessel, Jaya Privilege, which is under construction. The Group has a strong charter order book of US$255 million (up from US$195 million a year ago) which provides it with a recurring stream of revenue. The Group is pleased to propose a final dividend of 3.5 Singapore cents per share. Together with the interim dividend of 0.5Singapore cent per share, the total dividend for FY2013 will be 4.0 Singapore cents per share."
Commentary:
I am actually happy with the Jaya results as they point to a steady recovery in its Offshore Support Services business or chartering – even though this is not clearly visible in its results announcement. The Table below shows the steady improvement in quarterly revenue in 2013 and this excludes the impact of the three new charters in June 2013. I therefore expect 2014 Offshore support to show continued steady improvement. There is also a vessel sale targeted for Dec 2013 which we expect as a new vessel sale and not encashment of assets should allow even Offshore engineering to show a profit. For more details on my expectations you can read my Stock Pick commentary.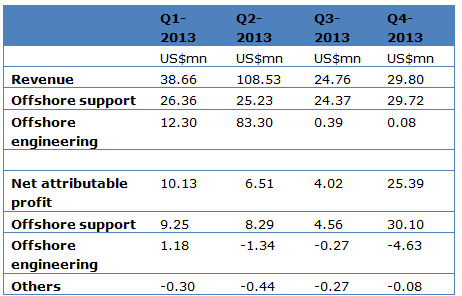 This explains why the group's financial position has improved further from that of net debt into net cash. The successful debt restructuring has also allowed Jaya to pay dividend with shareholders receiving a full FY2013 dividend of 4 S cents which at S$0.60 share price gives a running yield of 6.7% - which is attractive.Offshore Engineering Services or vessel sales used to be a major source of income for Jaya but the company has now changed direction and is looking to successful develop its recurrent chartering income. This would imply that vessel sales would like in FY2013 be for encashment purposes, ie vessel sales would be close to book value to convert fixed assets (vessels) into cash.
I still like the stock – read my Stock Picks section to get a better idea of my profit forecasts for 2014 and my price target.

This article was recently published on www.nracapital.com and is republished with permission.

Recent story: JAYA: Stock Surged On Strong Earnings And Surprise Dividend