AT YANGZIJIANG SHIPBUILDING'S 3Q2012 investor briefing on Wed morning at Samsung Hub in the city, executive chairman Ren Yuanlin outlined some initiatives for the company to weather the sharp industry downturn.

"The shipbuilding industry is in a deep downturn and unlikely to recover next year. As long as the Baltic Dry Index is below 1,500, it is not possible for shipbuilders to make money," he said.

The indicator of bulk carrier freight rates has fallen below 1,500 since the beginning of this year and closed at 971 on Monday.

Affected by the dearth of demand and low prices for cargo transportation vessels, revenue growth of the leading Chinese shipyard slowed to 8% year-on-year for 9M2012, from a stellar CAGR of 46% in the past 5 years since IPO.

9M2012 revenue was Rmb 11.2 billion. Net profit attributable to shareholders was Rmb 2.8 billion, down 6%. Cash reserves are strong, at Rmb 3.4 billion.

For more information, refer to press release here.
Yangzijiang is still booking revenue for high-margin contracts clinched during the boom years of 2007-2008, but Mr Ren cautioned that the tail end of such contracts will be delivered by 1H2013.

How will that affect the dividends? "We will still maintain a dividend payout ratio of 25% to 30%," he said.

Year to date, the Group delivered 39 vessels and secured orders for 11 newbuilds of containerships and bulk carriers.

"We gave up several orders because vessel prices for newbuild contracts are not even able to cover our material costs. There are very few shipbuilding orders now, but that may not be a bad thing. A flux of orders will delay the industry recovery," said Mr Ren.

Order book remains very robust at US$3.6 billion as at 30 September.

To address the downturn, it will diversify into an integrated marine service provider.

Shipbuilding remains its core business, but it will supplement earnings with offshore engineering and other businesses such as financial investment, micro-financing, property development, steel fabrication, ship demolition and shipping logistics.

The following two initiatives are expected to improve the return on its core shipbuilding business.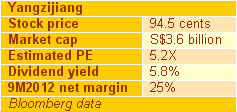 Upgrading of vessel offering to secure more orders

It has started offering larger vessels such as the 10,000-TEU containership and the 64,000-DWT bulk carrier.

The capability to build large vessels puts Yangzijiang in the same league as South Korean shipyards. It is also offering energy efficient and environmentally friendly features.

Lowering cost of production

From five yards (Old Yangzi, Changbo, Zhongzhou, New Yangzi and Xinfu), it will downsize to two yards.

All vessel construction will be rerouted to its New Yangzi shipyard, which has a production area of 201 hectares. Zhongzhou, which was a yard for fabrication facility, will be used for non-shipbuilding activities. Activities at the Changbo yard will be halted. This will lower manpower and electrical cost.

Old Yangzi, its 20-hectare old yard, will be used for its foray into a property development.

JV with powerful property player

On Wed, it announced a 50:50 joint venture with established property developers affiliated with Shenzhen-listed Jiangsu Huaxicun to develop the land and the nearby coastal area into high-end residential buildings.

"The China Huaxi Village is a powerful property development group with strong ties within the Central government," said Mr Ren, in reference to Jiangsu Huaxicun's parent company.

"I am confident the project will sell well, as the Old Yangzi sits on prime waterfront district facing the Yangzi river with luxury bungalows in the vicinity. The local government is already building a Historic Shipyard Theme Park on the surrounding land parcel," he said.

Related story: YANGZIJIANG: Profit And Dividend Rise - Stock Is A Sell, Hold Or Buy?