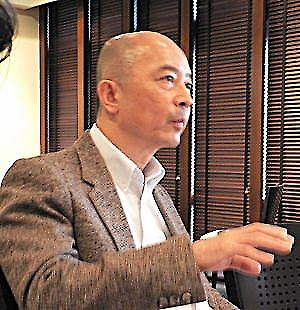 SS Wong, the executive chairman of Broadway Industrial, has been with the group since 1976. Photo by Leong Chan TeikThree months ago, in our Aug 5 report ARMSTRONG, ADAMPAK, etc to gain from HDD sector recovery, we highlighted the recovery in the HDD sector – and the Singapore-listed beneficiaries.

One of them, Broadway Industrial, has just reported a 219.5% y-o-y jump in its Q309 net profit to $8.7 million. Notably, its gross margin rose from 6.6% to 11.7% y-o-y.

We attended a briefing this week for analysts by Broadway executive chairman SS Wong, and here are insights into the company's prospects – and forward strategies.

Precision components

a) Hard-disk drive (HDD) business

You can say it's a given that global HDD shipments in the current quarter would be better than in Q4 of 2008. Broadway Industrial is forecasting a quarter-on-quarter improvement – that is, from Q3 this year to Q4 this year.

"There are positive signs that the momentum is continuing. It's going to be a strong quarter," Broadway chairman SS Wong told analysts after his company's Q3 results were released this week.

And Q1 of next year? It's too early to tell.


What Broadway Industrial Group (BIGL) is about:

* A leader in the manufacture of precision-machined components in contamination-free and ultra high purity environment.

* Its Compart group of subsidiaries is one of the leading producers of actuator arms and related assembled parts for the global hard disk drive industry. Compart also manufactures precision-machined components for semiconductor, automotive and industrial applications.

* Broadway is also a leading manufacturer of expandable foam plastics used mainly for customised protective packaging of consumer electronics, household appliances, telecommunication and IT products.

* Broadway's foam plastic products are also used as insulation material for industrial and general construction applications. Other applications for the Group's foam plastics include automotive components, light-weight pallets and others.

b) Non-HDD business

There is good news here too from Broadway.

The non-HDD business, which yields higher profit margins, is expected to do better in 2010.

Foam plastics business

Demand for foam moulded packaging products from China's consumer electronics industry, which is export-oriented, has been weak. This is going to continue to the case possibly well into the first half of next year.


Forward strategies

* Maintain market-share of HDD actuator arm business

Broadway has about 20% of the global market share and will seek to maintain it.

The company recognizes there are limits to growing further with its 2 customers, who jointly own about 50% of the world's market share. As such, it will be focusing on new revenue drivers such as the non-HDD business.

| | | | |
| --- | --- | --- | --- |
| (S$'000) | 3Q09 | 3Q08 | Change |
| Turnover | 136,917 | 170,985 | (19.9%) |
| Gross profit | 16,032 | 11,266 | 42.3% |
| Gross margin (%) | 11.7 | 6.6 | 5.1 basis points |
| Net profit attributable to shareholders | 8,658 | 2,710 | 219.5% |
| Net margin | 6.4% | 1.6% | 4.8 basis points |
| EPS (cents) | 4.2 | 1.3 | 219.5% |
| Net asset value | 90.8 cts/share | 81.1 cts/share | 12.0% |

* Reduce cost & enhance operational efficiency and productivity

A key way is to control costs through process automation and productivity improvement.

"The fact that we are doing much better in 2009 is not because of the market – but because we are managing our costs better. It's as simple as that.

"I remember in October last year, we took decisive action to do major restructuring in anticipation of an economic recession. That exercise gave us early savings. We took the opportunity to make major progress in automation.

"We are accelerating automation in our factories because the labour cost in China will rise," said Mr Wong.

* Expand foam plastics business in China

Broadway's market share is still relatively low at around 1.5%. The company's foam plastics business is expected to contract this year and will be difficult next year. But 2011 could see growth return again, said Mr Wong.


WHAT ANALYSTS NOW SAY....

Kevin Scully, chairman, NetResearch Asia:

In its forward-looking statement, Broadway alludes to an improving global HDD market which is normally stronger in the second half of the year. The company is now guiding for 2009 to be better than 2008 and is optimistic about its performance in 2010.

Broadway was added to my stock picks on 6 July 2009 when the shares were $0.295. I updated this recommendation after the Q2-2009 results assuming that profits for FY2009 would double to S$26mn and gave a price target of $0.70. The 2009 profit is likely to exceed my initial forecasts.

Jonathan Ng, seasoned tech analyst, CIMB-GK:



•

Y-o-y growth to remain robust in 4Q09

.

We believe the outlook for 4Q09 will remain positive as major HDD OEMs have projected low-single-digit q-o-q volume growth for the traditionally strongest quarter. This should translate into a good 25-

30% y-o-y jump in volume.

Broadway's non-HDD components business is also expected to improve gradually together with improvements in the semiconductor sector. Given a low base in 4Q08, we expect Broadway to post another quarter of triple-digit y-o-y profit growth in the December quarter.



•

Maintain Outperform.

We have raised our FY09 forecast by 6% to factor in the better-than-expected 3Q09 results as well as higher 4Q09 expectations. However, we have kept FY10-11 estimates unchanged. Broadway remains one of our top picks in the small-cap tech space for its undemanding valuations against industry peers and dominant position in the HDD components segment.