Excerpts from CGS-CIMB report

Analyst: Ong Khang Chuen, CFA & Kenneth Tan

Jiutian Chemical Group Ltd

DMF prices reach record highs

■ DMF prices continued their strong uptrend in 3Q21F, reaching a record high of Rmb18.2k/ton last week. ASP gains should offset raw material cost hikes.


Jiutian Chemical

Share price:
9 c

Target:
14 c

■ Despite lower volumes (impact from Henan floods and plant maintenance) in 3Q21F, we expect Jiutian to post net profit growth of 11% yoy to Rmb58m.

■ Reiterate Add and TP of S$0.14 based on 5.7x CY22F P/E.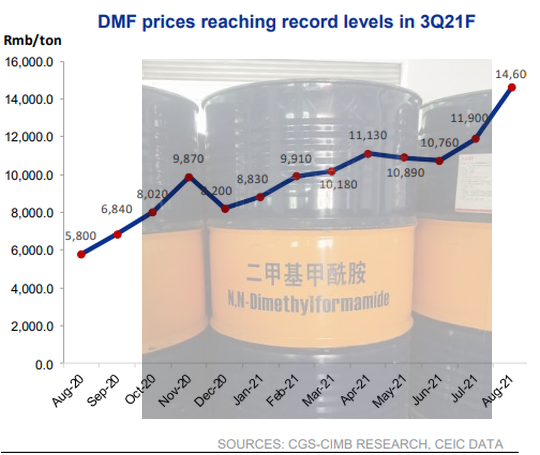 While DMF selling prices rose, input material methanol's prices came off its peak in May 2021, but still remains elevated.

DMF prices reach new highs
Dimethylformamide (DMF) prices have continued their uptrend in recent months. According to 100ppi.com, DMF prices averaged c.Rmb14.5k/ton (inclusive of 13% value added tax) in Sep 2021, almost double that of last year.

DMF prices further surged to a record high of Rmb18.2k/ton in the latest quotation seen this week. We believe that the strong ASPs are mainly due to

1) higher input costs,
2) lower industry supply in the near term with ongoing plant maintenance of major players (likely to last till end-Oct), and
3) power curbs impacting production of some industry players.

Meanwhile, end-products continued to see sustained strong demand. We expect DMF prices to remain elevated in Oct, before easing slightly towards end-FY21F as supply normalises.

Stronger ASPs should offset higher input costs
Key raw materials, including methanol, ammonia and coal, have all seen prices edge upwards in the past quarter. According to CEIC, coal prices climbed to Rmb613/ton (+8% mom, +41% yoy) in Sep 2021; while methanol prices reached c.Rmb2.6k/ton (+0% mom, +58% yoy) in Aug 2021.

Nevertheless, given the even stronger ASP gains, we believe Jiutian will record a better profit spread per volume output.

We forecast Jiutian to record gross profit per ton of c.Rmb3.8k/ton (+14% hoh, +28% yoy) in 2H21F. Accordingly, we raise our FY21F net profit estimate by 6% to Rmb312m (+80% yoy).

3Q21F preview: lower output offset by stronger DMF prices
We forecast Jiutian recording a 3Q21F net profit of Rmb58m (-18% qoq, +11% yoy). We forecast 3Q21F revenue of Rmb285m (-36% qoq, +7% yoy), with lower sales volumes offset by strong DMF prices.

3Q volumes are seasonally weaker due to the need to carry out annual plant maintenance (20-25 days impact), while Jiutian suffered an additional c.10 days of disruption in Jul 2021 from a severe flood that hit Henan Province.

Despite this, we believe Jiutian will see stronger profit spread per volume output in 3Q21F, as ASP hikes outpaced that of raw materials.


Reiterate Add with an unchanged TP of S$0.14
We reiterate Add with an unchanged TP of S$0.14, which remains pegged to 5.7x CY22F P/E (based on a 20% discount to SGX-listed peer China Sunsine).

We believe current valuations are undemanding at 3.2x FY22F P/E, backed by net cash of Rmb184m (c.25% of current market cap).

Potential re-rating catalysts include continued uptrend in DMF ASPs and higher dividend payout.

Downside risks include a sharp decline in its DMF ASPs and higher raw material cost pressures.

Full report here.